..Advertisements..
Continue reading below
If you've never tried corn fritters before, now is the time to give them a try! This Quick and Easy Amish Onion Fritters Recipe is the perfect place to start. You'll be amazed at how easy they are to make, and how delicious they taste. So why not give them a try today and see for yourself why these fritters are so popular!
Why are my fritters not crispy?
Your fritters are likely not crispy because they contain too much batter or the ingredients you are using in your fritters are releasing too much moisture when cooking. To achieve crispy fritters, try reducing the amount of batter you use and using ingredients that do not release excess moisture when cooked. Additionally, make sure that your oil is hot enough when frying the fritters, as this will help them to crisp up properly.
Does baking soda make fritters crispy?
Yes, baking soda can help make fritters crispy. When added to the batter, baking soda reacts with any acidic ingredients present to produce carbon dioxide bubbles. This creates an airy batter which results in a crisper and fluffier texture when fried. So, adding a pinch of baking soda to your fritter batter can help make them crispier. However, it's important not to overdo it with the baking soda, as too much can give the fritters a bitter taste.
What flour is best for fritters?
For making fritters, the best flour to use is all-purpose/plain flour or a combination of all-purpose/plain flour and baking powder. If you don't have self-raising flour on hand, you can make a substitute by mixing ¾ cup of all-purpose/plain flour with 2 teaspoons of baking powder. This will give the batter the necessary lift and help it to puff up when fried, resulting in a light and crispy texture. It's important to note that using bread flour or cake flour may not yield the desired texture for fritters, as their protein contents are too high or too low respectively.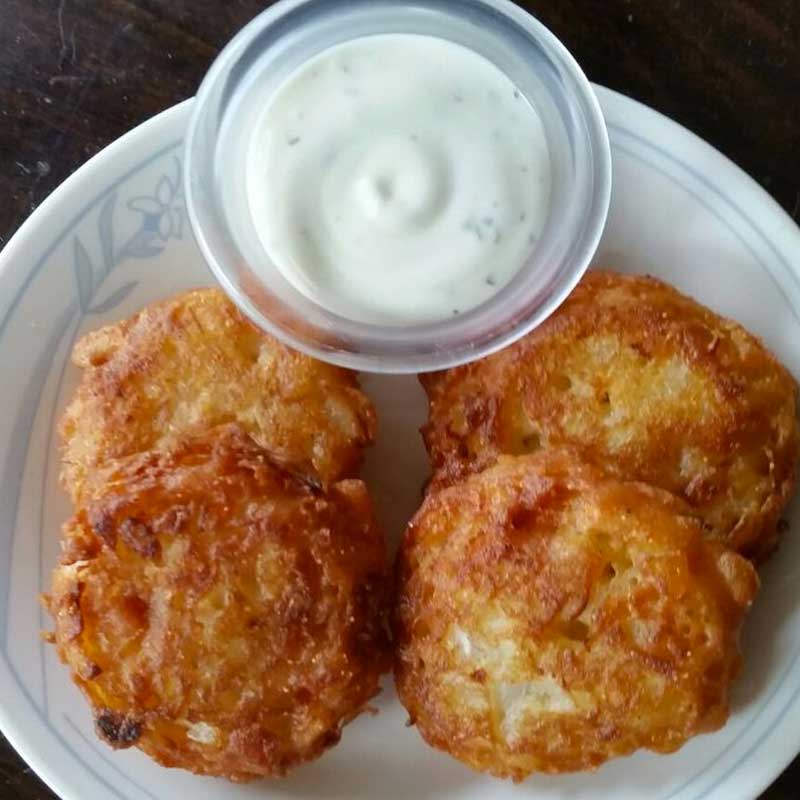 Amish Onion Fritters
These are delicious onion fritters that I have made many times! This batter would also be great for onion rings! Its so light and crisp!
...
Ingredients
3/4

c

flour

1

Tbsp

sugar

1

Tbsp

cornmeal

2

tsp

baking powder

1-2

tsp

salt-according to taste

3/4

c

milk

2 1/2

c

chopped onions

oil for frying
Instructions
Mix together dry ingredients.

add milk and stir.

batter will be thick.

add onions and mix throughly.

heat 1/2 inch oil in skillet over medium high heat.

drop batter by tablespoons in hot oil, flatten slightly, brown on both sides until nice and crisp.

drain on paper towels.

serve warm.
....Advertisements....
CONTINUE READING BELOW