..Advertisements..
Continue reading below
Every winter, as the leaves start to fall and the air gets chilly, I'm reminded of a delightful evening I spent with my neighbors. It was during one of our annual potluck dinners, and Mrs. Anderson, a lovely older woman with a passion for cooking, brought a bowl of this velvety, rich, and aromatic butternut squash soup. The moment I took the first sip, it was like a warm hug on a cold evening, comforting and familiar.
Recently, I recreated that memory with a dear friend who was visiting from out of town. We spent the afternoon reminiscing about our travels, and as we sat down for dinner, I served this soup. The warmth of the soup, combined with the joy of good company, was a testament to how food can bring people together, creating lasting memories.
How to Prepare Homestyle Butternut Squash Soup
Ingredients for Homestyle Butternut Squash Soup:
1 1/2 tablespoons of unsalted butter
1/2 medium-sized onion, thinly sliced
2 cloves of garlic, minced
2 fresh thyme sprigs
1/2 medium butternut squash, peeled and diced into 1-inch cubes
4 cups of quality chicken broth
1/2 chicken bouillon cube
A sprinkle of ground cumin
A dash of ground allspice
Salt and freshly ground black pepper, according to taste
Directions for Homestyle Butternut Squash Soup:
In a large soup pot, melt the butter over medium flame. Once it's melted, add in the sliced onion, minced garlic, and thyme. Sauté until the onions become translucent, usually around 5-7 minutes.
Add the diced butternut squash to the pot and pour in the chicken broth. Let it simmer until the squash becomes tender, which should take approximately 10-15 minutes.
Now, crumble in the bouillon cube and season your soup with cumin, allspice, salt, and black pepper. Stir well and take it off the heat.
Using a blender, in batches, blend the soup until smooth. Make sure not to overfill the blender. After blending, transfer the soup into serving bowls. For those who like a chunkier texture, an immersion blender can also be used directly in the pot.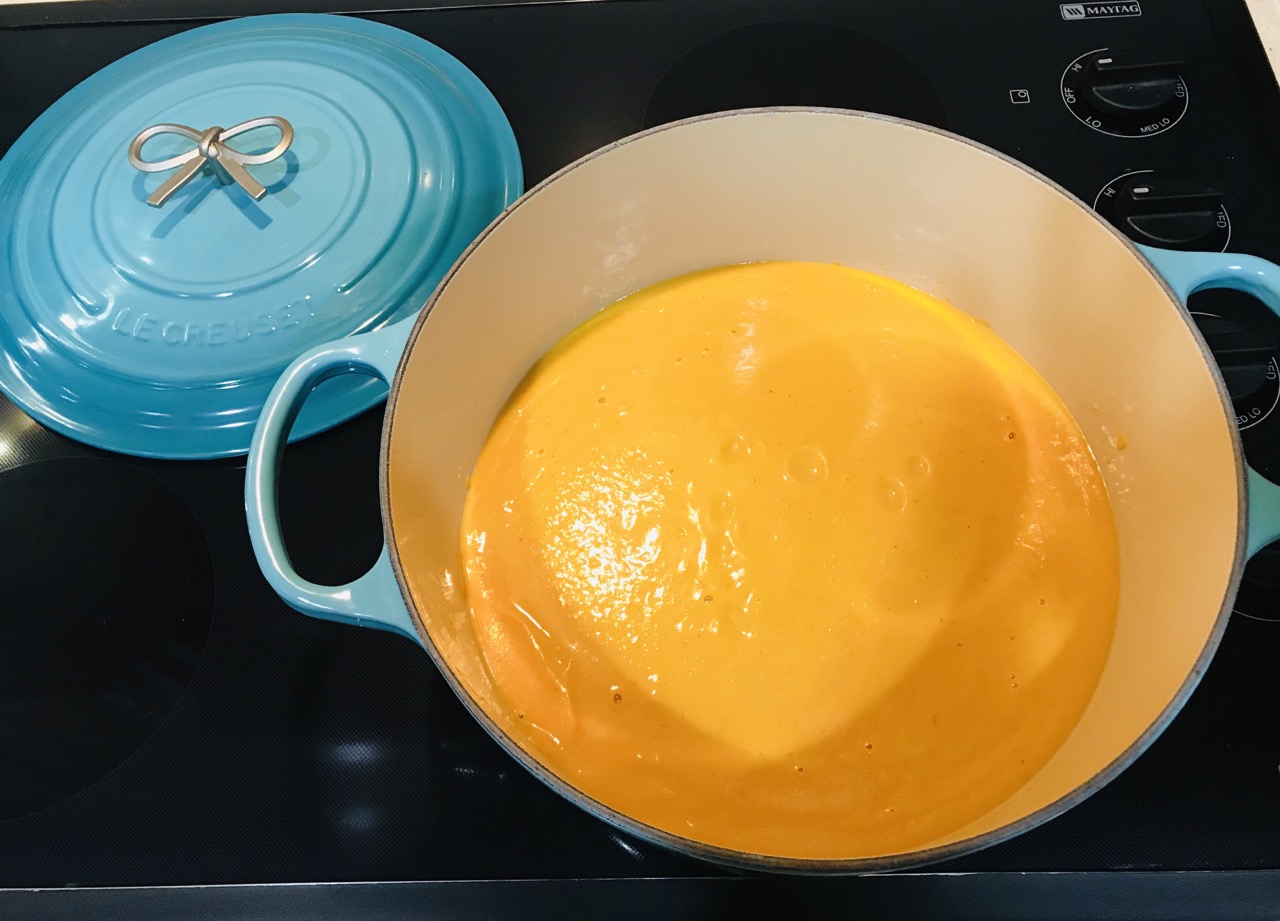 Can I use roasted butternut squash for this recipe?
Yes, roasting the butternut squash before adding it to the soup can enhance its flavors. Simply cube the squash, toss it with some olive oil, salt, and pepper, and roast it at 400°F for about 30 minutes or until tender and slightly caramelized.
How can I make this soup vegetarian?
For a vegetarian version, replace the chicken broth with vegetable broth and skip the chicken bouillon. The flavors will still be delightful and rich.
Can I add other spices to this soup?
Of course! Feel free to experiment with spices like cinnamon, nutmeg, or even a dash of cayenne pepper for a kick. Adjust the seasonings to suit your personal preference.
How do I achieve a vibrant orange color for the soup?
For a brighter color, consider adding pureed carrots or sweet potatoes to the soup. They not only enhance the color but also add a pleasant sweetness.
What toppings can I add to this soup?
Toppings like roasted pumpkin seeds, a dollop of sour cream, or even some crushed red pepper can add an extra layer of texture and flavor to the soup. Some also enjoy a sprinkle of freshly grated allspice or bits of crispy bacon on top.
Can I freeze this soup for later?
Yes, this soup freezes well. Let it cool completely before transferring to freezer-safe containers. When ready to eat, thaw it in the refrigerator and reheat on the stovetop or microwave.
Is it safe to blend hot soup in a blender?
It can be, but always take precautions. Don't fill the blender more than halfway, and always hold the lid down with a towel to prevent any hot splashes. Starting with a few pulses before blending continuously can help avoid any mishaps.
How can I thicken the soup?
If you prefer a thicker soup, you can either reduce it further on the stovetop or add a bit of heavy cream or coconut milk for a richer consistency.
Can I make this soup vegan?
Yes, to make it vegan, use olive oil instead of butter, opt for vegetable broth, and skip the chicken bouillon. You can also replace the heavy cream with coconut milk if you wish to make it creamier.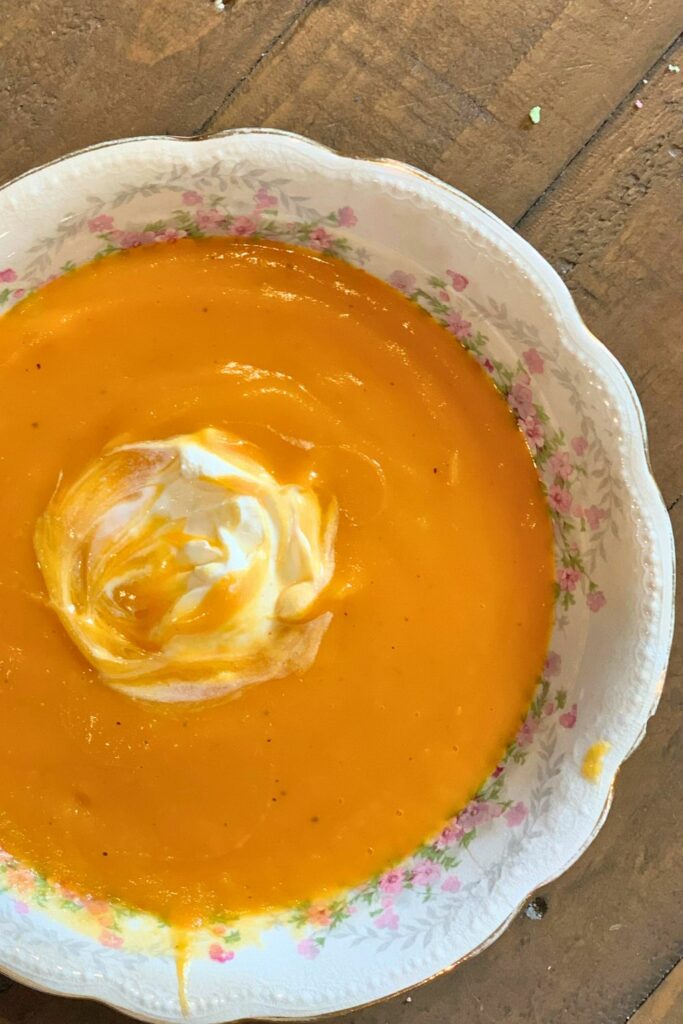 Butternut Squash Soup Ever
...
Ingredients
1 1/2

tablespoons

butter

1/2

onion

sliced

2

cloves

garlic

2

sprigs fresh thyme

1/2

butternut squash - peeled

seeded, and cut into 1-inch cubes

4

cups

chicken stock

1/2

cube chicken bouillon

1

pinch

ground cumin

1

pinch

ground allspice

salt and ground black pepper to taste
Instructions
Melt butter in a large pot over medium heat.

Add onion, garlic, and thyme and sauté until onion has softened, about 5 minutes.

Add squash and chicken broth; bring to a simmer, then cook until squash is tender, 10 to 15 minutes. Crumble bouillon into the soup. Season with cumin, allspice, salt, and pepper, then remove from heat.

Working in batches, pour soup into a blender, filling no more than halfway.

Hold the lid in place with a kitchen towel, then carefully start the blender using a few quick pulses to get the soup moving before leaving it on to purée.

Pour soup into a serving bowl. Alternately, you can use a stick blender and purée the soup in the pot.
....Advertisements....
CONTINUE READING BELOW