This is not the first time that this recipe has appeared on the blog, but it needed to be shared again. And honestly, it desperately needed a new picture. You see 3 years ago, my husband fell in love with cannolis. I may be a tad biased but I think my wedding caterers are pretty much the best in the industry. Cescaphe who catered my wedding at the Atrium at the Curtis Center has weddings down to a science. When we met to pick out our menu, they have many different options, but the one great thing is that they have pictures to show you all the different dishes. We all know the importance of a good photograph in the food blogging community.
When all was said and done and we had picked out our menu, Dana wanted to make sure that we got everything we wanted to eat on the day of the wedding. She made special notes to give to the Maitre'D so he could cater exactly to our tastes. When talking about desserts, cannolis popped up on the screen and Blair immediately responded to them. He wanted a whole plate of them delivered to our sweetheart table after dinner and he got his wish that day.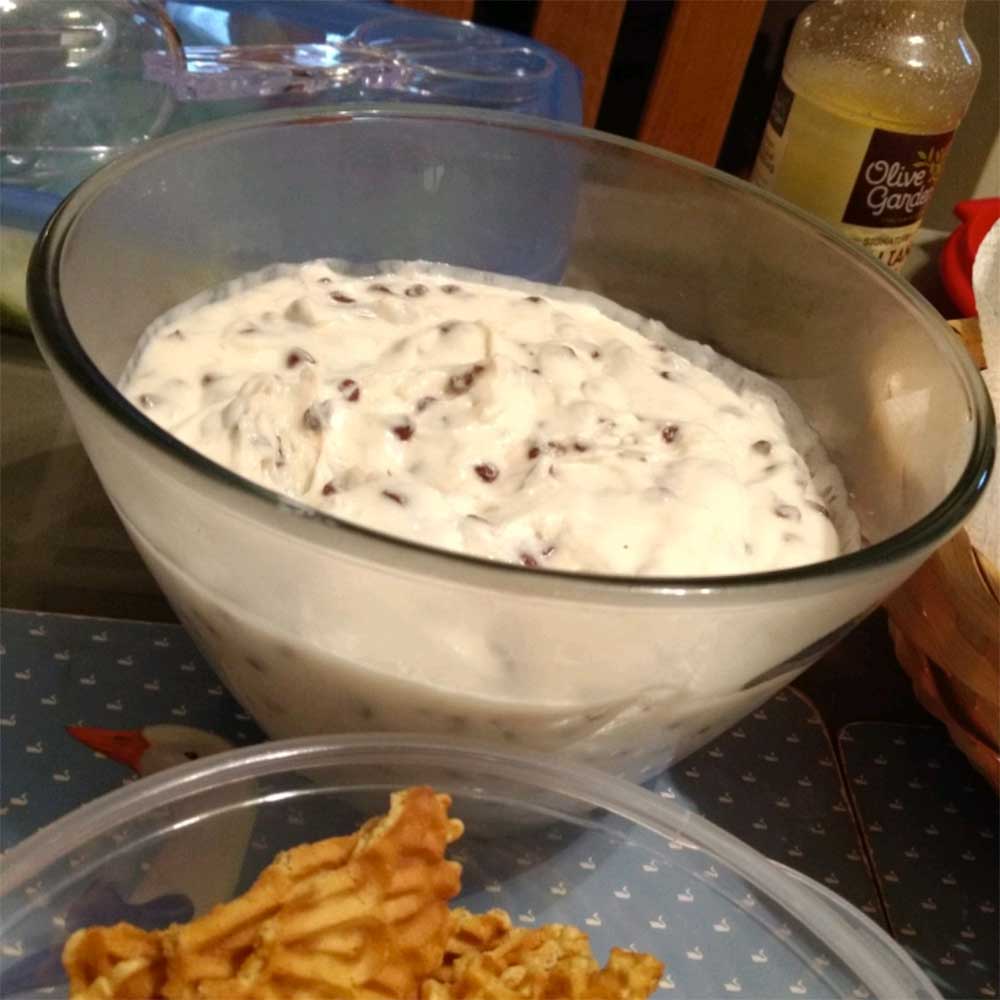 When we were at our 3 ports in Italy on our vacation last month, Blair was on the hunt for the perfect cannoli. Unfortunately, the 3 places that we had visited were not known for them so we didn't get the perfect one. To make up for it, I decided to make this dip for a small gathering of my co-workers knowing that I would have some leftover for my darling hubs. It is incredible easy to whip up and it quite irresistible. You tend to eat a little more of it then you would like. In the past, I have served this with graham cracker scooby snacks, but they are hard to find. This time around I chose vanilla wafers. Choose your favorite vehicle, and if you use a spoon, I promise not to judge.
Cannoli Dip
Ingredients:
8 oz. cream cheese, softened
15 oz. ricotta cheese
1 cup confectioners sugar
1 tsp. vanilla extract
1 orange, zested
1/2 cup miniature semi-sweet chocolate morsels
Directions:
In a mixing bowl, add room temperature cream cheese, ricotta cheese, and stir until softened. Add vanilla extract and confectioners sugar to the bowl and incorporate well. Fold in orange zest and chocolate morsels. Chill and serve.