..Advertisements..
Continue reading below
Do you know what's a little crazy? How quickly this summer is flying by. I was just tweeting about it the other day, and I've been taking comfort in the fact that I'm not the only one wondering where the time went. I even noticed a few stores with pumpkin decorations already on the shelves while I was out running errands one day near the end of July – and while fall is my absolute favorite season, even I thought that was a little too much.
Still, now that it's August, I suppose we're in the home stretch. And while the busy season of preserving summer's bounty isn't nearly over yet, I've been enjoying doing a little baking here and there on rainy days when it hasn't been too hot to turn on the oven.
This cookie was one of the things I baked recently, and to be honest, I wasn't planning on posting the recipe here since I already have a cast-iron skillet cookie recipe on the blog – but, this one was so good that I just had to share it. I actually adapted it from my pumpkin cranberry oatmeal cookie recipe because I really wanted to try out an oatmeal cookie in my cast iron skillet. And while I meant to toss in dried cranberries as in the original recipe, I decided that I needed a little chocolate fix, and ended up with chocolate chips instead. Next time, I definitely plan to mix in half chocolate chips and half cranberries – or even white chocolate chips instead of the semi-sweet ones that I used in this cookie. That's the fun part of making cookies, right? You can add in whatever you like – peanut butter instead of SunButter if you aren't allergic to peanuts like me, chocolate chunks, raisins, coconut, etc. I hope you'll give this cookie a try and make it your own!
1 cup (2 sticks) unsalted butter, softened
1/2 cup granulated sugar
3/4 cup packed brown sugar
2 eggs
1 tsp vanilla extract
1/4 cup No Sugar Added SunButter
2 cups flour
2 cups old fashioned oats
1 tsp baking soda
1 tsp salt
1/2 tsp ground cinnamon
9 ounces of chocolate chips
Preheat the oven to 350 degrees. Coat a 10″ cast iron skillet lightly with oil. In the bowl of a stand mixer, cream together the butter and sugars. Beat in the eggs one at a time, and then add in the vanilla extract. Beat in the SunButter. In a medium bowl, combine the flour, oats, baking soda, salt, and cinnamon. Gradually add the dry ingredients wet ingredients and stir until combined. Stir in the chocolate chips by hand, and then press the dough evenly into the skillet.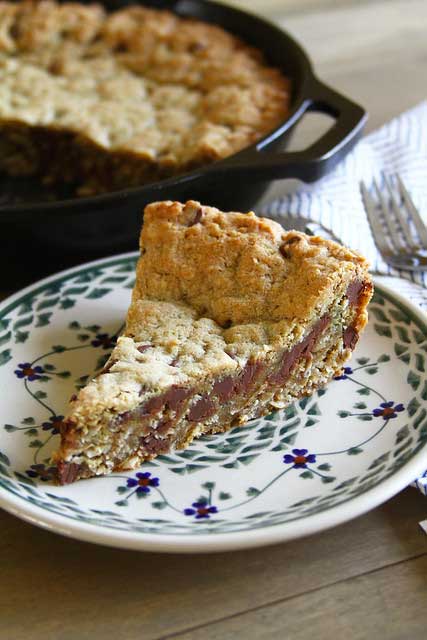 Bake 30-40 minutes or until the edges begin to brown. Transfer the skillet to a wire rack to cool. When ready to serve, cut into wedges.
Note: Mixing the SunButter with the baking soda will gradually turn the inside of the cookie green as it cools. This is because sunflowers, like all plants, contain chlorogenic acid – but sunflowers also have it in their seeds. It is suggested to reduce the amount of baking soda/powder in the recipe or to add a bit of lemon juice to the batter in order to help better maintain the original color. In any case, don't be alarmed – the color will not affect the taste!
...Advertisements...
CONTINUE READING BELOW