..Advertisements..
Continue reading below
This tasty chicken and biscuit casserole is an excellent dish for an everyday family supper. Refrigerated biscuits make it quick and easy to prepare, but it can be topped with frozen Grands! or homemade biscuits as well.
If you aren't a fan of mushrooms, you may omit them or replace them with diced cooked carrots or frozen thawed peas. A sprinkling of fine dry bread crumbs or crushed seasoned stuffing crumbs adds some crunch and flavor.It's my tradition to make casseroles for dinner. Especially when I have some guests over. This chicken biscuit casserole is my latest discovery, I hope you like it.
Can I substitute the cream of chicken soup with a different type of soup?
Yes, you can substitute the cream of chicken soup with cream of mushroom soup or cream of celery soup for a different flavor profile. However, keep in mind that it will alter the taste of the casserole.
Can I use homemade biscuits instead of refrigerated biscuit dough?
Absolutely! If you prefer homemade biscuits, feel free to make your own from scratch and use them as the topping for the casserole. Simply ensure that the biscuits are fully cooked before serving.
Can I customize the vegetables in the casserole?
Certainly! While the recipe suggests using green peas and boiled potatoes, you can add your favorite vegetables such as carrots, corn, or broccoli to suit your taste preferences.
How can I make this recipe vegetarian?
To make a vegetarian version, replace the chicken with vegetarian chicken substitutes or tofu and use vegetable broth instead of cream of chicken soup. Adjust the seasonings accordingly to enhance the flavors.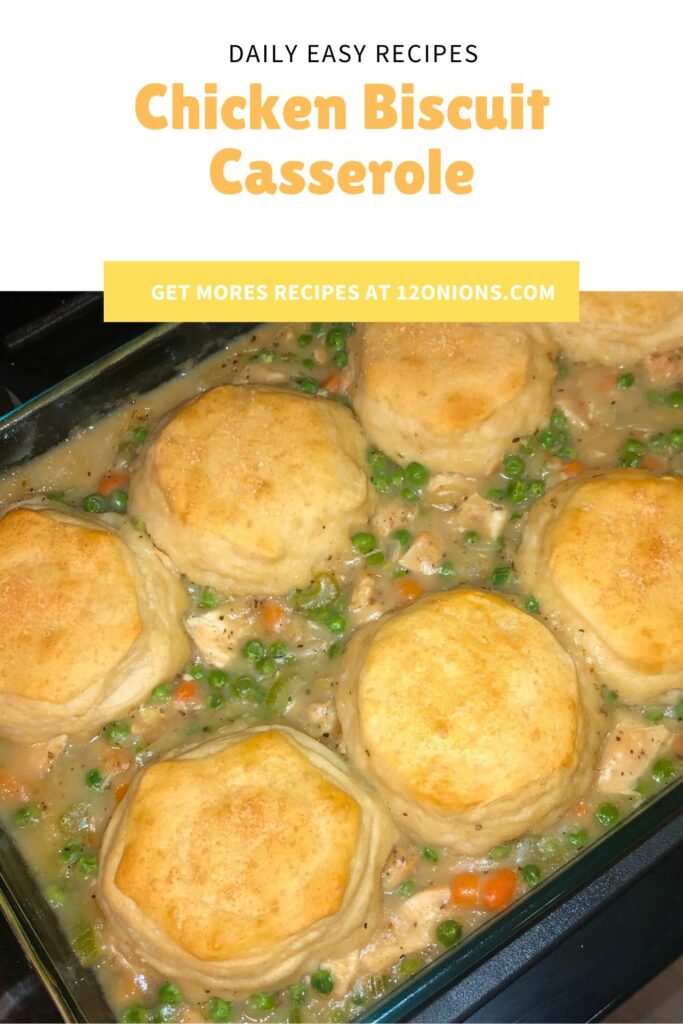 Chicken Biscuit Casserole
...
Ingredients
1

can

10 ¾ ounce cream of chicken soup

¼

cup

of milk

¾

cup

of shredded cheddar cheese

¼

tsp

of ground black pepper

Chopped onions

optional

Green peas

Boiled potatoes

Boiled chicken

shredded

1

7.5 ounce package of refrigerated biscuit dough
Instructions
Preheat your oven to 400°F (200°C).

In a 3-quart shallow baking dish, combine the cream of chicken soup, milk, shredded cheddar cheese, and ground black pepper. Stir well until the mixture is smooth and well blended.

Add the chopped onions (if using), green peas, boiled potatoes, and shredded chicken to the soup mixture. Stir gently to ensure that all the ingredients are evenly coated in the creamy sauce.

Place the baking dish in the preheated oven and bake for 15 minutes. This will allow the flavors to meld together and create a delicious base for the casserole.

After 15 minutes, remove the dish from the oven and give it a gentle stir to combine all the ingredients. The creamy sauce should be thickened slightly.

Take the refrigerated biscuit dough and arrange it on top of the casserole, covering the entire surface. You can cut the biscuits into halves or quarters if needed to fit them properly.

Return the casserole to the oven and bake for an additional 15 minutes or until the biscuits are golden brown and cooked through.

Once the biscuits are cooked, remove the casserole from the oven and allow it to cool for a few minutes. Serve the Chicken Biscuit Casserole while it's still warm and enjoy the comforting flavors.
....Advertisements....
CONTINUE READING BELOW