..Advertisements..
Continue reading below
If you're a fan of cinnamon buns and cake, then you'll love this trend that has taken the baking world by storm: cinnamon bun cake in the oven. This delicious treat is a perfect way to indulge in a buttery, cinnamon-filled dessert that will have you coming back for more.
As a foodie and avid baker, I have tried many recipes for cinnamon bun cake, but the one that I keep going back to is my own. It's easy to make, and the result is a soft, delicious cake with the perfect amount of cinnamon and buttery goodness. I love making this cake for my family and friends, and it's always a hit with everyone.
What makes this cake so special is the brown sugar-flavored butter with cinnamon swirled into the batter. This creates a beautiful marbled effect in the cake, giving it an extra touch of elegance. The cinnamon and butter combination is one of my favorite flavor profiles in baking, and this cake is the perfect representation of that.
The best part about making this cake is that it's a no-fuss recipe that is perfect for a lazy weekend at home. All you need is a few simple ingredients, and you're ready to start baking. The vanilla glaze is the perfect finishing touch to this delicious cake, and it's easy to make. Just remember to add the milk gradually to get the right consistency for your glaze.
Once the cake is baked to a golden brown and the glaze is drizzled on top, you'll have a match made in heaven. The aroma of cinnamon will fill your kitchen, and you'll be tempted to cut into the cake right away. This cake is a perfect treat for any occasion, whether you're entertaining guests or just want to indulge in something sweet and comforting.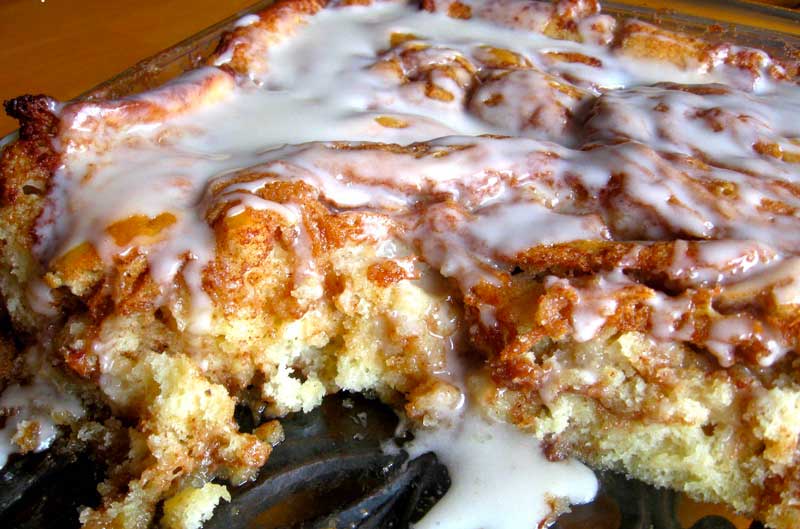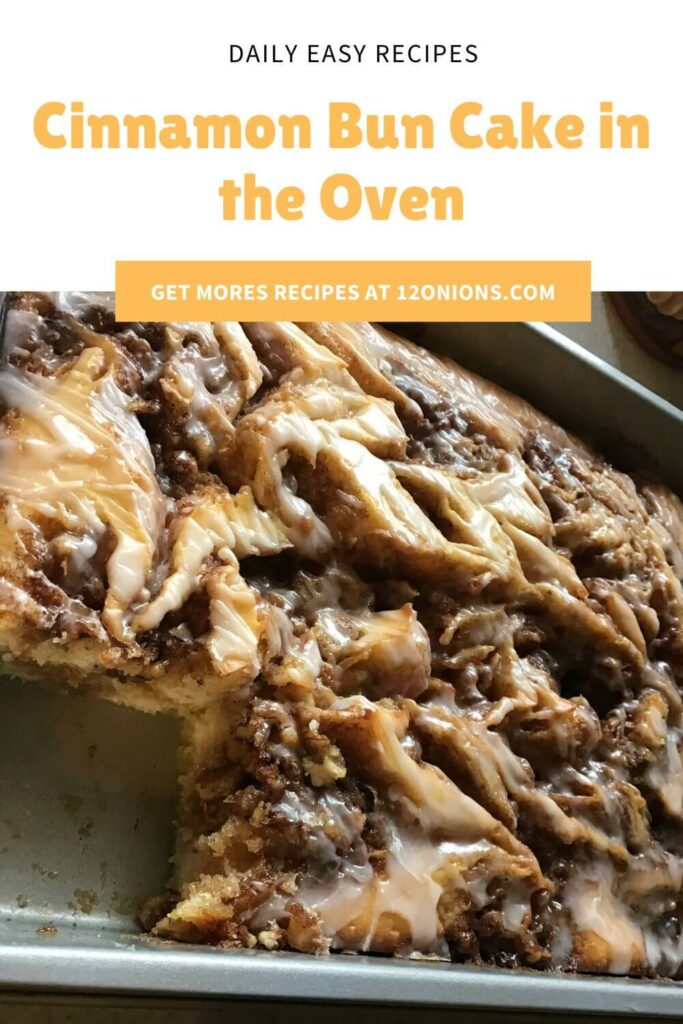 Oven-Baked Recipe for Cinnamon Bun Cake
...
Ingredients
For the Cake:
3

cups

all-purpose flour

1/4

teaspoon

salt

1

cup

granulated sugar

4

teaspoons

baking powder

1 1/2

cups

milk

2

large eggs

2

teaspoons

vanilla extract

4

tablespoons

unsalted butter

melted
For the Cinnamon Swirl:
1

cup

unsalted butter

2 sticks, softened

1

cup

brown sugar

2

tablespoons

all-purpose flour

1

tablespoon

ground cinnamon

2/3

cup

chopped nuts

optional
For the Glaze:
2

cups

powdered sugar

5

tablespoons

milk

1

teaspoon

vanilla extract
...Advertisements...
CONTINUE READING BELOW
Instructions
Preheat the oven to 350°F (180°C) and grease a 9x13-inch baking pan.

In a large mixing bowl, use an electric mixer or stand-up mixer to combine the flour, sugar, salt, baking powder, milk, eggs, and vanilla extract until well mixed.

Slowly stir in the melted butter until fully incorporated into the batter.

Pour the batter into the greased baking pan.

In a separate large mixing bowl, use a spoon to mix together the softened butter, brown sugar, flour, cinnamon, and chopped nuts (if using) until well combined.

Drop spoonfuls of the cinnamon mixture evenly over the cake batter, then use a knife to marble/swirl through the cake.

Bake the cake for 25-30 minutes or until a toothpick inserted into the center comes out nearly clean.

While the cake is baking, make the glaze by whisking together the powdered sugar, milk, and vanilla extract in a large mixing bowl until smooth.

Once the cake is done, remove it from the oven and allow it to cool for a few minutes.

Drizzle the glaze over the warm cake.

Serve the cake warm or at room temperature.
...Advertisements...
CONTINUE READING BELOW