..Advertisements..
Continue reading below
Celebrate St. Patrick's Day or any occasion with a twist on the classic Corned Beef and Cabbage! This recipe features tender and flavorful corned beef served with a creamy horseradish sauce that packs a punch. It's perfect for a family dinner or feeding a crowd.
Interestingly, corned beef and cabbage is actually more of an American St. Patrick's Day tradition than an Irish one. Back in Ireland, bacon or ham were the preferred meats for the meal, as beef was not readily available. However, when Irish immigrants came to America, they found corned beef to be more affordable and accessible, and it soon became the meal of choice for Irish Americans.
Nowadays, it's almost impossible to walk through a grocery store in the US around St. Patrick's Day without seeing mounding displays of Corned Beef, Irish Soda Bread, and Guinness Beer. Even though St. Patrick's Day hasn't been a big celebration in my household, I love any excuse to make a themed meal.
This Corned Beef and Cabbage with Horseradish Sauce is the perfect twist on the classic dish. The sauce is creamy and flavorful with a kick from the horseradish. It's so good that you might just want to eat it with a spoon! So why not celebrate St. Patrick's Day or any occasion with this delicious recipe?
What is traditionally served with corned beef and cabbage?
Traditionally, corned beef is served with cabbage, potatoes, and carrots, all cooked together in one pot for a delicious, hearty meal. This classic combination is a staple for many Irish-Americans on St. Patrick's Day, and adding a dollop of mustard or a creamy horseradish sauce can take it to the next level of flavor and celebration.
What makes corned beef and cabbage Irish?
While corned beef and cabbage is a beloved dish for many Irish-Americans, it may come as a surprise to learn that its origins are not actually Irish. Experts suggest that the meal likely originated in America in the late 19th century when Irish immigrants began using corned beef as a substitute for bacon, which was the meat of choice in their homeland. Nonetheless, the dish has become synonymous with Irish-American cuisine and is often enjoyed on St. Patrick's Day and other occasions as a celebration of Irish heritage.
What goes best with corned beef?
When it comes to serving corned beef, there are many great appetizers that can complement this hearty dish. Some popular options include:
Irish Nachos,
Fried Pickles,
Spinach Artichoke Dip,
Macaroni and Cheese Bites, and Dill Pickle Dip.
Additionally, Irish Soda Bread can be a great accompaniment to corned beef, while Crockpot Cabbage and Skillet Brown Sugar Glazed Carrots can be delicious and nutritious sides. Ultimately, the best pairings for corned beef will depend on personal preference, so feel free to get creative and experiment with different flavors and textures to find the perfect combination for your taste buds.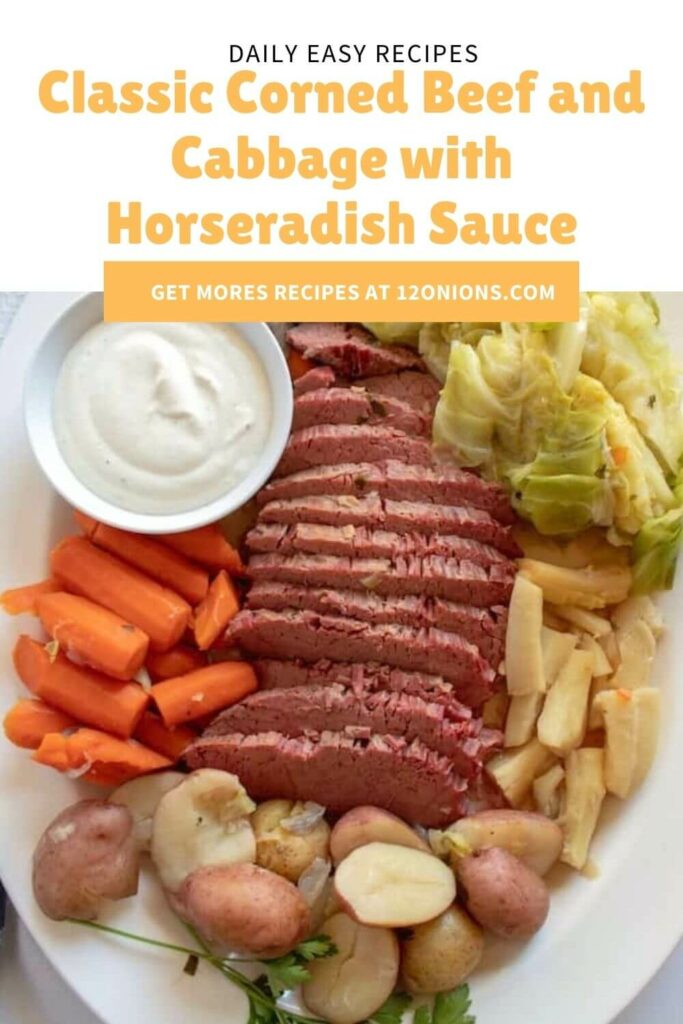 Classic Corned Beef and Cabbage with Horseradish Sauce
An Irish-American tradition on St. Patrick's Day, this comforting one-pot dish is great year-round, super-easy to make and perfect for a crowd.
...
Ingredients
One 3-pound corned beef

including spice packet

2

pounds

8 medium-small red potatoes

One 2 1/2 pound Savoy cabbage

cut into 8 wedges

Horseradish Sauce:

1

cup

sour cream

2 to 3

tablespoons

drained horseradish

or to taste

2 to 3

teaspoons

Dijon mustard

or to taste

1/8 to 1/4

teaspoon

cayenne

or to taste

3

tablespoons

minced parsley
Instructions
Combine corned beef, spice packet of pickling spice and water (16 cups) to cover in a large casserole. Bring to a boil, covered, over high heat. Reduce heat; simmer, covered, 3 hours. Add potatoes and simmer, covered, 15 minutes. Add cabbage and simmer 15 minutes more, or until meat and vegetables are tender.

To make horseradish sauce, combine sour cream, horseradish, mustard, and cayenne in a bowl.

To serve Slice corned beef against the grain. Transfer to a serving dish and surround with potatoes, halved, and cabbage wedges. Garnish with parsley and serve with horseradish sauce and carrots, if desired.
Notes
Tip: If corned beef isn't sold with a spice packet, add 1 tablespoon pickling spice.
....Advertisements....
CONTINUE READING BELOW