Oh skillet cookie, you have evaded me until now.
I have no idea why I hadn't made a skillet cookie up until this point.  It's basically the same thing as making blondies except that you bake it in a cast-iron skillet which just adds to the charm.  I definitely do not use my skillet enough (How is the world are you supposed to properly clean and season that thing?!) so this was a perfect opportunity to break it out.
Basically, you just mix up your cookie dough as normal then press it into a greased skillet or baking dish and then bake them up they are mostly set.  I don't mind scooping cookie dough and changing out cookie sheets, but it was nice to be completely done after the 30 minute baking time!!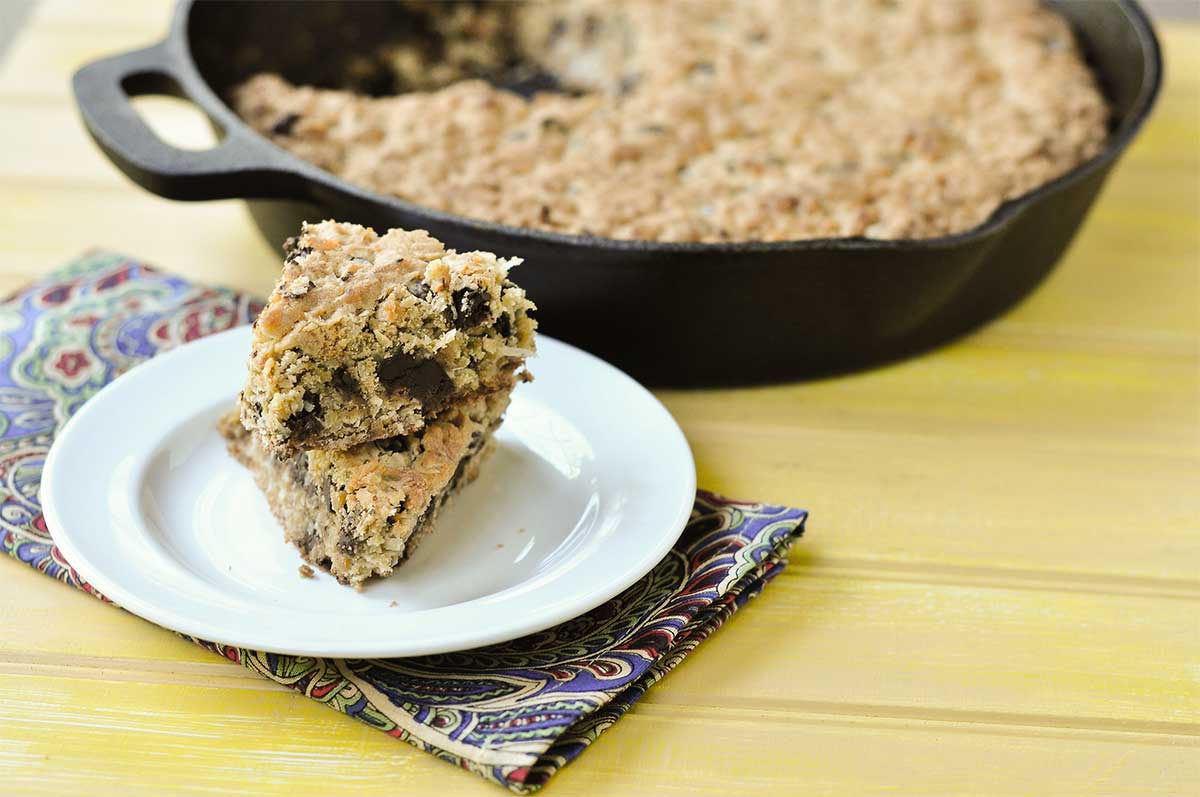 Coconut Chocolate Chip Oatmeal Skillet Cookie
Ingredients:
1 cup (2 sticks) unsalted butter, at room temperature
¾ cup firmly packed brown sugar
¾ cup granulated sugar
2 large eggs
1 tsp. vanilla extract
2 ¼ cups flour
2 tsp. baking powder
1 tsp. baking soda
1 tsp. salt
2 cups old-fashioned rolled oats
2 cups sweetened flaked coconut, toasted or untoasted (your preference)
Directions:
1. Preheat the oven to 375ºF and grease a 10 or 12-inch cast-iron skillet (or a 9×9″ glass baking dish); set aside.
2.  In the bowl of an electric mixer, cream the butter and sugar until light and fluffy, about 3 minutes.  Scrape down the bowl and beat again for 30 seconds.  Add in the eggs, beating well after each addition and scraping down the bowl as needed.  Beat in vanilla.
3. In a medium bowl, whisk together the flour, baking powder, baking soda, and salt.  Slowly add the flour mixture to the butter mixture and mix until almost combined.
4.  Stir in rolled oat and coconut and mix until no flour streaks remain.  Stir in chocolate chips making sure that everything is well combined.
5. Press the dough evenly into the prepared pan and bake for 30-40 minutes, until golden brown and a toothpick comes out with only a few crumbs attached.  Cool before slicing.