..Advertisements..
Continue reading below
Every family has that one recipe that brings everyone together, and in our household, that has always been the Coconut Poke Cake. I remember the time when Aunt Lucy brought this delight to our annual neighborhood potluck. The creamy coconut richness melted in every mouth, and it was an instant hit. The memory of children and adults lining up for seconds still brings a chuckle to our family gatherings.
My next-door neighbor, Mrs. Clara, loved the cake so much that she began incorporating it into her family festivities as well. Her son, a picky eater, would light up with joy every time she mentioned making it for dessert. It's not just a cake; it's a bundle of sweet memories and delightful conversations.
How to Prepare Coconut Poke Cake
Ingredients for Coconut Poke Cake
One package (18 1/4 ounces) of your favorite white cake mix
One can (14 ounces) of rich coconut cream
One can (14 ounces) of luscious sweetened condensed milk
A pack (16 ounces) of soft frozen whipped cream, make sure to thaw before use
One package (8 ounces) of aromatic flaked coconut
Directions for Coconut Poke Cake
Start by baking the white cake mix in a spacious 9×13-inch pan, following the instructions on the package.
Once baked and while still warm, gently poke holes across the top using a fork.
In a separate mixing bowl, blend the coconut cream with the sweetened condensed milk until smooth.
Gracefully pour this blend over the warm cake, ensuring it seeps into the holes you've made.
Allow the cake to come to room temperature.
Generously spread the thawed whipped cream over the cake and sprinkle the flaked coconut for a snowy finish.
For the best flavor, refrigerate the cake and serve chilled.
What if I don't have flaked coconut?
You can skip it or replace it with shredded coconut, though the texture might slightly vary.
Can I use homemade whipped cream instead of frozen?
Absolutely! Homemade whipped cream can be even more flavorful, but ensure it's thick and holds its shape.
How long should I refrigerate the cake before serving?
For best results, refrigerate for at least 2 hours. The longer, the richer the flavors.
How many servings does this recipe make?
This recipe can comfortably serve 12 to 15 people.
Can I prepare this cake a day in advance?
Yes, making it a day in advance can even enhance the flavors as they meld together in the refrigerator.
Is it possible to make this cake dairy-free?
Yes, use dairy-free cake mix, coconut whipped cream, and a dairy-free condensed milk alternative.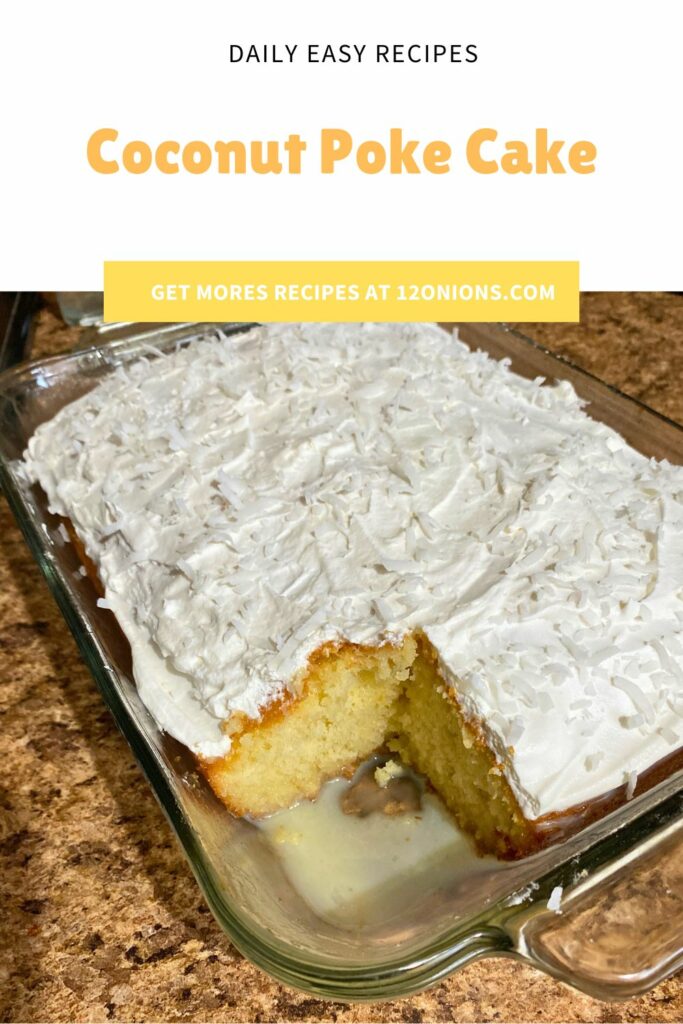 Coconut Poke Cake
...
Ingredients
1

18 1/4 ounce package white cake mix

1

14 ounce can cream of coconut

1

14 ounce can sweetened condensed milk

1

16 ounce package frozen whipped topping, thawed

1

8 ounce package flaked coconut
Instructions
Prepare and bake white cake mix in a 9x13-inch dish according to package directions.

While cake is still hot, poke holes with a utility fork all over the top.

Mix cream of coconut and sweetened condensed milk together in a bowl.

Pour over the top of hot cake. Let cake cool completely.

Frost cake with whipped topping and cover with flaked coconut. Keep cake chilled in the refrigerator.
....Advertisements....
CONTINUE READING BELOW