..Advertisements..
Continue reading below
Tired of bread, cookies and other snacks that you usually eat? then, you must be alive because this time will be different, yeap! and that's the Cowboy Chimichangas! The yummy and very delicious snack that you can prepare and serve for your self or even for your family.
This Cowboy Chimichangas are like quesadillas for me, however the only difference among them is this one is the best and very yummy, I like how it taste and how crispy and has a tempting filling after every single bite of it.
I had tried this once but I can't sleep without knowing this recipe, in the morning, when I came back to the restaurant that we have gone tasting this recipe, and I'm so glad that the chief cook of that restaurant shared it and showed me on how it is going to cook, though I never really get the exact perfect taste in the first time I make this one, it's still worth for the second try and I really did a good job as my husband told me. And now that I finally made it perfect and served it with my kids and other friends and now I want to share this also for you, the Cowboy Chimichangas. There are ingredients with procedures below that you can follow So, I hope you guys will like it! And enjoy!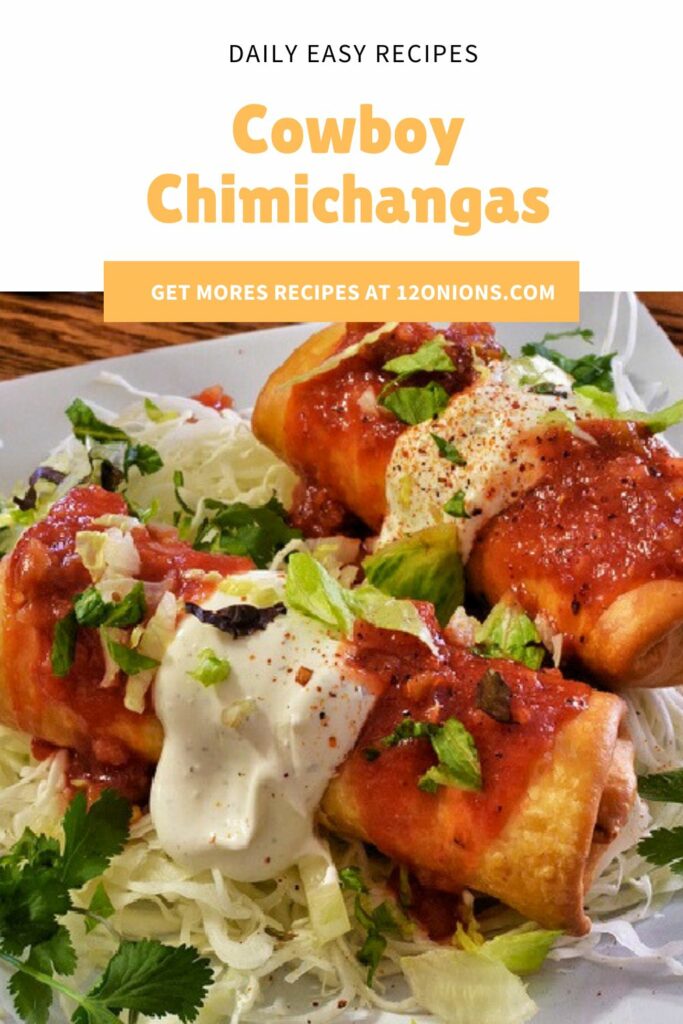 Cowboy Chimichangas
...
Ingredients
1/2

pound

chorizo

1 1/2

pounds

ground venison

elk, or antelope

1

packet taco seasoning

1

can

8 oz tomato sauce

1

can

8 oz diced green chilies, drained

1/2

cup

taco sauce

6

8 to 10-inch flour tortillas

Vegetable oil or lard

1 1/2

cups

grated Monterey Jack cheese

Seeded and chopped jalapeño peppers

optional
Instructions
Crumble the chorizo and ground and game it into heavy fry pan over a medium heat until turns to brown and then drain.

After 2 minute, stir in the seasoning and the tomato sauce with green chiles and the taco sauce and then bring it to a boil, then let it simmer while stirring until becomes thickened.

Add the jalapeño peppers, if desired and then spoon the mixture onto centers of flour tortillas.

And, fold in opposite sides and roll up, using wooden pick if necessary to keep the filling inside.

Use a deep fry pan and oil or lard to within an inch from the top.

It is really necessary to let the oil boil to prevent the folded Cowboy Chimichangas get broken or damage the texture.

After the Cowboy Chimichangas is deep in the oil, turn and remove with it tongs when both sides are browned. And drain it pieces of cooked Cowboy Chimichangas on paper towel as well as the remaining Cowboy Chimichangas, and then pile it in your prepared plate and top with jalapeños and cheese.
And that is the Cowboy Chimichangas, very easy right? And it is very perfect to serve in every season or any occasions. So, enjoy and have a happy day!
....Advertisements....
CONTINUE READING BELOW