..Advertisements..
Continue reading below
This delectable recipe combines tender chicken, creamy sauce, and golden biscuits to create a dish that is both flavorful and filling. Whether you're hosting a family gathering or simply craving some comfort food, this casserole is sure to please. In this article, we will walk you through the step-by-step process of preparing this delicious meal, along with some additional tips and variations. So, let's dive in and discover the magic of Creamed Chicken and Biscuits Casserole.
Can I use chicken thighs instead of chicken breasts?
Absolutely! You can substitute boneless skinless chicken thighs for the chicken breasts in this recipe. They will provide a slightly different texture and flavor, but they will work just as well.
Can I use homemade cream of chicken soup instead of canned soup?
Yes, you can use homemade cream of chicken soup if you prefer. Simply prepare the soup according to your favorite recipe and use it in place of the canned soup. It may take a little extra time and effort, but the result will be worth it.
Can I freeze Creamed Chicken and Biscuits Casserole?
Yes, this casserole can be frozen for future enjoyment. After baking, let the casserole cool completely, then cover it tightly with aluminum foil or plastic wrap. Place it in the freezer and store for up to 3 months. When ready to eat, thaw it overnight in the refrigerator, then reheat in the oven until heated through.
What are some variations I can try with this recipe?
While this recipe is delicious as it is, you can always add your own twist to suit your taste preferences. Here are a few ideas:
Add some vegetables like peas, carrots, or corn to the chicken mixture for added color and nutrition.
Sprinkle some herbs, such as thyme or rosemary, over the chicken mixture to enhance the flavors.
Experiment with different types of cheese, such as Monterey Jack or Swiss, to give the casserole a unique twist.
For a spicier version, add some diced jalapeños or a pinch of cayenne pepper to the chicken mixture.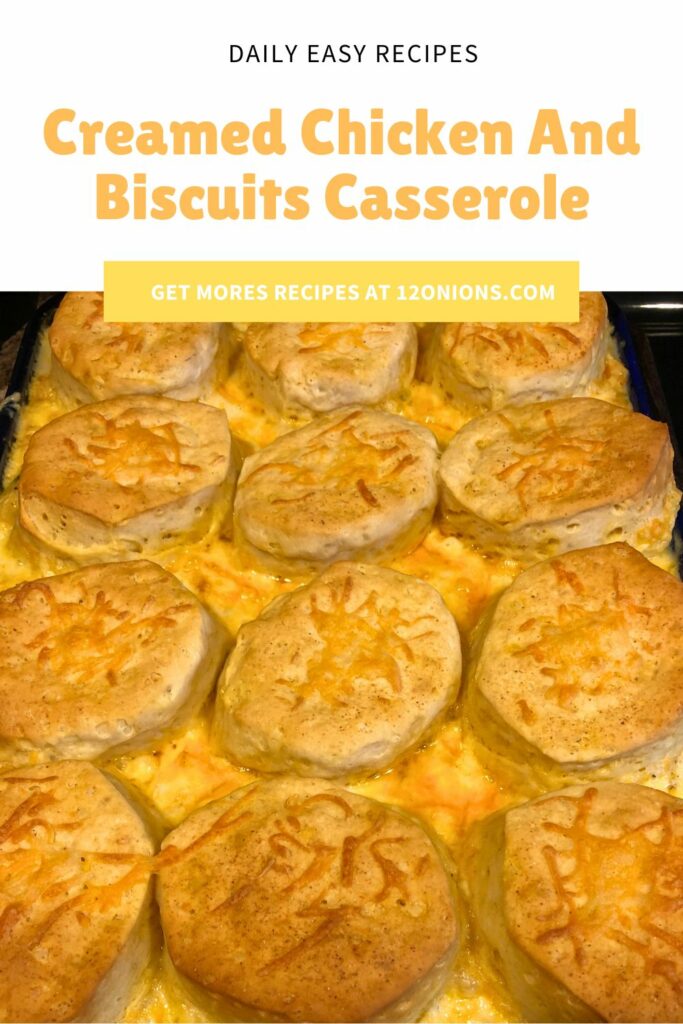 Creamed Chicken And Biscuits Casserole
...
Ingredients
1

small onion

1 1/2

teaspoons

butter

2

lbs

chopped cooked chicken breasts or 2 lbs boneless skinless chicken thighs

1

10 3/4 ounce can cream of chicken soup

1/2

cup

mayonnaise

1

cup

milk

1/2

cup

chopped pimiento or 1/2 cup sauteed red bell peppers or 1/2 cup jarred roasted red pepper

1 1/2

cups

shredded mild cheddar cheese

refrigerated biscuit
Instructions
Preheat oven to 350.

Grease the bottom and sides of an 11×7 inch baking dish or 10-inch quiche dish.

Chop the onion.

Heat butter in a small nonstick skillet and saute until tender.

Combine cooked onion, soup, chicken, milk, pimiento, and mayo in a bowl and then turn into the prepared baking dish.

Bake for 15 minutes and remove from oven.

Sprinkle 1 cup of the cheese over the baked mixture.

Arrange biscuits decoratively in a single layer and sprinkle the remaining 1/2 cup cheese over them.

Return the casserole to the oven and bake until biscuits are golden brown and sauce is bubbly, usually about 20 minutes longer.
....Advertisements....
CONTINUE READING BELOW