..Advertisements..
Continue reading below
If you're looking for a meal that's both effortless to prepare and visually stunning, then look no further than this recipe. It's an easy-to-follow process that will result in a dish that looks like it came straight out of a five-star restaurant. The elegant presentation is sure to impress anyone, making it a perfect choice for special occasions or dinner parties.
But don't let the fancy appearance fool you. This recipe is also a crowd-pleaser in terms of taste. It's one of the go-to dinners in our household because it's just so delicious. The flavors are well-balanced, with the perfect combination of savory and creamy. The tender meat and the earthy mushrooms blend perfectly with the rich sauce, creating a mouthwatering experience that's hard to resist.
And the best part? It's easily scalable. If you need to serve a larger group, you can easily double or triple the recipe with only a slight increase in prep time. So whether you're cooking for a small gathering or a big event, this recipe is perfect for any occasion.
Is stroganoff Russian or German?
The answer is that Beef Stroganoff is a Russian dish. It was named after Count Alexander Grigorievich Stroganoff, who lived in the late 19th century in Odessa. Count Stroganoff was a wealthy and influential man who loved good food. Legend has it that he hired a French chef to create a dish that would impress his guests, and the result was the delicious Beef Stroganoff that we know today.
There are two versions of the dish's origin. Some say that it was created in the 19th century by French chef Charles Briere, who worked for Count Pavel Alexandrovich Stroganoff. Others claim that it was created by a chef in St. Petersburg and then popularized by Count Alexander Grigorievich Stroganoff. Regardless of its origin, the dish has become a classic of Russian cuisine and is enjoyed by millions of people around the world.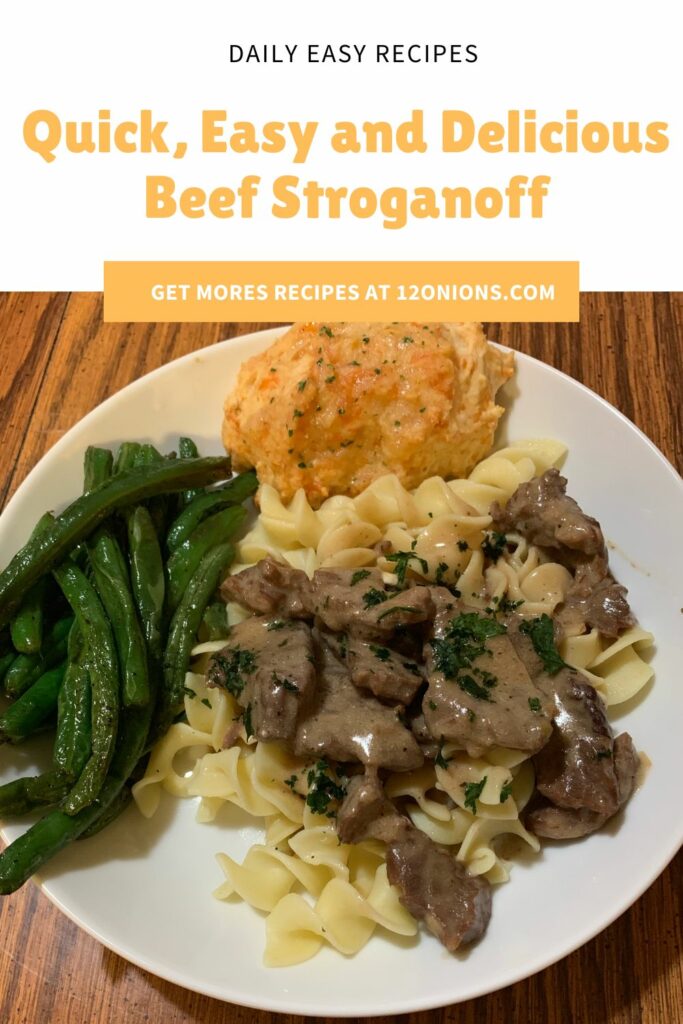 Creamy Beef Stroganoff
...
Ingredients
2

lbs.

beef sirloin steak

sliced into 1 x 1 1/2-inch strips and pounded to 1/4-inch thickness

1/4

cup

all-purpose flour

1

tsp.

salt

1

tsp.

paprika

1/2

tsp.

ground black pepper

1/4

cup

nut oil

substitute for butter

1

small onion

diced

3

cloves

garlic

minced

2

cups

canned sliced mushrooms

1

can

10 oz. beef broth or 1 1/3 cups beef stock

1/2

cup

water

1

tbsp.

Worcestershire sauce

2

tsp.

red pepper flakes

1

tsp.

Dijon mustard

substitute for prepared yellow mustard

1/3

cup

cream cheese

1/3

cup

sour cream

2

cups

hot cooked noodles
Instructions
In a resealable plastic bag, combine flour, salt, paprika, and black pepper and add the beef to the flour mixture. Shake to coat.

In a large skillet over medium-high heat, melt the nut oil. Cook and stir the beef, onion, and garlic until the beef is browned and the onion is soft and translucent, about 10 to 15 minutes.

Add the mushrooms, beef broth or stock, water, Worcestershire sauce, red pepper flakes, and Dijon mustard to the skillet. Mix well and bring to a boil. Reduce the heat, cover the skillet, and let simmer for about 1 hour or until the beef is very tender.

Stir in the cream cheese and sour cream. Cook and stir until warmed, about 2 to 3 minutes.

Serve over hot cooked noodles.
Notes
The dish can be prepared up to a day ahead and refrigerated before adding the cream cheese and sour cream. Reheat slowly before adding the last two ingredients.
Feel free to use prepared beef stock instead of canned beef broth.
You can substitute butter with nut oils.
....Advertisements....
CONTINUE READING BELOW