..Advertisements..
Continue reading below
Every time I sip on chicken noodle soup, it whisks me back to a cozy winter evening spent at my grandma's quaint country home. As a child, I'd watch her gracefully navigate her rustic kitchen, telling stories of her travels to far-off places. One such adventure took her to the heart of Italy where she tasted a version of this soup at a local eatery. She came back with a renewed love for this classic, tweaking it to perfection, and passing on her recipe through generations.
Years later, when I visited my friend Jane in New York, she served this soup on a rainy afternoon, and it was a heartwarming reminder of home. The blend of simple ingredients combined with love and care is what makes this soup special. It's not just a dish; it's a tale of family, friendship, and cherished memories.
How to Prepare Easy Chicken Noodle Soup
Ingredients for Easy Chicken Noodle Soup
1 tablespoon of unsalted butter
1/2 cup of finely diced onions
1/2 cup of freshly chopped celery
4 cans of premium chicken broth (14 1/2 ounces each)
1 can of vegetable broth (14 1/2 ounces)
1/2 pound of cooked chicken, diced
1 1/2 cups of egg noodles or any preferred variety
1 cup of thinly sliced carrots
A pinch of dried basil and oregano
Salt and freshly ground black pepper as per taste
Directions for Easy Chicken Noodle Soup
Heat butter in a deep pot over a medium flame until melted.
Add in the onions and celery, sautéing until they become translucent, usually around 5 minutes.
Mix in the chicken and vegetable broths, followed by the chicken pieces, egg noodles, carrots, basil, and oregano. Season with salt and pepper.
Stir everything well and allow it to reach a boil. Once boiling, reduce the heat and let the soup simmer for about 20 minutes.
Adjust seasoning if necessary, serve hot, and enjoy the comfort of each spoonful!
Which noodles are best for this soup?
Traditional egg noodles are the top choice for chicken noodle soup. However, rotini and fusilli are excellent alternatives. Feel free to experiment with your favorite type!
Any suggestions for additional seasonings?
Absolutely! You can enhance the flavor by adding ingredients like bay leaves, garlic, herbes de Provence, rosemary, and even thyme. Modify it to your palate!
Can I make any ingredient swaps?
Yes! This soup is versatile. Use rotisserie chicken instead of cooked chicken breasts, or replace broth with a combination of water and bouillon cubes. You can also use oil in place of butter if desired.
What can I pair with this soup?
Chicken noodle soup is wholesome on its own, but if you wish to complement it, go for bread-based sides like Basic Biscuits, Grilled Cheese Sandwich, French Baguettes, Classic Dinner Rolls, or Toasted Garlic Bread.
How should I store the leftover soup?
Store the remaining soup in a sealed container in the fridge. It will remain fresh for up to three to four days.
Is freezing the soup a good idea?
Yes, you can freeze chicken noodle soup. If you're planning to freeze, prepare the soup and noodles separately as frozen noodles can become mushy upon thawing. Use freezer bags for storage and label them with the date. They can be stored for up to six months and can be reheated on the stove.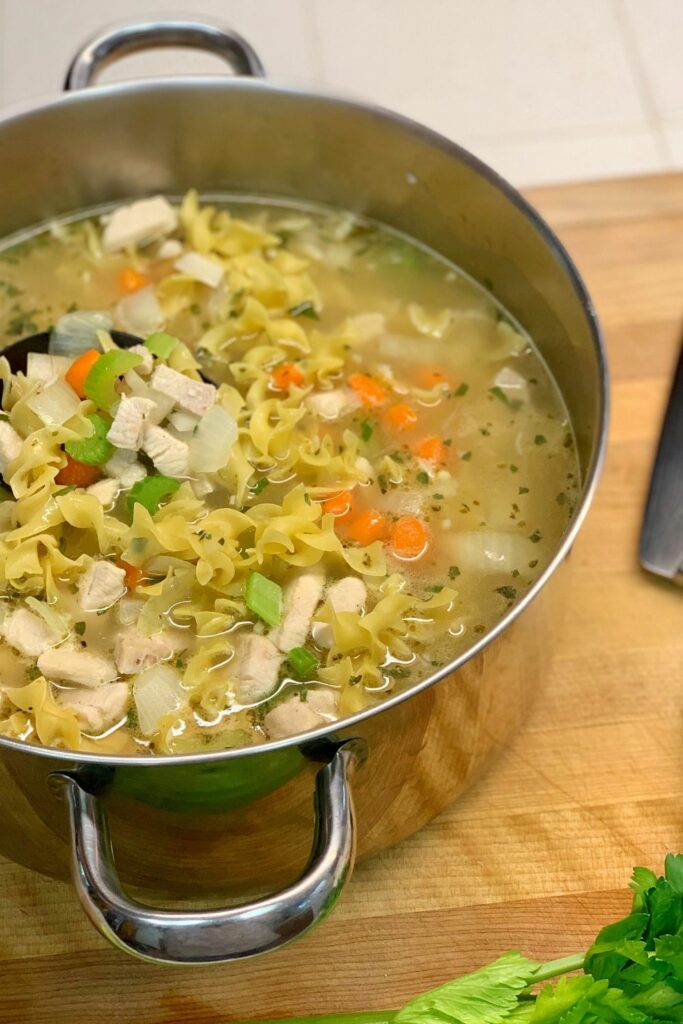 Easy Chicken Noodle Soup
...
Ingredients
1

tablespoon

butter

1/2

cup

chopped onion

1/2

cup

chopped celery

4

14 1/2 ounce cans chicken broth

1

14 1/2 ounce can vegetable broth

1/2

pound

chopped cooked chicken breast

1 1/2

cups

egg noodles

1

cup

sliced carrots

1/2

teaspoon

dried basil

1/2

teaspoon

dried oregano

salt and ground black pepper to taste
Instructions
Melt butter in a large pot over medium heat.

Add onion and celery and cook until just tender, about 5 minutes.

Add chicken broth, vegetable broth, chicken, egg noodles, carrots, basil, oregano, salt, and pepper.

Stir to combine and bring to a boil.

Reduce heat and simmer for 20 minutes.
....Advertisements....
CONTINUE READING BELOW