..Advertisements..
Continue reading below
Autumn holds a special place in my heart, not just because of the crisp air and the brilliant hues of the leaves, but also due to the memories attached to it. I remember as a child, we would go pumpkin picking with my family.
After returning, my grandmother would transform those plump pumpkins into the most delectable dishes, the star always being her signature pumpkin pie.
Years later, when I shared this recipe with my neighbors for a potluck, the pie was the talk of the evening. The fresh pumpkin truly makes a difference, imparting an earthy, rich flavor, unparalleled by any canned counterpart.
If you've always depended on store-bought pumpkin pies, this recipe is about to change your autumn dessert game.
How to Prepare Fresh Pumpkin Pie
Ingredients for Fresh Pumpkin Pie
1 1/3 cups of all-purpose flour
A pinch of salt
1/2 cup vegetable shortening
2-4 tablespoons icy water
2 cups pureed fresh pumpkin
12 ounces of evaporated milk
2 farm-fresh eggs
3/4 cup organic brown sugar
1/2 teaspoon cinnamon, freshly ground
1/2 teaspoon ginger, freshly grated
1/2 teaspoon nutmeg, freshly grated
Directions for Fresh Pumpkin Pie
Preheat your oven to 400°F (205°C).
Begin by preparing the crust. In a mixing bowl, whisk together the flour and salt. Gradually incorporate the
shortening until the mixture appears grainy. Add water tablespoon by tablespoon, until the dough holds
together. Be careful not to overwork the dough.
On a floured surface, roll out the dough to fit a 9-inch pie dish. Place it gently into the dish, fluting the
edges for a decorative touch.
In a separate bowl, whisk together the pumpkin puree, evaporated milk, eggs, sugar, and spices until smooth.
Pour the pumpkin mixture into the pie crust, ensuring it's evenly spread.
Bake in the preheated oven for about 40-60 minutes. Check for doneness by inserting a knife near the pie's
edge. If it comes out clean, your pie is ready!
Let the pie cool to room temperature before slicing and indulging.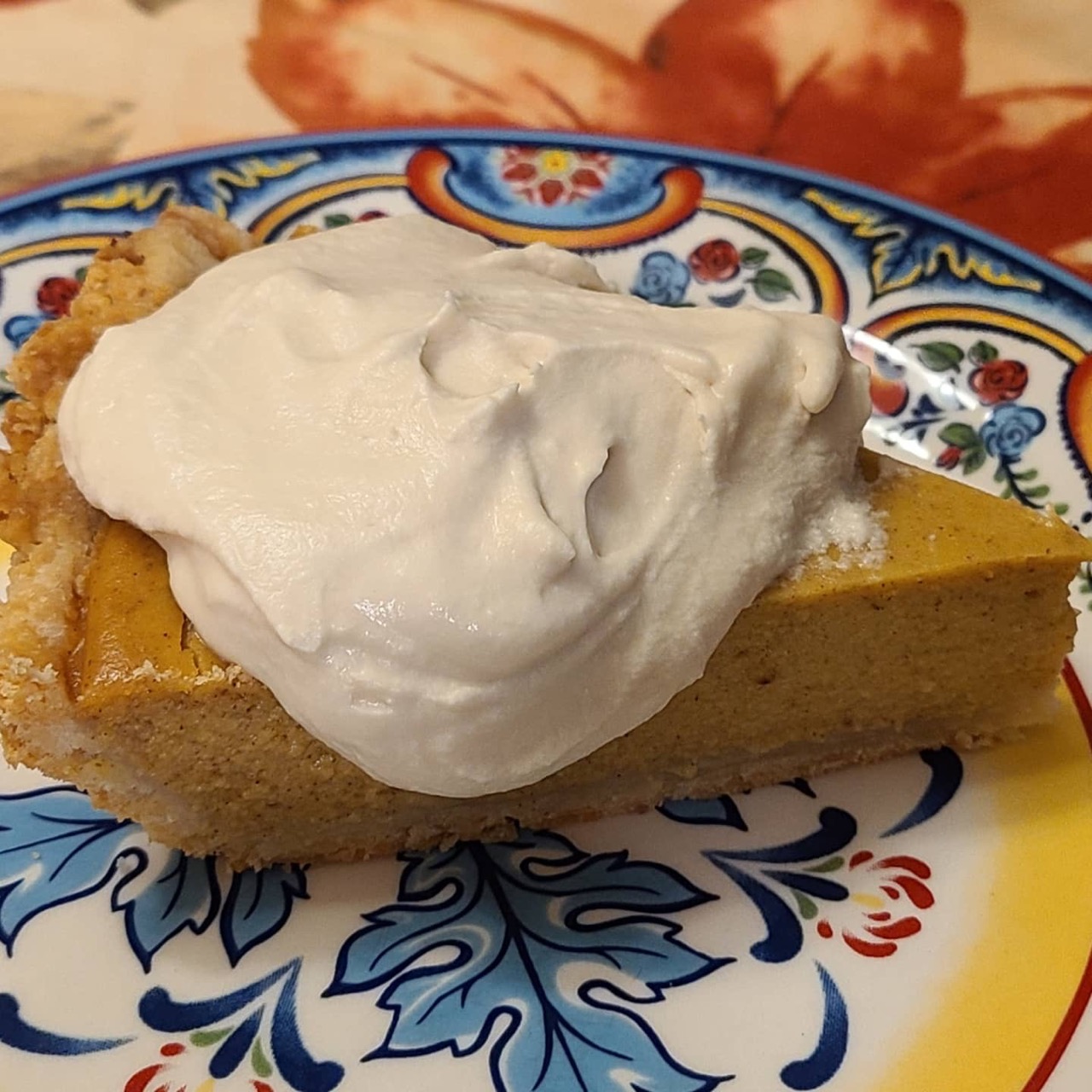 What sets this pumpkin pie apart from others?
The use of fresh pumpkin puree, combined with handpicked spices and a flaky homemade crust, makes this pie a
unique autumn treat. The flavors are more pronounced, and the texture is creamier.
Can I use canned pumpkin instead?
While fresh pumpkin offers a unique flavor, if you're short on time or can't find fresh pumpkins, canned pumpkin
can be used. However, ensure it's pure pumpkin puree without any added sugars or preservatives.
How do I store leftover pumpkin pie?
As an egg-rich dessert, it's best to refrigerate any leftovers. Once cooled, cover your pie and place it in the
refrigerator. It can be kept for up to four days.
Can I freeze this pumpkin pie for later?
Yes, to freeze, ensure the pie is fully cooled. Wrap it securely in plastic wrap and then in aluminum foil.
Store in the freezer for up to a month. Thaw in the refrigerator before serving.
What's the best way to serve this pie?
This pie is perfect when served at room temperature. You can top it with a dollop of whipped cream or a scoop of
vanilla ice cream for an added treat.
Can I add other spices to the filling?
Absolutely! The beauty of homemade pies is the ability to tweak them to your liking. Cloves, allspice, or cardamom
can be excellent additions. However, use them sparingly as they can overpower the pumpkin flavor.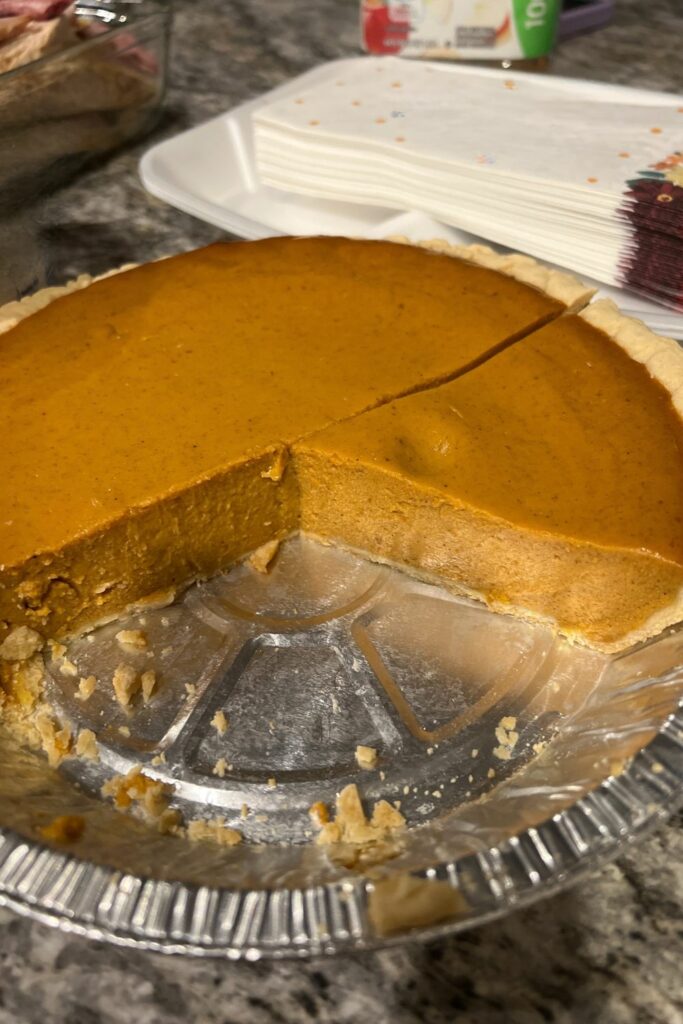 Homemade Fresh Pumpkin Pie
...
Ingredients
1 1/3

cups

all-purpose flour

1/2

teaspoon

salt

1/2

cup

shortening

3

tablespoons

cold water

or more as needed
Filling:
2

cups

mashed

cooked pie pumpkin

1

12 fluid ounce can evaporated milk

2

large eggs

beaten

3/4

cup

packed brown sugar

1/2

teaspoon

ground cinnamon

or more to taste

1/2

teaspoon

ground ginger

or more to taste

1/2

teaspoon

ground nutmeg

or more to taste

1/2

teaspoon

salt
Instructions
Preheat the oven to 400 degrees F.

Make the pastry crust: Mix flour and salt together in a bowl. Cut in shortening with a pastry blender until mixture resembles coarse crumbs. Mix in 3 tablespoons water, one at a time, until dough is moist enough to hold together. Add up to 1 more tablespoon water if needed.

Shape dough into a ball with lightly floured hands. Roll dough on a lightly floured surface to a thickness of 1/8 inch. Place a 9-inch pie pan upside-down on the dough; use a sharp knife to cut a circle of dough 1 1/2 inches larger than the pie pan. Remove and discard dough scraps and set pie pan aside.

Gently roll circular piece of dough around the rolling pin; transfer it right-side up over the pie pan. Unroll, easing dough into the bottom of the pan. Use two hands to flute the dough around the top edges.

Make the filling: Beat pumpkin, evaporated milk, brown sugar, eggs, cinnamon, ginger, nutmeg, and salt in a large bowl with an electric mixer until well combined. Pour into the prepared crust.

Bake in the preheated oven until a knife inserted into the filling 1 inch from the edge comes out clean, 40 to 60 minutes. Cover the edges with foil if needed to prevent from burning as the filling cooks.

Remove from the oven and cool to room temperature before serving.
....Advertisements....
CONTINUE READING BELOW