..Advertisements..
Continue reading below
Every year, as the autumn leaves began to fall, my family would gather at my grandmother's house for a pre-Halloween bash. It wasn't just about the costumes or the stories, but about the tantalizing array of desserts that lined the old wooden table. Among them was a treat that made both kids and adults swoon — the frosted Halloween Oreo brownies.
Just last year, I decided to introduce this recipe to my neighbours during our community potluck. The magic of the brownies was undeniable. Within minutes, there was not a crumb left, and requests poured in for the secret recipe. So, here it is, folks! A treat that has been a family favorite and is sure to wow your friends and family too.
How to Prepare Frosted Halloween Oreo Brownies
Ingredients for Frosted Halloween Oreo Brownies
4 ounces of dark baking chocolate
4 ounces (1 stick) of unsalted butter
4 fresh large eggs
2 cups of white sugar
1/2 teaspoon of sea salt
1 teaspoon of pure vanilla extract
1 cup of fine all-purpose flour
10 spooky Halloween Oreos, coarsely chopped
Oreo Frosting Ingredients:
4 ounces of unsalted butter, at room temperature
4 ounces of cream cheese, softened
2 cups of icing sugar
1 teaspoon of vanilla essence
2 teaspoons of fresh milk
5 Oreos, finely ground
Directions for Frosted Halloween Oreo Brownies
Start by preheating your oven to 350 degrees.
For a moist texture, use a 9″x 13″ baking dish.
In a double boiler, melt the chocolate and butter until smooth. Allow it to cool to room temperature.
Whisk together the eggs and sugar until they're light and airy. Stir in the sea salt and vanilla extract.
Gently fold the cooled chocolate-butter mix into the egg mixture. As it integrates, fold in the flour, followed by the chopped Oreos.
Transfer this mixture into your baking dish and bake for approximately 30 minutes. Ensure to cool completely afterwards.
For the frosting, whisk the butter and cream cheese using an electric mixer. Gradually add the icing sugar, followed by vanilla essence and milk. Once it's smooth, fold in the crushed Oreos until well-combined.
Spread the frosting over the cooled brownies, cut into squares, and serve with a smile!
Can I use any other cookie instead of Oreos?
Yes, while Oreos give a unique flavor and look especially for Halloween, you can experiment with other cookies. Just ensure they complement the brownie flavor and texture.
How do I store leftover brownies?
Store any leftover brownies in an airtight container at room temperature. They should stay fresh for up to 4 days. For longer storage, consider refrigerating or freezing.
Can I add nuts to this recipe?
Absolutely! Nuts like walnuts or pecans can add a delightful crunch to the brownies. Just ensure to chop them finely and fold them into the batter along with the Oreos.
How do I know when the brownies are done baking?
Insert a toothpick into the center of the brownies. If it comes out with a few crumbs (not wet batter), they're done. The edges should also start to pull away from the sides of the pan.
Can I use dark chocolate instead of unsweetened chocolate?
Yes, but remember that dark chocolate is sweeter than unsweetened. You might want to adjust the sugar in the recipe to ensure the brownies aren't overly sweet.
Do I have to use the frosting?
While the Oreo frosting adds a delightful layer of sweetness and texture, the brownies are scrumptious on their own too. It's entirely up to your preference!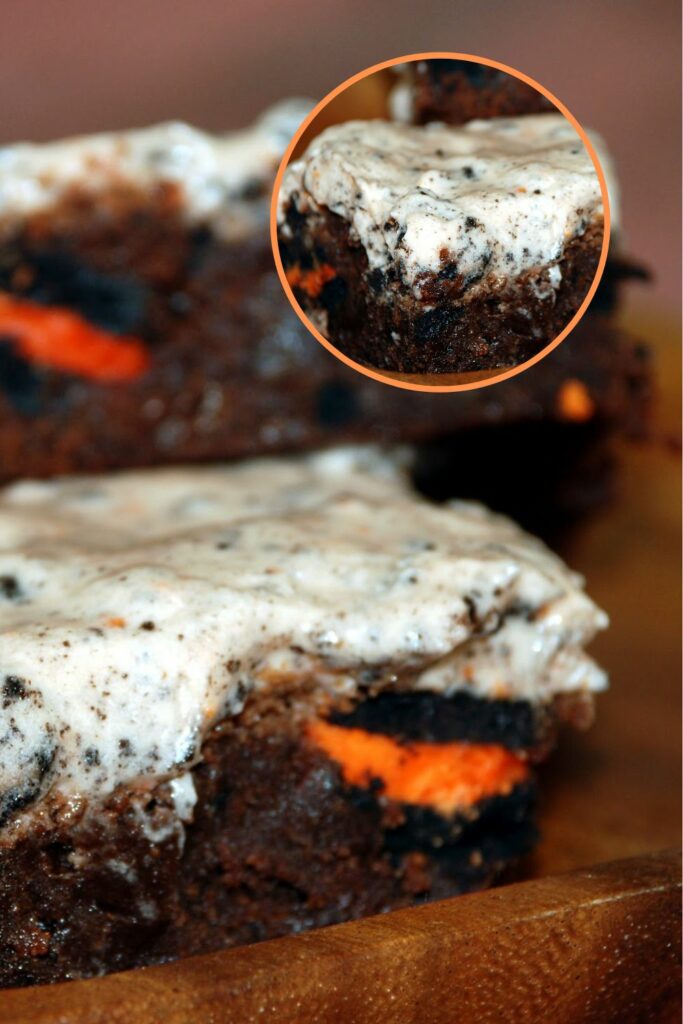 Frosted Halloween Oreo Brownies
...
Ingredients
Brownies Ingredients:
4

ounces

unsweetened chocolate

4

ounces

1 stick unsalted butter

4

large eggs

2

cups

granulated sugar

1/2

teaspoon

salt

1

teaspoon

vanilla extract

1

cup

all-purpose flour

10

Halloween Oreos; chopped
Oreo frosting Ingredients:
4

ounces

unsalted butter; room temperature

4

ounces

cream cheese; room temperature

2

cups

confectioners sugar

1

teaspoon

vanilla

2

teaspoons

milk

5

Oreos; finely crushed
Instructions
Preheat oven to 350 degrees.

Use a 9"x 13" pan for chewy brownies.

Melt the butter and chocolate in a double boiler over simmering water or in the microwave. Stir to blend, then let cool completely; if the mixture is too warm, the brownies will be heavy and dry.

Beat the eggs and sugar together until frothy. Add salt and vanilla.

Stir the chocolate and butter into the eggs and sugar by hand. When the chocolate is almost completely incorporated, add the flour. Add oreos when the flour is almost completely blended in. Pour into prepared pan and bake for 30 minutes. Cool completely.

Combine butter and cream cheese with an electric mixer. When combined turn mixer to low and fluffy add in the confectioners sugar. Mix throughly. Add in vanilla and milk until combined. Add in finely chopped oreos and mix until smooth, fluffy and incorporated.

Frosted cooled brownies and cut into squares.
....Advertisements....
CONTINUE READING BELOW