..Advertisements..
Continue reading below
Last summer, during one of our family get-togethers, my neighbors shared a delightful potato dish that caught everyone's attention. It had a gentle touch of garlic, and the soft, juicy insides of the red potatoes paired perfectly with the crispy, golden exterior. This dish not only became the star of our table but also embarked us on a nostalgic journey, reminding us of grandma's kitchen and her magical recipes.
Recently, I decided to recreate this dish for a small gathering at my place. My dear friend Julia, always known for her culinary expertise, shared her version of the 'Garlic Red Potatoes' with me. But, as always, I decided to add my own twist to it. Let me take you through this simple yet heartwarming recipe that's now close to my heart.
How to Prepare Garlic Red Potatoes with a Twist
Ingredients for Garlic Red Potatoes with a Twist
2 pounds red potatoes, chopped into quarters
1/4 cup butter, melted down
2 teaspoons of fresh garlic, finely chopped
1 teaspoon of salt for taste
Handful of chopped green onions
1 small white onion, finely chopped
A pinch of paprika
Drizzle of olive oil
1 teaspoon dried parsley flakes
1 teaspoon Tony Chachere's seasoning
1 teaspoon minced garlic and a sprinkle of garlic powder
Directions for Garlic Red Potatoes with a Twist
Warm the oven to a steady 350 degrees F (175 degrees C).
Neatly arrange the quartered potatoes in an 8×8-inch baking dish.
In a separate bowl, whisk together the melted butter, chopped garlic, salt, paprika, olive oil, and other spices.
Place all ingredients inside a zip bag, adding the potatoes last. Ensure you seal it properly and give it a good shake to ensure all the potatoes are well-coated with the mixture.
Transfer the well-coated potatoes to the baking dish and bake, covered, for 50 minutes. You're looking for a golden brown hue and a fork that slides in smoothly, indicating the potatoes are well-cooked.
What can be a good substitute for red potatoes?
Yukon Gold potatoes are a great substitute as they have a similar texture and flavor. However, cooking times might slightly vary.
Can I prepare this dish without garlic?
Absolutely! If you're not a fan of garlic, you can omit it. However, garlic does add a rich flavor that complements the potatoes.
Is it necessary to use a zip bag for coating?
No, it's not essential. Using a large bowl and manually tossing the potatoes to coat them evenly works just as well.
Can I add other vegetables to this dish?
Of course! Feel free to add bell peppers, carrots, or even zucchini for added flavor and texture.
How can I make this dish vegan?
You can replace the butter with a vegan alternative or simply use more olive oil for a vegan version of this dish.
Can I refrigerate and reheat leftover potatoes?
Yes, you can refrigerate the leftovers in an airtight container for up to 3 days. Reheat in an oven or microwave until warm.
Happy cooking and hope you enjoy my twist on this delightful dish as much as my family and friends did!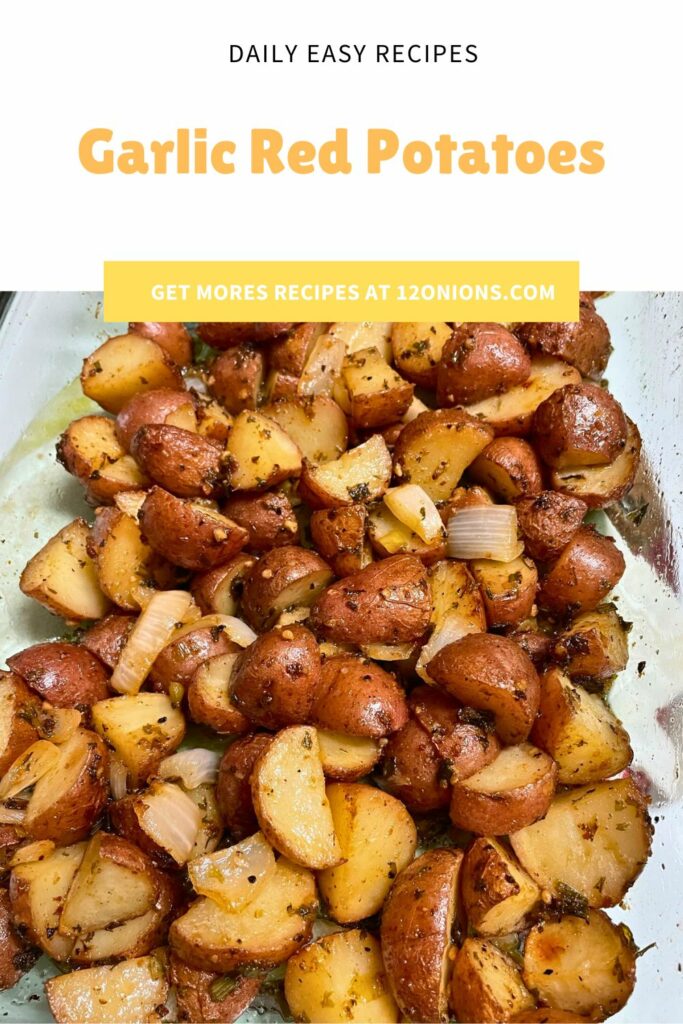 Garlic Red Potatoes
...
Ingredients
2

pounds

red potatoes

quartered

1/4

cup

butter

melted

2

teaspoons

minced garlic

1

teaspoon

salt

1

lemon

juiced

1

tablespoon

grated Parmesan cheese
Instructions
Preheat the oven to 350 degrees F .

Place potatoes in an 8x8-inch baking dish.

Combine melted butter, garlic, salt, and lemon juice in a small bowl; pour over potatoes and stir to coat. Sprinkle Parmesan cheese over potatoes.

Bake, covered, in the preheated oven for 30 minutes. Uncover and bake until golden brown and tender when pierced with a fork, about 10 minutes more.
....Advertisements....
CONTINUE READING BELOW