..Advertisements..
Continue reading below
Over the past year I have re-discovered the lemon.  I used to always wonder how people could use up a whole bag of lemons…I mean what do they do with them all?  I now know, what 'those' people do with them.  They put the juice and zest in everything!  I do mean everything.  I seriously cannot think of one thing you could not put lemon juice or zest in.  Not one stinkin' thing would be better without lemons.
This bread made me happy.  Very very happy.  I felt like I was sitting on a cloud, quietly floating, as I devoured every last morsel.  No, I don't do drugs..why do you ask? J I just love my baked-goods.
Every time we go to Starbucks, Jonathan, Ava and I always get a slice of the lemon pound cake to share.  They always end up fighting over who gets the last bite too.  So I was pleased to present them with a whole loaf for them to share.  Not only was there no fighting but they both agreed it was ten times better than the spongy lemon pound cake at Starbucks!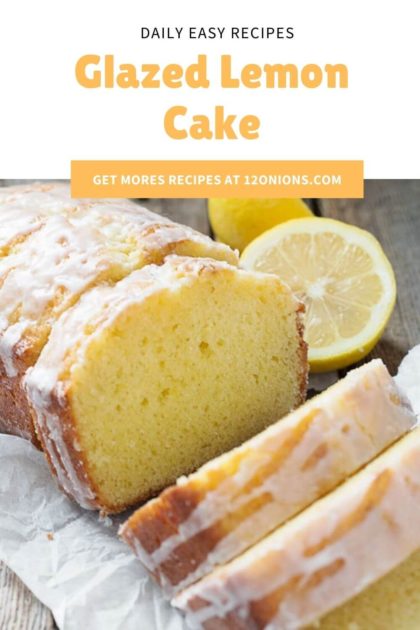 Glazed Lemon Cake
...
Ingredients
Bread:
1 3/4

C

all-purpose flour

divided

1/2

t

baking powder

1/2

t

salt

8

T

1 stick unsalted butter, softened

1 1/3

C

granulated sugar

grated lemon zest of one lemon

2

large eggs

1/3

C

2% milk

juice of one lemon juice
Glaze:
½

C

powdered

confectioner's sugar

4 1/2

t

fresh lemon juice

3/4

t

grated lemon zest

Pinch

salt
Instructions
Preheat oven to 325 degrees F. Grease a 8 1/2- by 4 1/2-inch loaf pan with butter or cooking spray.

In a medium bowl, whisk together flour, baking powder and salt. In the bowl of a stand mixer (or a large bowl, using a hand mixer) set on a medium speed, beat together butter, sugar and lemon zest until light and fluffy, 4 to 5 minutes. Add eggs, one at a time, beating to combine after each addition.

Turn the mixer to low and gradually add the flour mixture, milk and lemon juice. Beat until just combined. Take care not to overbeat or the bread will be tough.

Pour the batter into prepared pan and level with a spatula.