..Advertisements..
Continue reading below
These delectable treats are not only sweet, soft, and chewy, but they are also incredibly easy to make. Whether you want to share them with friends, give them as gifts, or simply include them on your holiday treat plate, these Gumdrop Nougat Candies are sure to delight everyone who tastes them. In this blog post, we will provide you with a step-by-step recipe to create this delightful confectionery, along with some helpful tips and frequently asked questions.
Can I use different flavors of gumdrops?
Yes! Feel free to experiment with different gumdrop flavors to add variety to your candies. You can mix and match or even use a single flavor based on your preferences.
Can I use other types of chocolate instead of white chocolate chips?
While the recipe calls for white chocolate chips, you can certainly try using milk or dark chocolate if you desire a different taste. Keep in mind that it may alter the overall flavor profile.
How long can I store these Gumdrop Nougat Candies?
When stored properly in an airtight container with parchment paper between the layers, these candies can stay fresh for up to two weeks. However, they are best enjoyed within the first week for optimal texture and flavor.
Can I make these candies ahead of time for gifting?
Absolutely! Gumdrop Nougat Candies make wonderful homemade gifts. You can prepare them a few days in advance, ensuring they are stored in a cool place or refrigerated until gifting.
Can I customize this recipe for special occasions other than Christmas?
Definitely! While these candies have a traditional association with Christmas, you can make and enjoy them for any special occasion throughout the year. They are perfect for birthdays, anniversaries, or as a sweet indulgence any time you desire.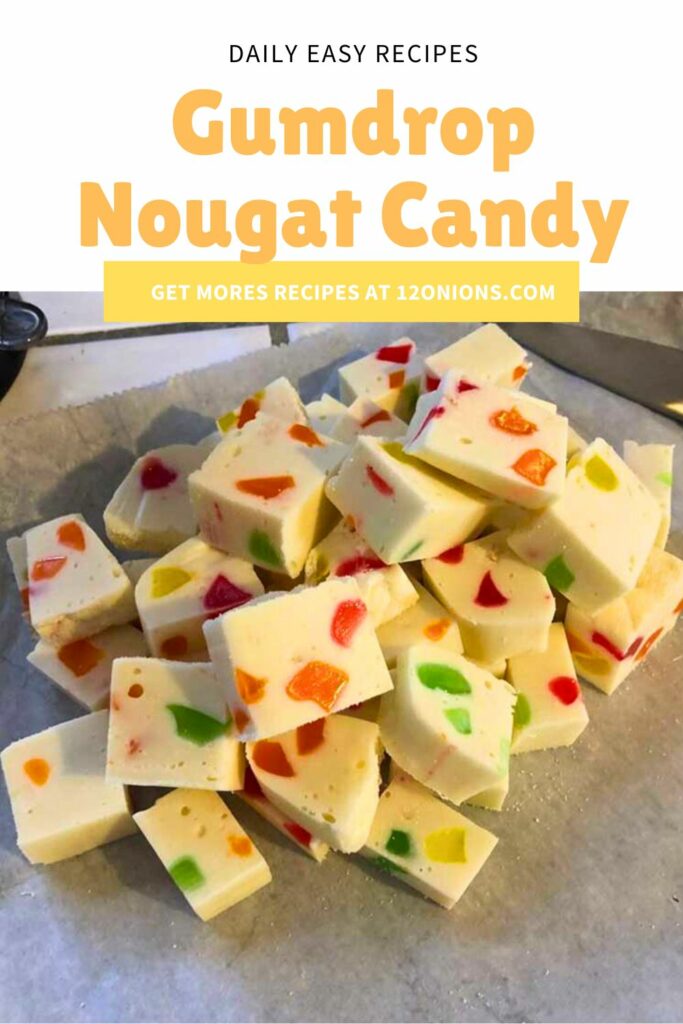 Gumdrop Nougat Candy
...
Ingredients
Ingredients:

2

tablespoons

of butter

2

bags of mini marshmallows

250g per bag

2

bags of white chocolate chips

225g per bag

2

cups

of gumdrops

Vanilla

optional

Salt

optional
Instructions
Prepare an 8x8 square baking dish by lining it with parchment paper.

Cut the gumdrops in half and set them aside.

In a heatproof bowl placed over a saucepan of gently simmering water, create a double boiler to melt the butter, white chocolate chips, and marshmallows together. Ensure a snug fit between the bowl and the pan to prevent burning.

Continuously stir the mixture until it is smooth and fully melted. Be cautious not to overcook or boil the mixture.

Remove the bowl from heat and allow it to cool for approximately 2 minutes.

Stir in the gumdrops, ensuring they are well-mixed with the melted mixture.

Pour the combined mixture into the prepared baking dish.

Since the mixture is sticky, you can use a lightly greased piece of parchment or wax paper to help spread and pat it down evenly in the pan.

Refrigerate the dish for a minimum of 2 hours before cutting. For the best results, refrigerate overnight.

Once thoroughly chilled and set, slice the mixture into 60 bite-sized pieces.

To prevent the candies from sticking together, use parchment paper between the layers when storing.
Notes
Tips for Making Gumdrop Nougat Candy: 1. To make spreading and patting down the sticky mixture easier, lightly grease a small square of parchment paper.
2. For cutting the candies into squares, use a large sharp knife to handle their stickiness effectively.
3. While vanilla and salt are optional, you can add them to enhance the flavor profile according to your preference.
4. Be attentive when melting the ingredients together, ensuring they are fully melted without any signs of cooking or boiling.
....Advertisements....
CONTINUE READING BELOW