..Advertisements..
Continue reading below
There's nothing quite like a fresh batch of cookies that's just come out of the oven. If I'm going to share a special treat with the kids after school or put together something for a group of friends, I love being able to set out a plate of fresh cookies–ideally still just a little bit warm. (Putting them in the microwave on defrost for a few seconds will also give that warm, just-baked temperature if you need to make your cookies ahead of time and share them with friends and family later.)
Baking the same cookies all the time, however, gets a little boring. I like to shake things up a little–and these blueberry cheesecake cookies are a fantastic way to do exactly that!
Do you love blueberry muffins?
What about blueberry pancakes?
Well, these fantastic cookies take the blueberry baked goods out of breakfast and create a fantastic treat that can be enjoyed any time of the day. I love mixing them up for a quick picnic or putting them in school lunchboxes–or setting them out on the table at game night.
Okay, fine. I just love baking cookies.
If you're looking for a slightly unique treat that's simple to mix together, these blueberry cheesecake cookies are a great option. You can also try mixing them up and using different flavors of the muffin mix–raspberry, anyone?–to make something a little different. Jiffy mix comes in a variety of flavors, including chocolate, apple cinnamon, and banana. That's a lot of possibilities for cookies!
While I try not to consider cookies a breakfast food, if you're in a hurry, you can probably excuse these as a great treat one morning–or put them together for brunch and share them with friends. Really, there's no bad reason to bake up a batch of blueberry cheesecake cookies. You'll need a little time for chilling, but otherwise, they come together in just a few short minutes to make fantastic cookies that are sure to impress. The use of the boxed mix makes it simple, but it also offers a unique take that will make it seem as though you put plenty of effort into the task.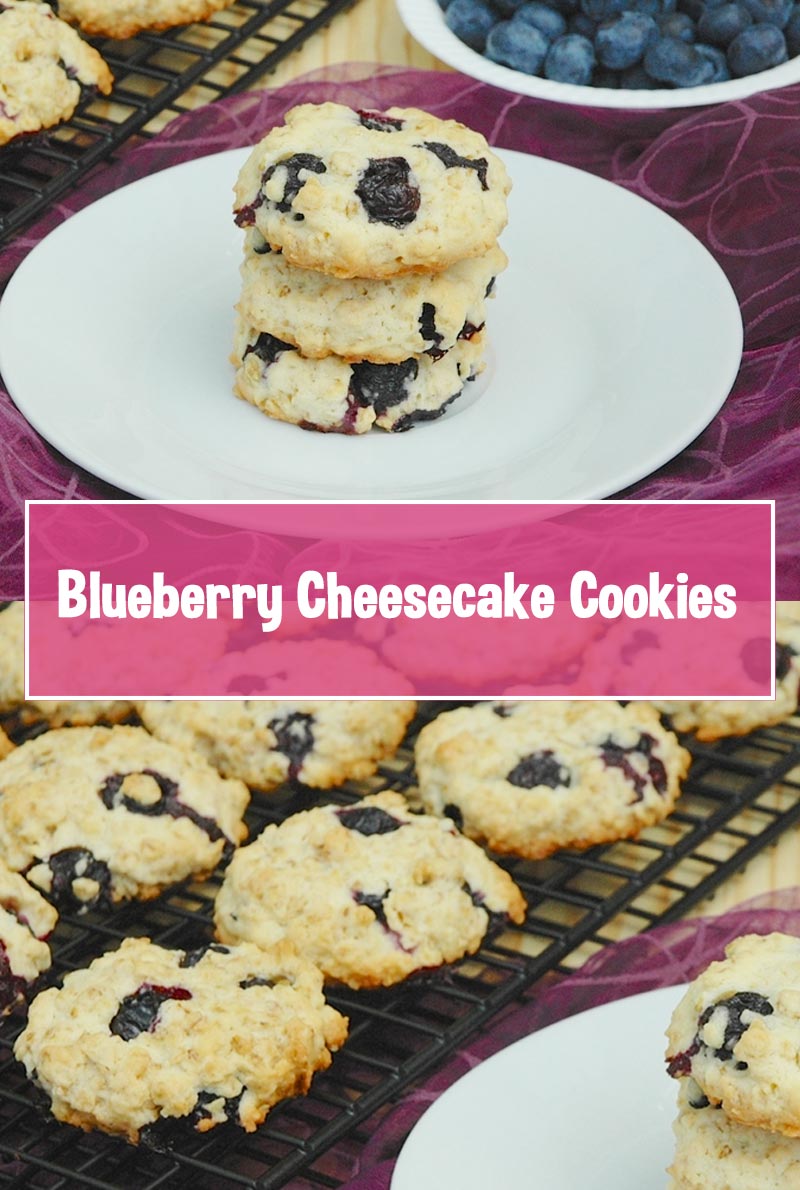 The Recipe
Ingredients:
2 boxes Jiffy brand blueberry muffin mix
4 oz (1/2 box) cream cheese
1/2 cup (1 stick) butter
1/2 cup light brown sugar
2 eggs
1 1/2 cup white chocolate chips
Directions:
If you need to bring your butter and cream cheese closer to room temperature, place them in the microwave for approximately 40 seconds on defrost–this will help give you that great creamy consistency.
Cream together the butter, sugar, and cream cheese. Add eggs one at a time, mixing until thoroughly incorporated into the mixture.
Add the boxes of muffin mix and mix until completely blended. Stir in the white chocolate chips, taking care not to over-mix.
Chill the cookie dough for at least one hour.
Preheat the oven to 325 degrees. Drop cookies by rounded tablespoons onto greased cookie sheet. Bake for 14-16 minutes.
Allow cookies to cool on the sheets for 2-3 minutes before removing to a wire rack and allowing to cool completely.
Store on the counter in an airtight container for a few days before eating.