..Advertisements..
Continue reading below
When I was younger we used to order pizza delivered to the house all the time. Probably once every week or two, usually ordering from wherever we had a coupon from. Most of that time it ended up being Pizza Hut or Dominos. They're really good about taping coupons to the pizza boxes. They know how to keep you coming back haha. So anyways, needless to say I am very familiar with the pizza chain-cheesy bread sticks. We were fans. And there was always a specific taste and texture to them. Very hard to duplicate from a regular bread dough recipe. They had a porous  oily, crunchy crust and there was usually a little bit of crunchy cheese along the edges. The cheese on top of the bread though was always perfectly melted. I can never do that in my oven, it always ends up semi-crisp on top. I lose all that perfect just-melted, gooeyness. I think one day I will try adding the cheese on halfway through baking instead of at the beginning. Kind of makes sense right? After all, in a commercial pizza oven, the pizza is only in there for a short while. Not the standard 20 minutes an at home oven takes. The cheese is bound to be effected by the time spent in the oven.
My pet peeves with cheese aside, I was so excited to find this recipe for Homemade Pizza Hut Cheesy Bread Sticks off of Pinterest. And I see it there all the time, being recirculated by the people, so you all must be excited about the prospect too! And I don't know why you wouldn't be, especially since the bread sticks in the original post look SO similar to Pizza Huts'. Mine on the other hand… well, it's that whole cheese in the home oven thing! I can't seem to get it melty instead of crunchy… but that's my problem- not yours' or this recipes'. Be forewarned: the technique required for this recipe is NOT low cal. Not at all. You pour melted butter on the bottom of the baking sheet and on top of the bread dough, then you add a good half a pound of full-fat mozzarella. Let me emphasize this- you need the full fat, freshly shredded mozzarella cheese to get the right effect. Full fat will allow for the signature melty quality of the cheese, and so will shredding it fresh. All pre-shredded cheese is coated with a cornstarch type mixture to prevent the pieces from melting and sticking to each other at any point during transit or storage. This effects the way it melts (check out this post for picture comparison). And why all the butter? It creates the fried, oily bottom that is so quintessential to Pizza Hut crust.
So how did it compare? Pretty darn close! I can't give you a true comparison because I halved the recipe and then quartered my servings again, putting 3/4 of that in the fridge for the following days. Hey, I'm only feeding myself here! I'm only putting myself in danger if I make a full sheet pans worth of this stuff… So I ended up baking an eighth recipe at a time in a cast iron 8×4-inch pan. And I didn't use all the butter or have full fat mozzarella. I just couldn't bring myself to use all that butter and I simply didn't have full-fat mozzarella at my grocery store. In the end, I didn't duplicate the recipe perfectly to be able to give you real results, but I came pretty close. AND I used some of the leftover dough in the fridge to make some pizza and the crust came out super awesome! I was able to roll it nice and thin and crispy, something I usually find hard to do with most recipes. But that's probably because it had 2 days in the fridge for the gluten to relax…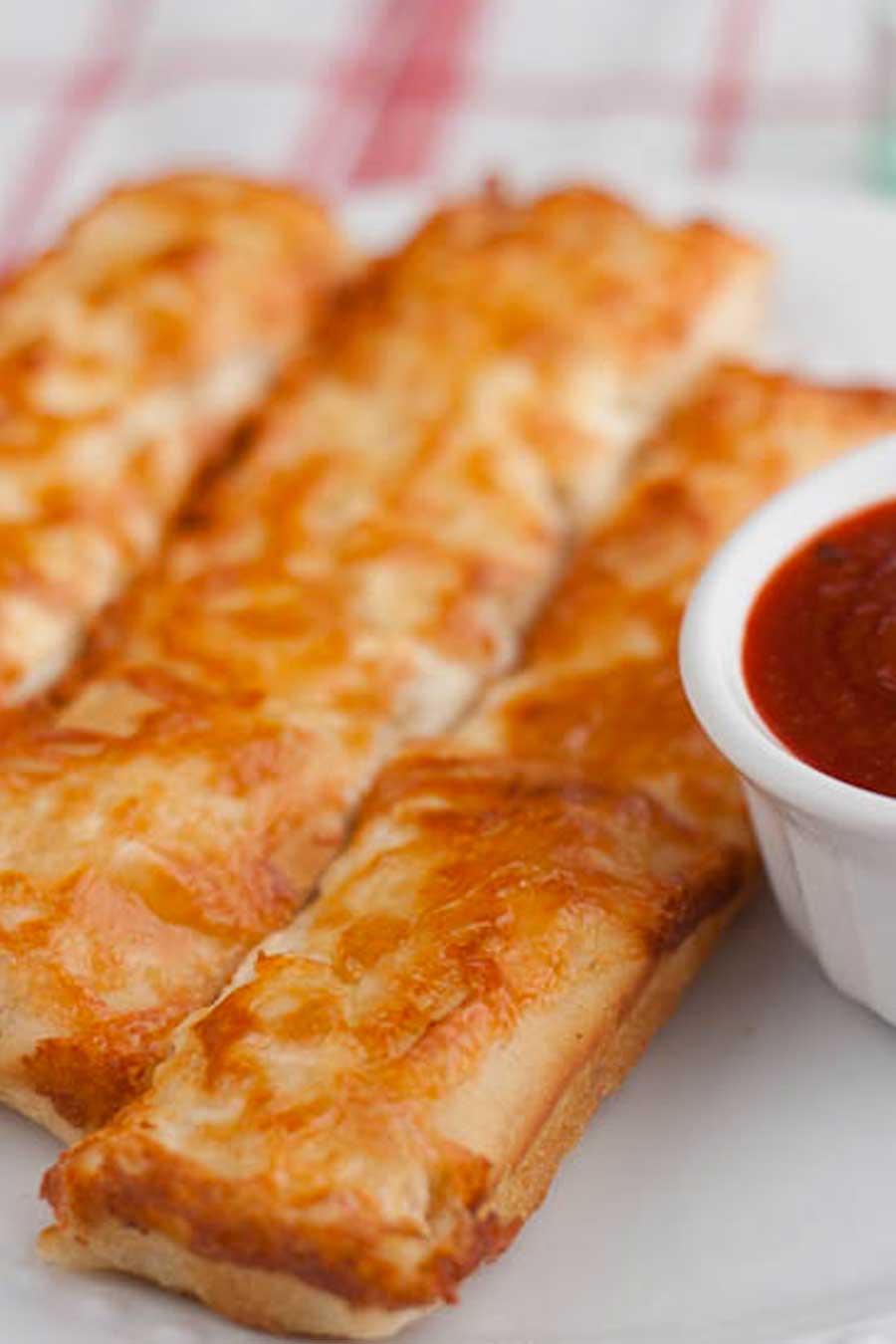 If you're a Pizza Hut Cheesy Bread Stick fan, you've really got to try this recipe. You won't be disappointed.
Homemade Pizza Hut Cheesy Bread Sticks
Serves: 6
Ingredients:
1½ cups warm water (about 115°F)
2 tbsp sugar
1 tsp salt
½ cup non-fat dry milk
1 tbsp yeast
3 cups all purpose flour
½ cup melted butter (half for the bottom of the pan and half on top of the breadsticks)
8 oz package of mozzarella cheese
Sprinkle with garlic powder, Parmesan cheese, salt & pepper (to taste)
Directions:
Dissolve yeast in the warm water. Let sit for 5 minutes until foamy (unless using instant dry yeast, in which case proceed directly to the next step).
Add sugar, milk, and salt, and mix.
Add enough flour to form a moderately stiff dough so that it is not sticky to the touch. May need up to ½ more flour.
Knead the dough until smooth, 8 to 10 minutes.
Roll the dough into the size and shape of your baking pan (about 13×18-inches).
Spread half of the butter onto the bottom of the pan and then place the dough into the pan. Let rise in warm, draft-free place for 15 minutes.
Spread remaining butter on the top of the dough.
Top dough with cheese and optional toppings or leave it plain.
Bake at 350°F for 20-25 minutes or until golden brown.
Cut into breadsticks and serve with marinara sauce.
...Advertisements...
CONTINUE READING BELOW