..Advertisements..
Continue reading below
Every Christmas, as the snow blankets the streets and the twinkling lights adorn our homes, I'm reminded of a heartwarming story from my childhood. Growing up, my neighbor Mrs. Thompson was known for her culinary prowess. Each year, she'd invite the entire neighborhood over for a grand Christmas feast. The aroma of roasted turkey, fresh pies, and mulled wine would waft through the air, drawing everyone to her home. But what stood out the most were her Reese's Peanut Butter Christmas Trees. They were the star of every gathering, and children and adults alike would eagerly await their turn to savor these delightful treats.
Years later, during a trip to Paris with my family, we stumbled upon a quaint little patisserie in Montmartre. To our surprise, they had a version of the Reese's Peanut Butter Christmas Trees! It was a nostalgic trip down memory lane, reminding me of Mrs. Thompson and her festive gatherings. Inspired by these memories and my travels, I decided to recreate this beloved recipe, adding my own twist to it.
Today, I'm thrilled to share this cherished recipe with all of you. Whether you're reminiscing about old memories or creating new ones, these Reese's Peanut Butter Christmas Trees are sure to bring joy to your holiday celebrations.
How to Prepare Reese's Peanut Butter Christmas Trees
Ingredients for Reese's Peanut Butter Christmas Trees
1 cup smooth peanut butter
¼ cup melted unsalted butter
2 Tablespoons dark brown sugar
2 teaspoon pure vanilla essence
¼ teaspoon fine sea salt
2 cups confectioners' sugar
10-12 oz. assorted chocolate (consider a mix of semi-sweet and milk chocolate)
Directions for Reese's Peanut Butter Christmas Trees
Begin by lining an 8×8-inch baking dish with parchment paper, ensuring some paper overhangs the sides for easy removal later.
In a large bowl, combine the peanut butter, melted butter, brown sugar, vanilla, and salt. Stir until the sugar is fully dissolved.
Gradually fold in the confectioners' sugar until well combined.
Transfer this mixture to the prepared dish, smoothing the top with a spatula or your hands to achieve a uniform thickness of about ½ inch.
Freeze the mixture until it's firm enough to cut, approximately 30 minutes.
Once set, use a Christmas tree-shaped cookie cutter to cut out shapes and place them on a parchment-lined tray. For best results, freeze these cutouts for another 45-60 minutes.
In the meantime, melt your assorted chocolates in a microwave or using a double boiler.
Dip each tree into the melted chocolate, ensuring it's fully coated. Allow any excess chocolate to drip off before placing them on a fresh parchment-lined tray.
Chill the chocolate-coated trees until set. Store in a cool place or refrigerate for longer shelf life.
What kind of peanut butter works best for this recipe?
For the best results, use a smooth and creamy peanut butter. Avoid using chunky or natural varieties as they might alter the texture and consistency of the trees.
Can I use white chocolate instead of milk or semi-sweet chocolate?
Absolutely! White chocolate can be a delightful alternative, giving the trees a snowy appearance. Just ensure it's of good quality for the best flavor.
How long can I store these Reese's Peanut Butter Christmas Trees?
Stored in an airtight container in the refrigerator, they can last up to two weeks. If you wish to keep them longer, consider freezing them.
Is it essential to freeze the peanut butter mixture before cutting?
Yes, freezing helps in firming up the mixture, making it easier to cut into shapes without it falling apart.
Can I add any toppings or decorations to the trees?
Of course! Feel free to get creative. Sprinkles, crushed nuts, or even a drizzle of caramel can enhance the look and taste of your trees.
Why is my chocolate coating not setting properly?
Ensure that the peanut butter trees are well-chilled before dipping in chocolate. Also, using high-quality chocolate and allowing the coated trees to set in a cool place can help.
Can I make these trees in advance for a party?
Definitely! These trees can be made a couple of days in advance. Just store them in the refrigerator and take them out a few minutes before serving.
What's the best way to melt the chocolate?
Using a double boiler is the traditional method, but microwaving in short bursts while stirring in between can also yield great results.
Can I use this recipe to make other festive shapes?
Yes, you can use different cookie cutters to create various festive shapes like stars, bells, or even snowmen!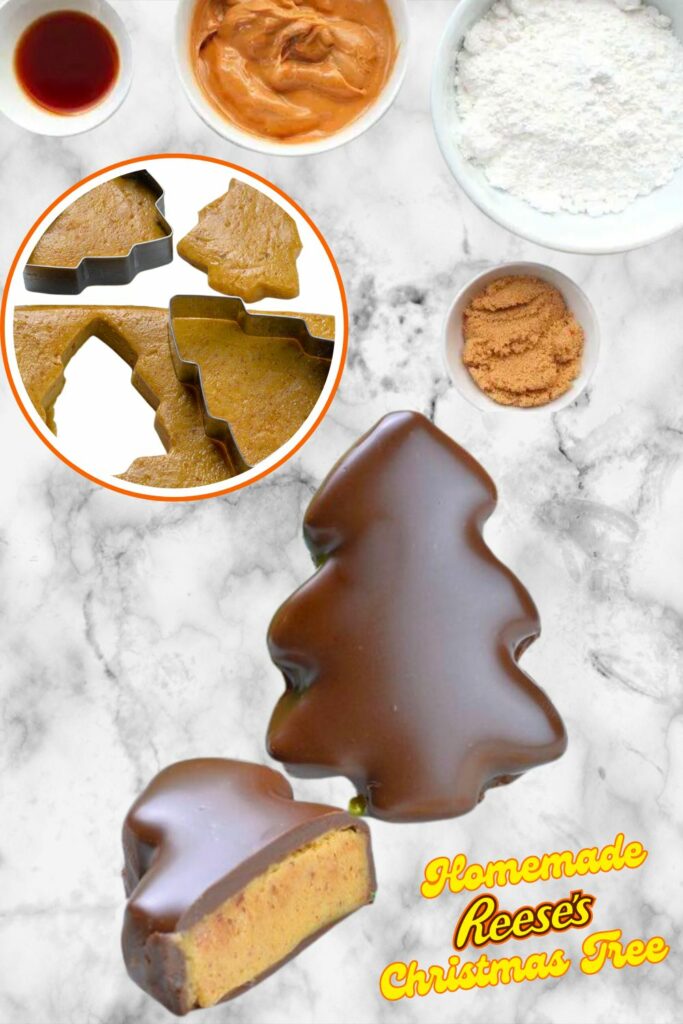 Homemade Reese's Peanut Butter Christmas Trees
Homemade Reese's Peanut Butter Christmas Trees recipe – The chocolately, peanut butter fudge in the middle is what makes this Christmas treat truly irresistible!
...
Ingredients
1

cup

creamy peanut butter

¼

cup

unsalted butter-melted

2

Tablespoons

brown sugar

2

teaspoon

vanilla extract

¼

teaspoon

salt

2

cups

powdered sugar

10-12

oz.

chocolate chips or chocolate chopped in small pieces. One option is to use half of semi-sweet and half of milk chocolate
Instructions
Line 8 x 8-inch dish with parchment paper, leaving the paper overhang the sides to easily lift it later and set aside.

In a mixing bowl stir together peanut butter, melted butter, brown sugar vanilla, and salt, until sugar dissolve. Next, gradually mix in powdered sugar.

Press the mixture into the prepared dish. Smooth the top with a spatula or press it with palms to flatten into about ½ inch thick layer.

Place it in the freezer until firm enough for cutting.

When the mixture is firm enough, line a tray with parchment paper and set aside.

Using a Christmas tree cookie cutter cut out the trees and place them on the tray. Place them in the freezer for 45-60 minutes until completely firm.

Then melt the chocolate and line another tray with parchment paper.

Using a fork, dip each tree into melted chocolate to cover completely. Gently tap the fork to drip of the excess of chocolate. (Peanut butter mixture softens really fast at room temperature, so just take a few trees at a time from the freezer, because it's easier to work with the firm trees!!!) Place chocolate covered Christmas trees on the parchment paper-lined tray. Refrigerate until chocolate has set.

Store in the fridge or freeze for longer storage.

The size of the cookie cutter will determine how many will be made. Use all of the peanut butter mixtures as possible, keep flattening to get more trees.
....Advertisements....
CONTINUE READING BELOW