..Advertisements..
Continue reading below
While the recipe itself is a fantastic starting point, it has also inspired home cooks to put their own twists on it. One reviewer mentions adjusting the sweetness level, while others have experimented with additional ingredients like Rotel tomatoes with green chilies, bourbon, molasses, or even a touch of soda for a caramelized sauce. These creative adaptations showcase the versatility of the recipe and offer endless possibilities for flavor exploration.
The convenience of this recipe is also worth noting, as highlighted by a reviewer who exclaimed, "Had everything on hand except the right color bell pepper. Tasted great. Love that it cooks in one pot." With simple ingredients and a straightforward cooking method, you can enjoy a delicious homemade meal with minimal cleanup.
How to Prepare Homemade Sloppy Joes
Before we get started, let's gather the ingredients you'll need:
Ingredients for Homemade Sloppy Joes
1 Tbsp butter
1 tsp olive oil
1 lb. ground beef
1/3 green bell pepper, minced
1/2 large yellow onion, minced
3 cloves garlic, minced
1 Tbsp tomato paste
2/3 cup ketchup
1/3 cup water
1 Tbsp brown sugar
1 tsp yellow mustard
3/4 tsp chili powder
1/2 tsp Worcestershire sauce
1/2 tsp kosher salt
1/4 tsp red pepper flakes (optional)
1/4 tsp black pepper
dash of hot sauce (optional)
Directions for Homemade Sloppy Joes
Start by heating butter and olive oil in a large skillet over medium to medium-high heat.
Add the ground beef to the skillet and brown it, breaking it apart into crumbles as it cooks. This should take about 5 minutes. Once cooked, drain the excess fat.
Toss in the minced onion and green bell pepper to the skillet and sauté for 2-3 minutes, until they turn soft and fragrant.
Add the minced garlic to the skillet and cook for an additional 30 seconds or until it releases its wonderful aroma.
Now, reintroduce the browned beef back into the skillet and stir in the tomato paste, ensuring all ingredients are well combined.
Pour in the ketchup, water, brown sugar, yellow mustard, chili powder, Worcestershire sauce, kosher salt, red pepper flakes (if you're feeling a bit spicy), black pepper, and a dash of hot sauce if you desire.
Gently stir the mixture and let it cook over medium heat for 10-15 minutes. You'll know it's ready when the mixture has thickened to your liking.
Once the Sloppy Joe filling is cooked to perfection, remove the skillet from the heat.
Serve this delectable Sloppy Joe mixture over toasted buns, and get ready to indulge in a symphony of flavors and textures that'll make your taste buds dance!
What is considered a Sloppy Joe?
Sloppy Joe is a beloved classic consisting of three key elements: ground beef, a sweet tomato-based sauce, and a soft bun. The ground beef serves as the hearty foundation, while the sauce, made with ketchup, chili sauce, or tomato sauce, infuses it with a delightful blend of sweetness and tanginess. This delectable mixture is then generously piled onto a soft, squishy white bun, creating a messy yet satisfying culinary experience. While the core components remain consistent, variations can be introduced, allowing for personal preferences and creative twists. Whether it's the addition of onions, bell peppers, or spices, or the exploration of vegetarian or vegan alternatives, the essence of the Sloppy Joe lies in the harmonious combination of flavors and textures. This iconic dish continues to be cherished by individuals seeking a delicious and comforting meal that is both simple and versatile.
Why are sloppy joes so sweet?
The sweetness of Sloppy Joes primarily stems from the substantial amount of ketchup typically used in traditional recipes. With 1/2 cup to 1 cup of ketchup commonly called for, the sauce tends to lean towards the sweeter side. Ketchup contains sugar as a key ingredient, contributing to the overall sweetness of the Sloppy Joe mixture. However, the level of sweetness can be adjusted by modifying the amount of ketchup or incorporating other ingredients like Worcestershire sauce or spices to achieve a more balanced or savory flavor. Ultimately, the sweetness of Sloppy Joes is a variable factor that can be tailored to individual taste preferences.
What do Americans call Sloppy Joes?
Sloppy Joes in the United States are commonly referred to as "Manwich," although there are other regional and colloquial names for this iconic sandwich. "Manwich" has become widely recognized due to a popular brand of Sloppy Joe sauce with the same name. However, terms like "slush burger," "yum yums," "dynamite," "spoonburgers," and "tavern sandwich" are also used in different regions and communities. The association of "Manwich" with Sloppy Joes is a testament to the brand's popularity and the enduring appeal of this messy and delicious sandwich. While "Manwich" is the most well-known name, the varied terminology reflects the diverse culinary and cultural landscape across the United States.
Is Sloppy Joe just chili?
Although chili and Sloppy Joes share similarities in their use of ground beef and tomato sauce, they are distinct dishes. Chili is typically considered a thick soup or stew, featuring additional ingredients like beans and spices, and is enjoyed on its own or with accompaniments. On the other hand, Sloppy Joes are served as a sandwich, with ground beef cooked in a saucy mixture and piled onto a soft bun. While both dishes incorporate ground beef and tomato sauce, their preparation, consistency, and serving style set them apart, showcasing the diverse range of American culinary creations.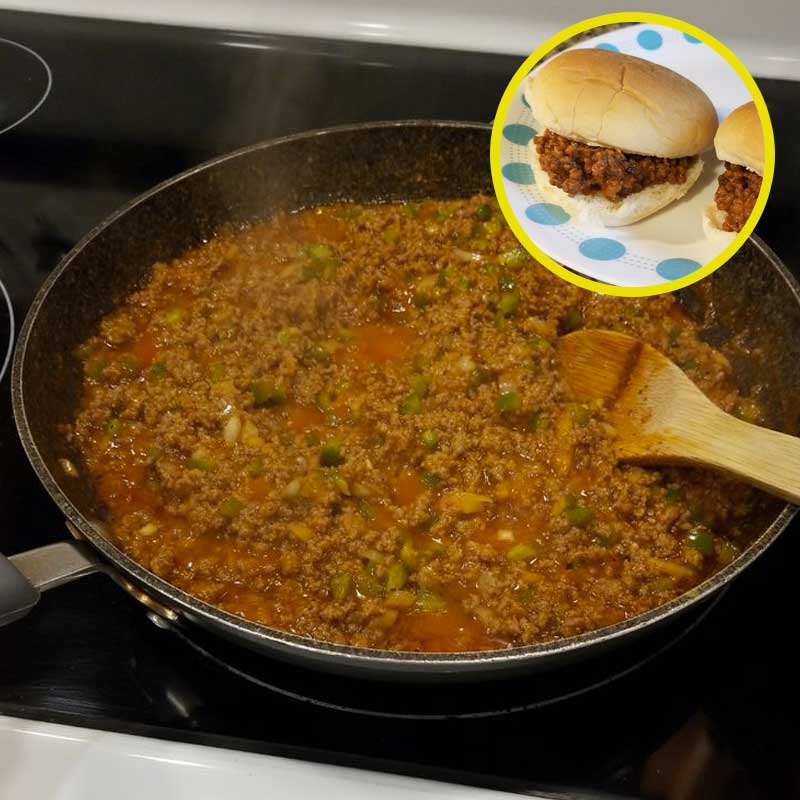 Homemade Sloppy Joes
...
Ingredients
1

Tbsp

butter

1

tsp

olive oil

1

lb.

ground beef

1/3

green bell pepper

minced

1/2

large yellow onion

minced

3

cloves

garlic

minced

1

Tbsp

tomato paste

2/3

cup

ketchup

1/3

cup

water

1

Tbsp

brown sugar

1

tsp

yellow mustard

3/4

tsp

chili powder

1/2

tsp

Worcestershire sauce

1/2

tsp

kosher salt

1/4

tsp

red pepper flakes

optional

1/4

tsp

black pepper

dash of hot sauce

optional
Instructions
Heat butter and oil in a large skillet over MED/MED-HIGH heat. Add beef and brown, breaking apart into crumbles as it cooks, about 5 minutes. Drain.

Add onion and bell pepper to the same skillet and cook 2-3 minutes, until soft. Add garlic and cook 30 seconds or so, until fragrant. Add beef back to the skillet and add tomato paste. Stir well.

Add ketchup, water, brown sugar, mustard, chili powder, Worcestershire sauce, salt, red pepper flakes (if using), and black pepper. Stir well to combine.

Cook over MED heat for 10-15 minutes, until mixture has thickened to your liking. Remove from heat and serve over toasted buns
....Advertisements....
CONTINUE READING BELOW