..Advertisements..
Continue reading below
My most cherished memories from childhood are those of spending weekends at my neighbor's house, where Nonna Maria would prepare her traditional Italian dishes. The aroma from her kitchen would fill the entire neighborhood, inviting everyone over for a hearty meal. One of the recipes she was famous for was her Italian Wedding Soup. Despite its name having nothing to do with weddings, every spoonful felt like a celebration of flavors, love, and tradition.
I remember the tales Nonna Maria would weave around this dish. She'd explain how it was originally a "peasant dish," a delightful mixture of readily available ingredients. The "wedding" in its name was not about marital unions but rather the "marriage" of flavors that each ingredient brought. Those stories, combined with the taste, made it a staple at every gathering.
How to Prepare Italian Wedding Soup
Ingredients for Italian Wedding Soup
1/2 pound lean ground beef
1 fresh egg, whisked
2 tablespoons breadcrumbs
1 tablespoon freshly grated Parmesan
1/2 teaspoon basil leaves, dried
1/2 teaspoon powdered onion
5 3/4 cups flavorful chicken broth
2 cups fresh escarole, thinly sliced
1 cup raw orzo
1/3 cup carrots, finely diced
Directions for Italian Wedding Soup
In a mixing bowl, combine the ground beef, whisked egg, breadcrumbs, Parmesan, dried basil, and onion powder.
Roll the beef mixture to form bite-sized meatballs and lay them out on a tray lined with parchment paper.
In a large pot, bring the chicken broth to a gentle boil. Gently stir in the escarole, orzo, diced carrots, and pre-made meatballs. Once boiling, turn down the heat to maintain a steady simmer.
Cook, occasionally stirring, until the orzo is perfectly al dente, which should be around 10 minutes.
Ladle into bowls, serve steaming hot, and immerse yourself in the rich flavors!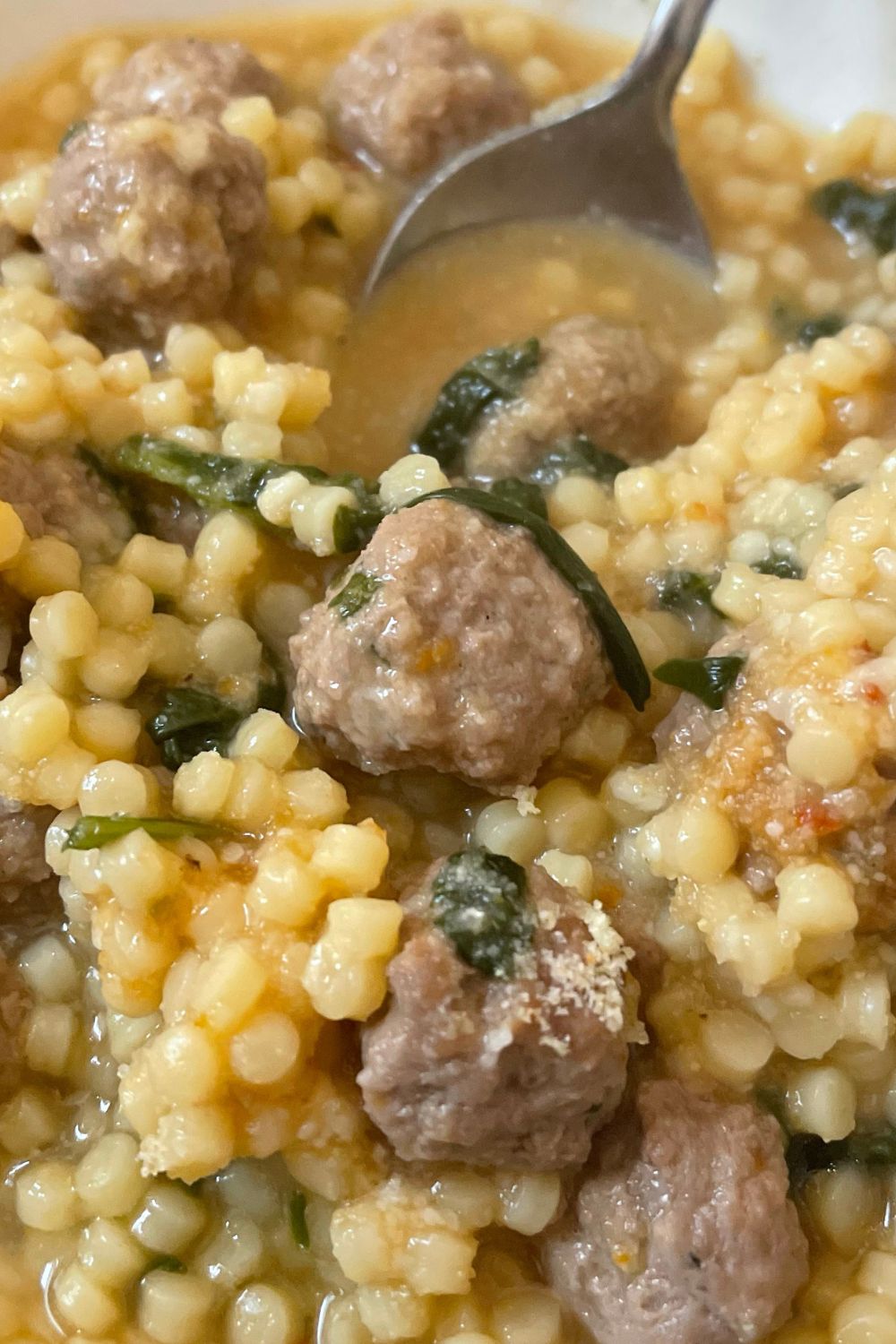 What makes Italian Wedding Soup unique?
The Italian Wedding Soup stands out not just because of its rich flavors but also its unique combination of meatballs, pasta, and vegetables, all married together in a delightful broth.
Why is it named "Italian Wedding Soup"?
Interestingly, the soup has no association with weddings. It gets its name from the Italian term "minestra maritata", which translates to "married soup." This refers to the perfect marriage of its ingredients and the flavors they produce together.
Can I experiment with the vegetables in the soup?
Of course! While escarole and carrots are traditional, you can add more color and taste by including vegetables like onions or celery.
What if I don't have orzo pasta?
No worries! The beauty of this soup is its flexibility. You can use any small pasta like ditalini or acini de pepe. Just ensure they're bite-sized to fit the soup's texture.
What pairs well with this soup?
This wholesome soup is a meal in itself, but for an added touch, serve it with a freshly baked dinner roll or a slice of crusty Italian bread. Pure bliss!
How should I store leftover Italian Wedding Soup?
Allow the soup to cool completely before storing it in an airtight container in the fridge. It stays good for up to four days. When reheating, you might need to add a bit of broth or water as the pasta tends to absorb the liquid over time.
Can I use a different type of meat for the meatballs?
Absolutely! While beef is traditional, you can easily substitute it with ground chicken, turkey, or even a mixture of pork and beef. The key is to ensure the meat is flavorful and complements the broth.
How can I make a vegetarian version of Italian Wedding Soup?
If you're looking for a vegetarian twist, you can replace the chicken broth with vegetable broth. For the meatballs, there are various plant-based meat substitutes available in the market. Alternatively, you can make meatballs using ingredients like lentils, breadcrumbs, and spices to achieve a similar texture and flavor. Just ensure to adjust the seasoning to keep the flavors rich and robust!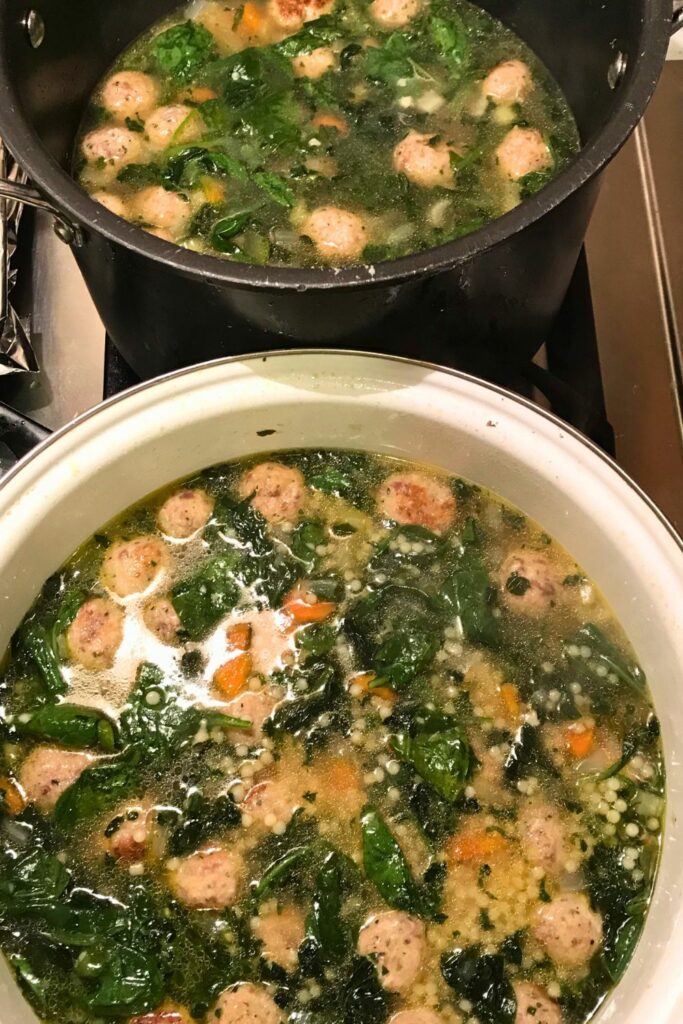 Italian Wedding Soup
...
Ingredients
1/2

pound

extra-lean ground beef

1

large egg

lightly beaten

2

tablespoons

dry bread crumbs

1

tablespoon

grated Parmesan cheese

1/2

teaspoon

dried basil

1/2

teaspoon

onion powder

5 3/4

cups

chicken broth

2

cups

thinly sliced escarole

1

cup

uncooked orzo pasta

1/3

cup

finely chopped carrot
Instructions
Combine ground beef, egg, bread crumbs, Parmesan cheese, basil, and onion powder in a bowl.

Shape beef mixture into 3/4-inch balls and place on a parchment-lined tray.

Heat broth in a large pot over medium-high heat until boiling. Stir in escarole, orzo, carrot, and meatballs and return to boil. Reduce heat to medium and cook at slow boil, stirring frequently to prevent sticking, until pasta is tender yet firm to the bite, about 10 minutes.

Serve hot and enjoy!
....Advertisements....
CONTINUE READING BELOW