..Advertisements..
Continue reading below
Every summer, my family would gather at Grandma Jane's quaint cottage, surrounded by lemon trees. The scent of blooming lemon blossoms would waft through the air, symbolizing the start of the season. I vividly remember how Grandma Jane would invite the neighbours, with their kids and my cousins running around, while she baked her renowned Lemon Blossoms in her vintage kitchen.
One evening, my close friend Lisa, who had recently moved into the neighbourhood, joined the gathering. With eyes wide in amazement, she took her first bite and exclaimed, "This is heavenly!" That evening not only marked the beginning of our lasting friendship but also her obsession with these zesty delights. Today, I'm sharing this cherished recipe with you, hoping to sprinkle a bit of that summer magic into your homes.
How to Prepare Lemon Blossoms
Ingredients for Lemon Blossoms
1 pack of golden cake mix
1 pack (3.5 oz) instant lemon-flavored pudding
4 fresh eggs
¾ cup of vegetable or canola oil
Glaze
4 cups of confectioners' sugar
⅓ cup freshly squeezed lemon juice
Zest from one ripe lemon
3 Tbs vegetable or canola oil
3 Tbs clear water
Directions for Lemon Blossoms
Preheat your oven to 350° and lightly grease a mini muffin tray.
In a spacious bowl, merge the cake mix, lemon pudding, eggs, and oil. Use an electric blender to mix until smooth.
Take a tablespoon of the batter and fill each muffin slot.
Allow them to bake for about 12 minutes or until golden.
Upon baking, gently place the blossoms on a soft cloth to cool.
For the glaze, sieve the confectioners' sugar into a bowl. Combine with lemon juice, zesty lemon peel, oil, and water. Stir until you achieve a smooth consistency.
While still warm, immerse the blossoms into the glaze, ensuring they are generously coated.
Set them on cooling racks, placing some waxed paper below to catch excess glaze.
Once the glaze settles, serve or store in a sealed container. For an extra touch, adorn with tiny candied fruit bits immediately after glazing.
What can I use instead of yellow cake mix?
For those who prefer a homemade touch or don't have a ready mix, you can use a basic vanilla cake batter. The key is to keep the consistency similar for best results.
Can I use bottled lemon juice?
While freshly squeezed lemon juice is recommended for a vibrant flavor, if you're in a pinch, bottled lemon juice can be used. However, ensure it's of good quality and without added preservatives.
How long can these Lemon Blossoms be stored?
When stored in an airtight container, they can last up to a week. However, they taste best when consumed within 3-4 days.
Can I freeze Lemon Blossoms?
Yes, they freeze well. Before freezing, ensure the glaze is fully set. Place them in a single layer inside a freezer-friendly container or bag. When ready to enjoy, thaw at room temperature.
What other fruit flavors can I try with this recipe?
This recipe is versatile. You can experiment with orange, lime, or even a mix of citrus flavors for a delightful twist.
Can I add poppy seeds to the batter?
Absolutely! Poppy seeds can add a pleasant texture and taste to the Lemon Blossoms. Just sprinkle them into the batter before baking.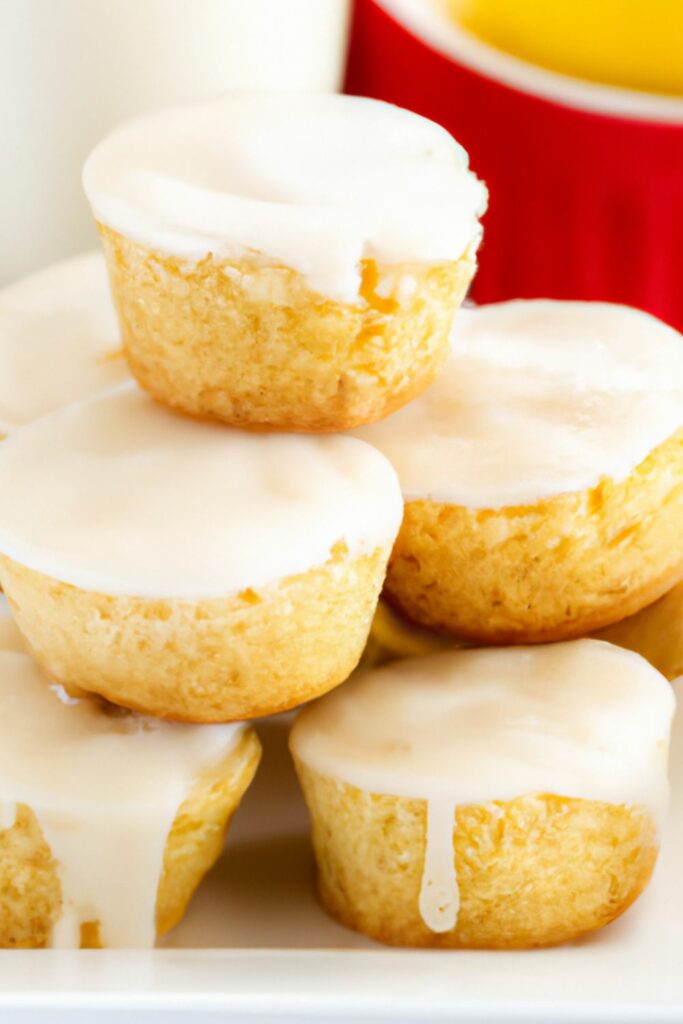 Lemon Blossoms
...
Ingredients
1

package yellow cake mix

1, 3.5

oz

package instant lemon pudding

4

eggs

¾

cup

vegetable or canola oil
Glaze:
4

cups

powdered sugar

⅓

cup

fresh lemon juice

Grated lemon zest of one lemon

3

Tbs

vegetable or canola oil

3

Tbs

water
Instructions
Preheat oven to 350°. Coat a minuature muffin pan with non-stick cooking spray.In a large bowl combine cake mix, pudding mix, eggs and oil.

Blend with an electric mixer for two minutes.

Spoon 1 Tbs of mixture into each muffin cup.

Bake for 12 minutes.

Turn blossoms onto a towel when you remove the pan from the oven.

To prepare glaze, sift powdered sugar in a medium bowl.

Add lemon juice, zest, oil and water, and mix until smooth.

Dip warm blossoms into glaze, coating as much as possible.

Place blossoms on wire racks with waxed paper underneath, to catch drips.

Let glaze set thoroughly before serving or storing in an airtight container.*You can also add small pieces of candied fruit right after glazing.
....Advertisements....
CONTINUE READING BELOW