..Advertisements..
Continue reading below
There's something special about slow-cooked dinners, and this pot roast recipe is no exception. It's a guaranteed crowd-pleaser, with juicy, tender meat, perfectly cooked vegetables, and a savory broth that creates a divine gravy-like sauce.
But the best part? Leftovers! With this recipe, you'll have plenty of leftover roast to create delicious hash for the next day's breakfast or a hot roast beef sandwich for lunch. It's a win-win situation.
Do you have to brown a roast before putting it in the crock pot?
Browning or caramelizing meat before putting it into a slow cooker is not essential, but it is recommended to achieve a more flavorful and rich end result. Browning the surface of the meat will add depth of flavor and color to the finished dish. Therefore, while it may require a bit of extra effort, browning the meat is suggested to enhance the overall taste and quality of the dish.
Is it better to cook a roast in a crock pot on high or low?
It's better to cook a roast in a crockpot on the low setting. Although it is possible to cook a roast on high, the recommended method is to cook it on low. This is because cooking the roast on low temperature allows the meat to cook evenly throughout, from the crust to the center, resulting in a perfectly cooked roast. Therefore, to ensure the best possible outcome, it is recommended to use the low setting when cooking a roast in a crockpot.
What type of roast is best for crock pot?
The best type of roast for a crockpot is a boneless chuck roast. Although there are various cuts of meat that can be used for a crockpot roast, such as bottom round, rump roast, and shoulder roast, using a boneless chuck roast is recommended for the best outcome. Therefore, if you are looking to prepare a pot roast in a crockpot, a boneless chuck roast is a great option to consider.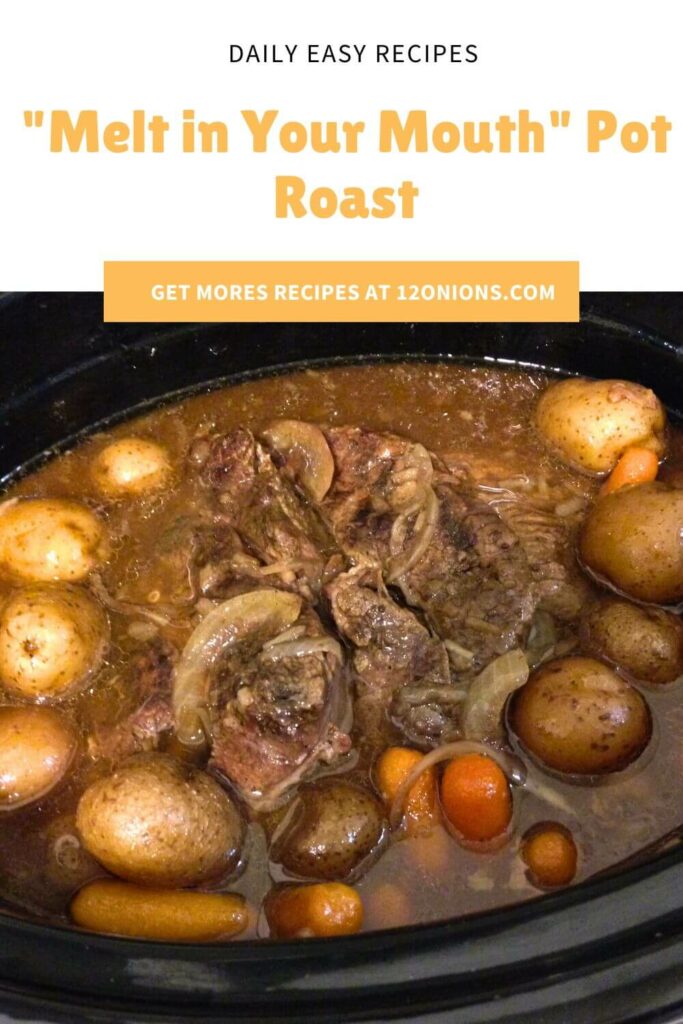 "Melt in Your Mouth" Pot Roast
...
Ingredients
1

chuck roast

mine was 3 pounds

Olive oil

1

pound

carrots

peeled and cut into large chunks

2

pounds

potatoes

peeled and cut into large chunks

1

onion

peeled and cut into large chunks

2

stalks celery

cut into large chunks (optional)

1

cup

beef broth

1

tablespoons

corn starch
SEASONING MIX :
2

tablespoons

steak seasoning

mine is store-bought and has a blend of peppercorns, garlic, paprika, parsley and salt

1

tablespoon

kosher salt

1

tablespoon

dried thyme

1

tablespoon

dried rosemary
Instructions
Combine together seasoning mix in a small bowl. Set aside.

Coat both sides of meat with olive oil. Sprinkle on a third of the seasoning mix onto each side.

Sear both sides of the meat in a large skillet over medium-high heat. Transfer roast to slow cooker.

Place the vegetables in a large bowl. Drizzle on a little olive oil to coat vegetables. Sprinkle on the remaining seasoning mix. Add the vegetables to the same skillet that was used to sear the meat. Sauté for about five minutes – stirring occasionally.

Transfer the vegetables to the top of the roast in the slow cooker. Pour in the beef broth. Cover with lid.

Cook on low for 9 hours or on high for 6 hours.

Using a turkey baster, retrieve most of the cooking juices from the slow cooker. Transfer juices to a small sauce pan and bring to a simmer over medium heat on the stovetop. Whisk together the cornstarch with a little water. Blend into the pan juices while whisking. Bring back to a simmer until thickened. Taste and adjust seasoning as needed.

Transfer the roast and vegetables to a large platter. Ladle the gravy over. Serve immediately.
....Advertisements....
CONTINUE READING BELOW