..Advertisements..
Continue reading below
With moist cake layers, a luscious chocolate filling, and a touch of rum-infused syrup, this recipe is sure to satisfy your sweet tooth and leave you craving for more. Get ready to embark on a culinary adventure as we guide you through the step-by-step process of preparing this exquisite Mocha Layer Cake.
Can I make the cake layers in advance and assemble the cake later?
Yes, you can bake the cake layers in advance and store them in an airtight container at room temperature for up to 2 days. Assemble the cake just before serving to maintain its freshness.
Can I use milk chocolate instead of semisweet chocolate?
While milk chocolate can be used, it may result in a sweeter flavor. Semisweet chocolate provides a balanced sweetness that complements the coffee and enhances the overall taste of the cake.
Can I omit the rum from the recipe?
Yes, you can omit the rum or substitute it with a different flavoring such as almond extract or coffee extract. The rum adds a subtle richness to the cake but is not essential for its success.
Can I freeze the assembled cake?
Freezing the assembled cake is not recommended as it can affect the texture and quality of the filling and topping. It is best to enjoy the cake fresh or refrigerate it for a day or two.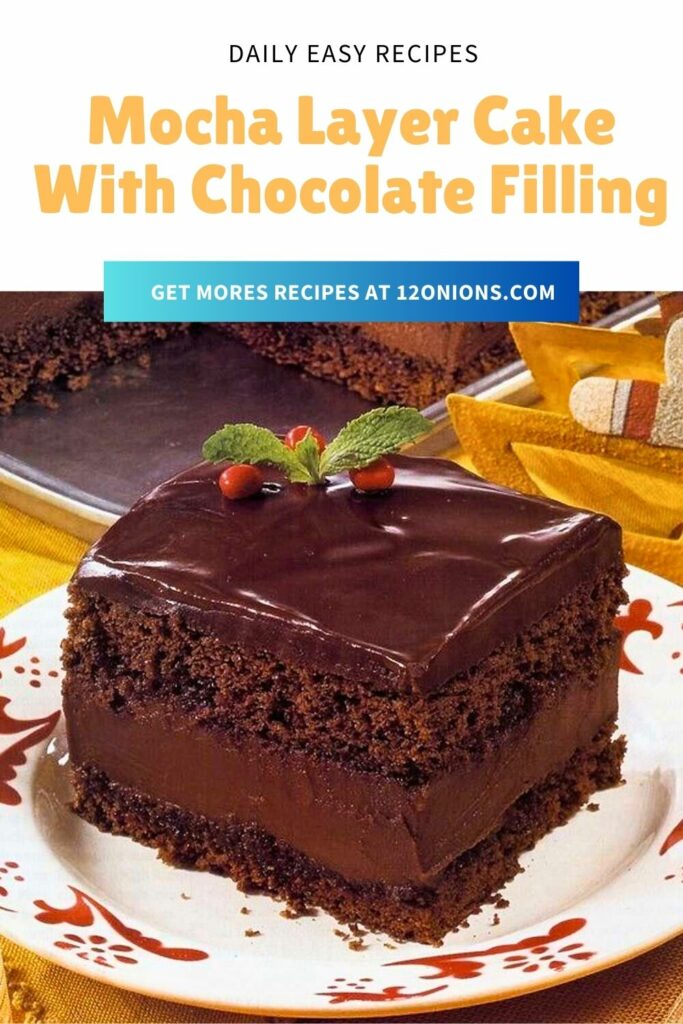 Mocha Layer Cake With Chocolate Filling
...
Ingredients
Filling and Topping:
4

cups

whipping cream

1/2

stick unsalted butter

1/4

cup

sugar

20

ounces

semisweet chocolate

finely chopped-plus 2 ounces chopped separately

1/3

cup

rum

2

teaspoons

vanilla extract
Syrup:
1/4

cup

water

2

tablespoons

sugar

2

tablespoons

rum
Cake:
1 1/2

teaspoons

vanilla extract

1

teaspoon

instant coffee

2/3

cup

cake flour

3

tablespoons

cocoa powder

1/2

teaspoon

baking soda

3

large eggs-separated

3/4

cup

sugar

1/4

teaspoon

cream of tartar

1/4

teaspoon

salt
Instructions
Filling:
Stir first 3 ingredients in large saucepan over medium-high heat until sugar dissolves and cream comes to a simmer.

Remove from heat. Add 20 ounces chocolate. Whisk until melted and smooth.

Whisk in vanilla and rum.

Transfer 1 cup warm chocolate mixture to small bowl. Whisk in remaining 2 ounces of chocolate. Cover,set aside,and let stand at room temperature. This will be the topping.

Transfer remaining chocolate mixture to a large bowl for the filling.

Chill until cold and thick. At least 6 hours.
Syrup:
Stir water and sugar in small saucepan over low heat just until sugar dissolves.

Remove from heat and mix in rum. Let stand.
Cake:
Preheat oven to 350 degrees.

Grease and flour 9"x 9" x 2" cake pan.

Combine vanilla and coffee powder in a small bowl or cup. Swirl to dissolve coffee.

Sift flour, cocoa, and baking soda into small bowl.

Using an electric mixer, beat egg yolks and 1/2 cup sugar in medium mixing bowl until thick and light in color, about 3 minutes. Beat in coffee/vanilla mixture.

Using clean dry beaters, beat egg whites, cream of tartar, and salt in large bowl until soft peaks form.

Gradually add 1/4 cup sugar and continue beating until stiff but not dry. Fold egg whites into yolk mixture alternating with flour mixture.

Pour batter into prepared pan.

Bake for 18 minutes.

Cool cake in pan. Cake will shrink slightly.

Turn cake out onto flat surface and cut in half horizontally using serrated knife. Place bottom half on plate cut side up.

Drizzle half of syrup over layer.

Using electric mixer, beat cold chocolate filling until thick, creamy and spreadable. Spread all of filling evenly over cake layer. Filling layer will be about an inch thick.

Drizzle remaining syrup over cut side of second cake layer.

Place layer syrup side down on top of filling. Press gently.

Rewarm topping until just pourable and pour over center of cake.

Using a knife or spatula, carefully spread to edges. It's okay if a little runs over.

Cover with cake dome and chill until ready to serve.
Notes
To ensure a moist and tender cake, be careful not to overmix the batter when folding in the dry ingredients. Overmixing can lead to a dense and tough texture.

For a stronger coffee flavor, you can increase the amount of instant coffee used in the cake batter.

Make sure to use high-quality chocolate for both the filling and topping to achieve a rich and indulgent taste.

If you prefer a non-alcoholic version, you can substitute the rum in the syrup with an equal amount of water or coffee.
....Advertisements....
CONTINUE READING BELOW