In general, I consider myself an indecisive person. Even the most trivial decisions can sometimes take me forever to decide, perhaps because I first need to research everything, then weigh a list of pros and cons. My husband and I have just started house-hunting and you can only imagine how difficult it will be for us to settle on a house!
The same indecisiveness applies to food, as well. My birthday was a few days ago, and trying to decide what kind of birthday cake to make was like trying to decide what to name our first child. Do I go with chocolate, vanilla, ice cream cake, cookie cake? So many delicious possibilities. I found myself browsing Pinterest one night, and came across this gorgeous Neapolitan cake, and just knew that I had to make it for my birthday. Chocolate, strawberry and vanilla layers, topped with a strawberry buttercream. It reminds me of eating Neapolitan ice cream as a child.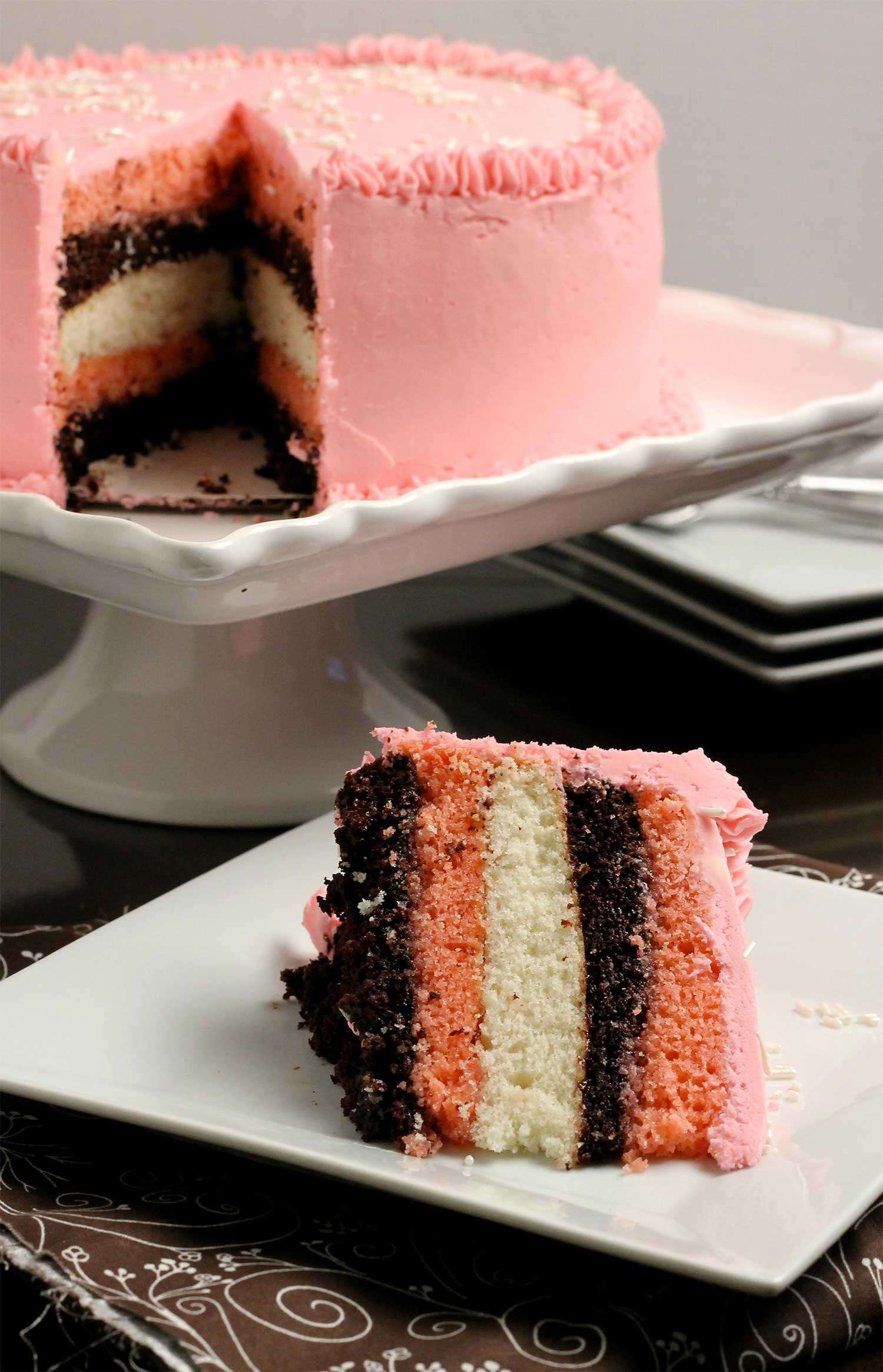 Classic Chocolate Cake
Yields: One 9-inch cake
Ingredients:
1 cup sugar
3/4 cups + 2 tablespoons all-purpose flour
1/4 + 2 tablespoons cup cocoa
3/4 teaspoons baking powder
3/4 teaspoons baking soda
1/2 teaspoon salt
1 egg
1/2 cup milk
1/4 cup vegetable oil
1 teaspoon vanilla extract
1/2 cup boiling water
Directions:
Pre-heat oven to 350°F. Prepare a 9-inch round pan with cooking spray and parchment paper and set aside.
Stir together sugar, flour, cocoa, baking powder, baking soda and salt in large bowl. Add eggs, milk, oil and vanilla; beat on medium speed of mixer 2 minutes. Stir in boiling water (batter will be thin). Pour into the round pan and place in the oven.
Bake for 20-25 minutes, or until a wooden toothpick inserted into the center comes out clean. Cool completely on a wire rack.
---
Fluffy Vanilla Cake
Yields: One 9-inch cake
Ingredients:
2 large egg whites, at room temperature
1/2 cup whole milk, at room temperature
1 teaspoon vanilla extract
1 1/2 cups cake flour
3/4 + 2 tablespoons granulated sugar
2 teaspoons baking powder
1/4 teaspoon salt
6 tablespoons unsalted butter, at room temperature and cut into cubes
Directions:
Preheat the oven to 350 degrees F. Prepare a 9-inch round pan with parchment and cooking spray.
In a medium bowl, combine the egg whites, 2 tablespoons of the milk and the vanilla. Set aside.
In the bowl of an electric mixer, combine the dry ingredients on low speed for about 30 seconds. Slowly add the butter and remaining milk on low speed until just moistened. Increase the speed to medium and mix for 2 minuets. Scrape the sides of the bowl, and slowly add in the egg mixture, beating for 20 seconds after each addition.
Baked for 20-30 minutes or until a cake tester comes clean when inserted into the center. Let cool on a cooling rack.
---
Strawberry Frosting
Yields: About 10 cups
Ingredients:
2 1/2 sticks (1 1/4 cups) unsalted butter, softened
8 cups powdered sugar
1/2 cup heavy cream
2 tablespoons vanilla extract
1 tablespoon water
Pinch of salt
1 teaspoon strawberry flavored extract (more to taste)
Pink food coloring
Directions:
Beat the butter and powdered sugar in an electric mixer fitted with the paddle attachment for about 2 minutes. Add the vanilla, water, heavy cream, salt and strawberry extract, then whip on high-speed until smooth and fluffy – about 4-5 minutes. Add food coloring and mix until well blended. If the consistency is too thick, add more water, 1 teaspoon at a time, and whip again for 30 seconds.
---
To assemble the layered cake: Cut each 9-inch layer horizontally so you have two thin layers of each flavor. On a 9-inch cake board, or directly on your serving platter, stack the cakes starting with chocolate on the bottom, then strawberry, vanilla, chocolate and strawberry on top. In between each layer, spread a thin layer of strawberry jam. Refrigerate the cake for about 30 minutes before frosting.
To frost, use an off-set spatula to evenly spread the icing across the top and sides of the cake. Using a pastry bag fitted with a star tip, pipe an outline of stars around the top and bottom borders. Top with sprinkles, then serve. Enjoy!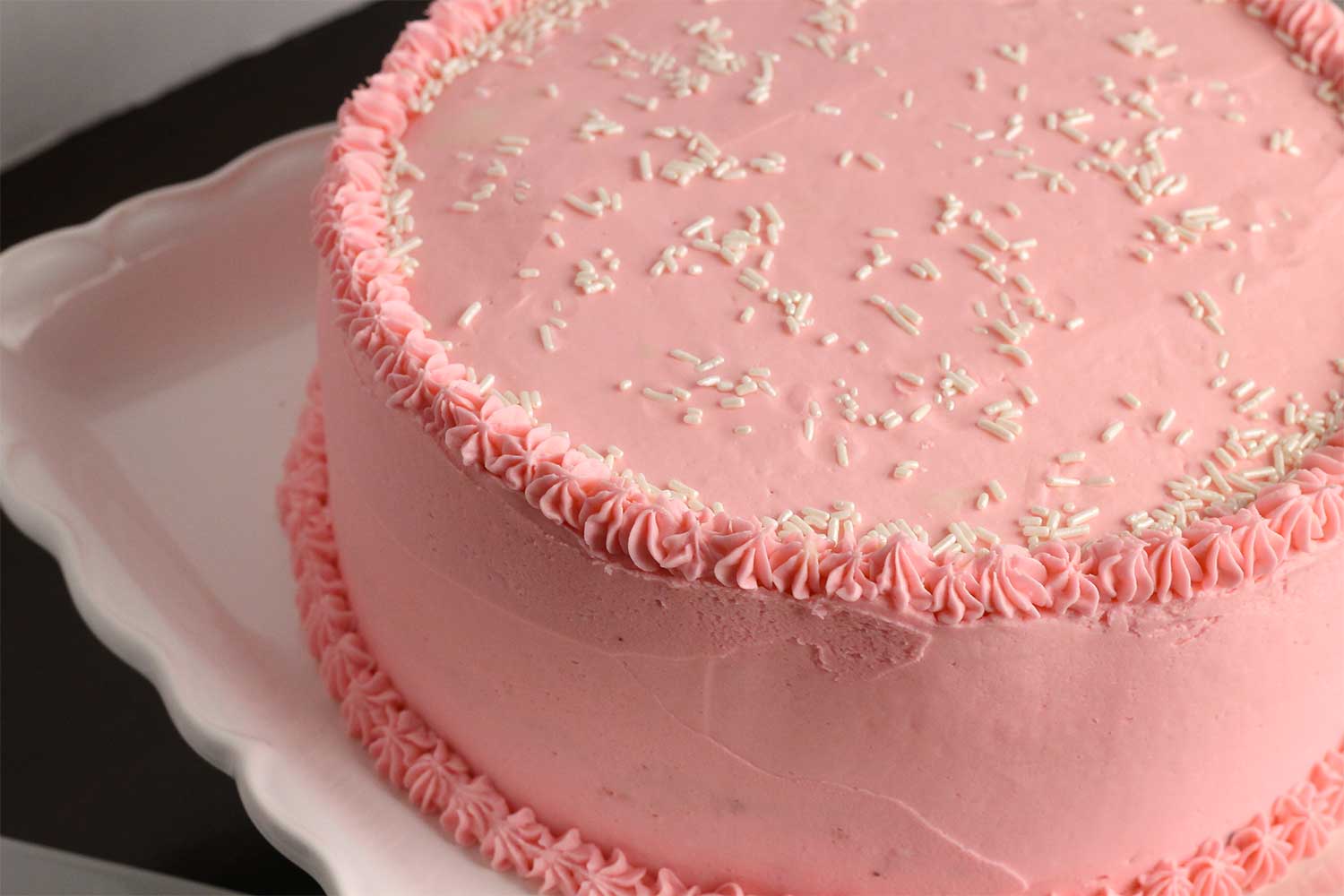 Advertisements
Share This Article