..Advertisements..
Continue reading below
Who doesn't love cookies? The sweet aroma of freshly baked cookies wafting through the house is enough to make anyone's mouth water. But what if you're craving cookies and don't want to go through the hassle of turning on the oven and waiting for them to bake? Enter the heavenly creation of no bake coconut pecan praline cookies. These delectable treats require no baking, and their rich blend of flavors will leave you craving for more. In this blog post, we'll explore this irresistible recipe and provide you with all the information you need to whip up a batch of these mouthwatering cookies.
Can I substitute any of the ingredients in this recipe?
While it's always fun to experiment in the kitchen, we recommend sticking to the original recipe for the best results. The specific combination of ingredients creates the perfect balance of flavors and textures.
How long do these cookies take to harden?
After dropping the mixture onto wax paper, it typically takes about one to one and a half hours for the cookies to harden completely. You can speed up the process by placing them in the refrigerator for faster cooling.
How should I store these cookies?
To maintain their freshness and texture, store these cookies in an airtight container at room temperature. They should stay delicious for up to one week, if they last that long!
Can I add other ingredients to this recipe?
Absolutely! If you'd like to add a personal touch, you can experiment by adding ingredients such as chocolate chips, dried fruits, or even a pinch of cinnamon. However, keep in mind that any additions may alter the texture and flavor of the cookies.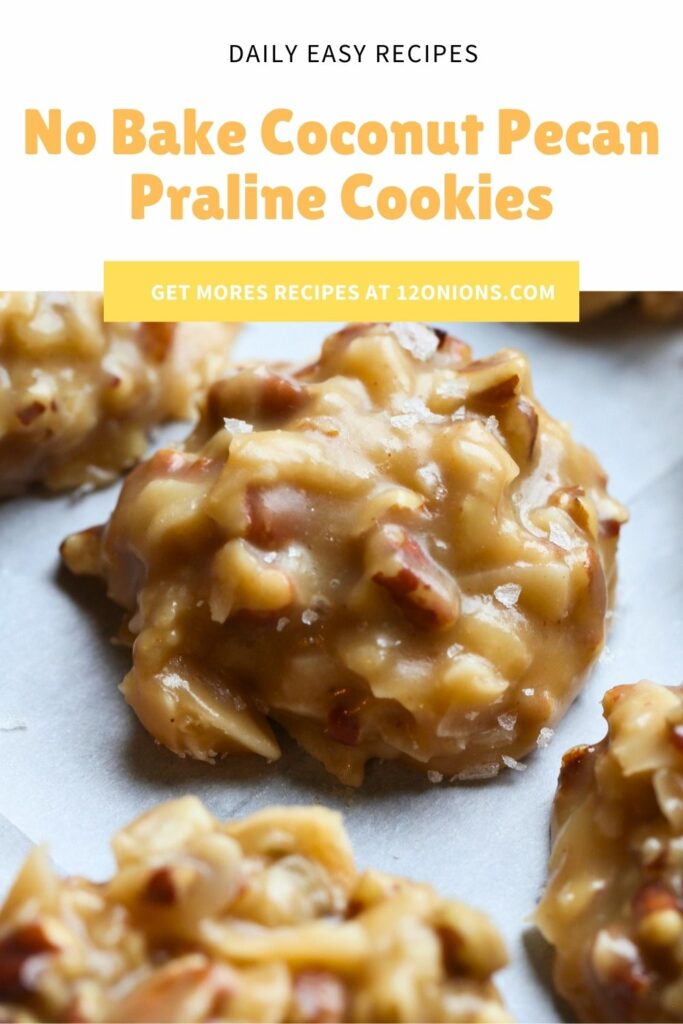 No Bake Coconut Pecan Praline Cookies
...
Ingredients
2 1/2

cups

granulated sugar

1/2

cup

evaporated milk

1/2

cup

corn syrup

1

stick

1/2 cup salted butter

1

tsp

vanilla extract

2 1/2

cups

chopped pecans

2

cups

sweetened shredded coconut
Instructions
In a medium sized bowl, combine coconut and pecans; set aside.

In a heavy saucepan over medium high heat, stir sugar, evaporated milk, corn syrup and butter. Cook and stir until mixture comes to a full rolling boil — let boil and stir for 3 minutes.

Remove pan from heat and stir in vanilla and coconut and pecan mixture. Stir off the heat for about 4 minutes, until mixture starts to cool and thicken.

Drop by large spoonfuls on wax paper. Let harden completely — about an hour to an hour and a half — before serving.
Notes
Notes
Makes about 20 large cookies.
I hope these become a staple on your Christmas cookie tray, too!!
....Advertisements....
CONTINUE READING BELOW