..Advertisements..
Continue reading below
Wow, this was quite the challenge this month! Panettone is actually something that I've always wanted to make and I am so glad to finally have accomplished the task (however tedious it might have been…). The December Daring Baker's Challenge comes from Marcella of Marcellina in Cucina. The recipe itself is slightly adapted from The Italian Baker by Carol Field. At a quick glance, it does seem overwhelming, particularly with the multiple "doughs" and rising periods. The inactive time for this bread far exceeds the active time, however. Should you decide to challenge yourself to make this traditional bread, you will be doing more waiting around for the yeast to rise than anything else. Rest assured though- if you split the process in half, resting the dough in the fridge overnight, it is more than manageable.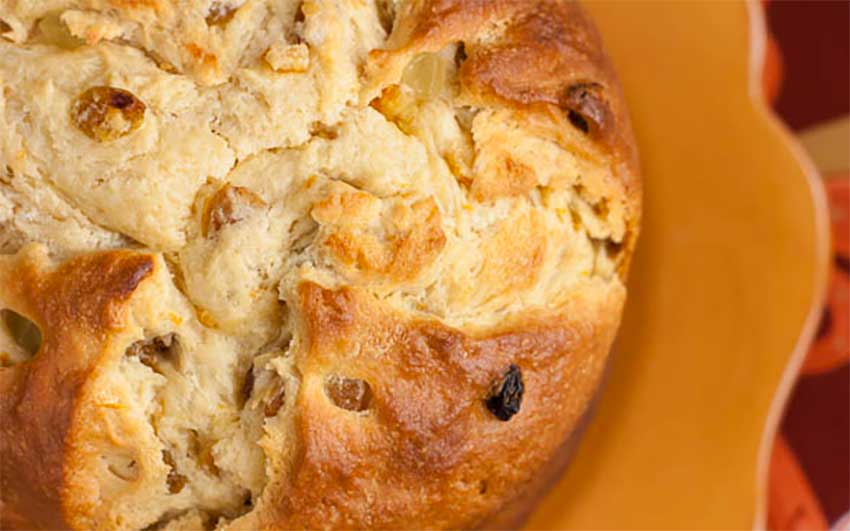 Those of you unfamiliar with Panettone should know that it is a very traditional Italian yeasted bread, making its' appearance during the  Holidays. The dough itself is richly laden with tons of butter and eggs, similar to that of brioche. The flavor itself is something different altogether, generally studded with candied citron, candied orange peel, and raisins/currants/sultanas of sorts. There are a TON of variations out there though. Some have chocolate, others nuts. There really are limitless options and combinations. If you don't like raisins, maybe add some blanched slivered almonds. Whatever suits your tastes is totally acceptable here.
Now here are a few personal notes about the recipe. I found it to be a super moist dough. It was very difficult to get to a non-sticky point when kneading the dough and I didn't want to add an excessive amount of flour since that could dry it out, so I just left it particularly wet… it ended up not mattering too much. There was less gluten development to hold up/retain shape, but it all worked out since it just had to rise in a mold. I didn't have a panettone mold and didn't want to make a homemade one either, so I just used a good-sized round casserole dish lined with parchment on the bottom and sides. I put half the dough in that and then took the rest and made little rolls out of them and froze them for later : ) You can also use one of those big metal coffee cans too (or even two 28-ounce sized cans)- just be sure to line them completely with parchment. Oh, and I let my dough rest in the fridge overnight after adding the citron, etc. When I took it out the next day I shaped it into the mold, then I let it sit out on the counter for about 4 hours to warm up. It probably could have sat out at least another hour because it took a while longer to bake. The center just didn't want to bake. I covered it with foil and baked it for an additional 20 minutes. I'm sure if the dough had made it to the proper temperature though, it would have baked in the time indicated. I also did NOT do the whole inverted cooling thing. I imagine the purpose is to allow the panettone to retain its lift and thus keep it nice and fluffy. But… I just didn't have it in me to let it cool upside down. I pretty much just let it rest in the casserole dish for maybe 20 minutes, dumped it out, and sliced it into it. Because it was still warm and I was pretty rough with it, I kind of smooshed it- that's why my slice is so rough looking. Didn't matter though. It was still so, so, SO amazing!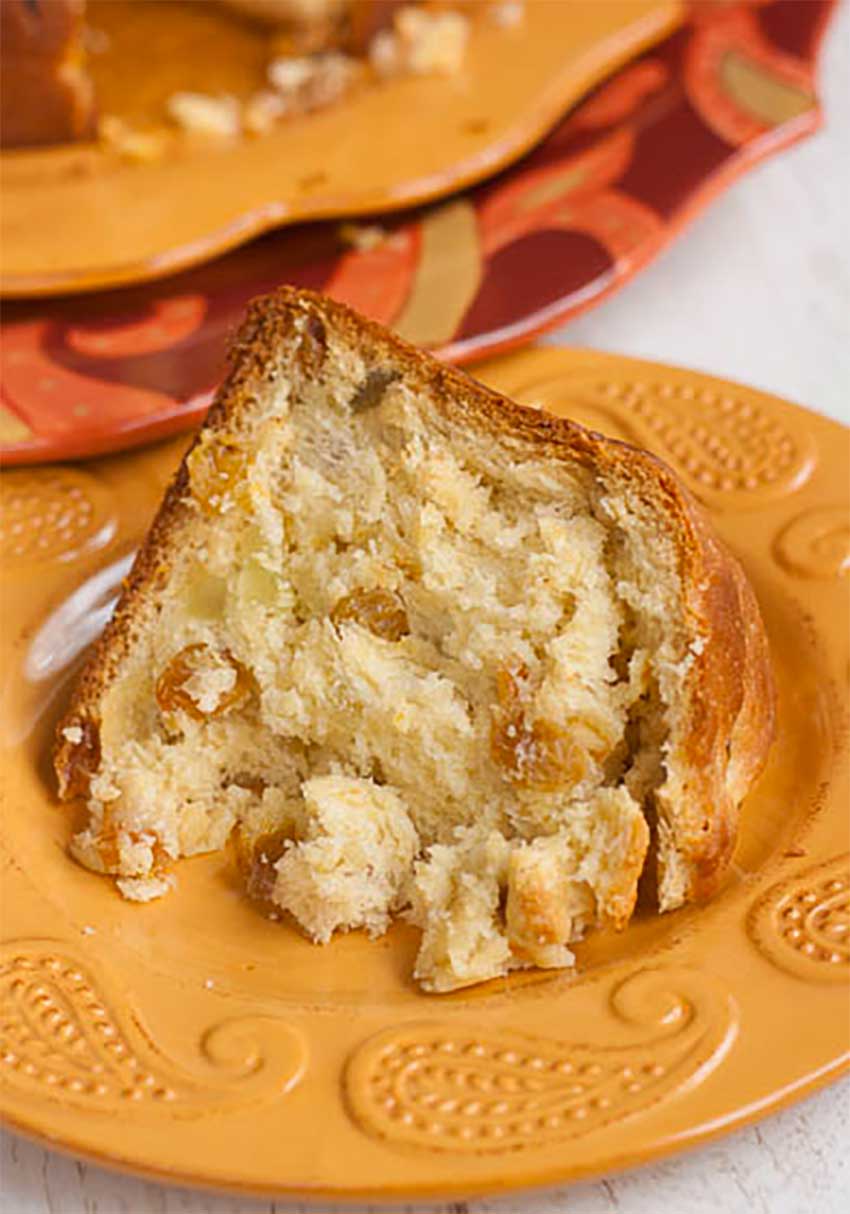 I can't say enough how much better homemade panettone is from the kind you buy from the grocery store! I've only ever had them boxed and sold by mass-production companies. They tend to be kind of dry. Homemade panettone- NOT dry. Amazingly rich, buttery, fluffy, and soft. And the flavors are so much stronger and fresh. I just loved it. Definitely worth the effort during the Holidays!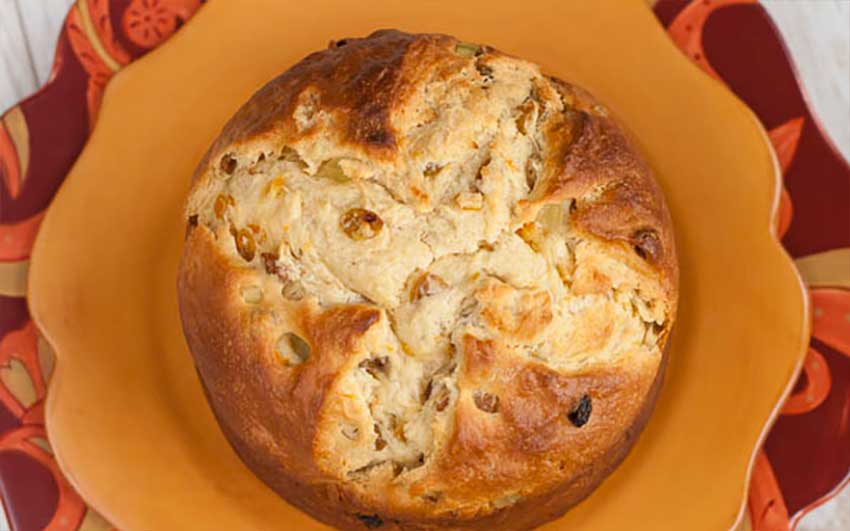 Panettone
Serves: makes 2 pannetone
Ingredients:
Sponge:
1 satchel (2¼ teaspoons) (7 gm) active dry yeast
⅓ cup (80 ml) warm water
½ cup (70 gm) unbleached all-purpose flour
First Dough:
1 satchel (2¼ teaspoons) (7 gm) active dry yeast
3 tablespoons (45 ml) warm water
2 large eggs, at room temperature
1¼ cup (175 gm) unbleached all-purpose (plain) flour
¼ cup (55 gm) (2 oz) sugar
½ cup (1 stick) (115 gm) unsalted butter, at room temp
Second Dough:
2 large eggs
3 large egg yolks
⅔ cup (150 gm) (5-2/3 oz) sugar
3 tablespoons (45 ml) honey
1 tablespoon (15 ml) vanilla extract
1 teaspoon (5 ml) lemon essence/extract
1 teaspoon (5 ml) orange essence/extract
1 teaspoon (5 ml) (6 gm) salt
1 cup (2 sticks) (225 gm) unsalted butter, at room temp
3 cups (420 gm) (15 oz) unbleached all-purpose (plain) flour; plus up to (2/3 cup) 100 gm for kneading
Filling and Final Dough:
1½ cups (250 gm) (9 oz) golden raisins or golden sultanas
½ cup (75 gm) (2-2/3 oz) candied citron
½ cup (75 gm) (2-2/3 oz) candied orange peel
Grated zest of 1 orange
Grated zest of 1 lemon
2 to 3 tablespoons (30-45 ml) (15-25 gm) unbleached all-purpose (plain) flour
Directions:
For the Sponge: Mix the yeast and water in a small bowl and allow to stand until creamy; about 10 minutes or so.
Mix in the flour. Cover with plastic wrap and allow to double in size for about 20 to 30 minutes.
For the First Dough: In the bowl of a stand mixer, mix together the yeast and water and allow to stand until creamy, about 10 minutes or so. With the paddle attachment, mix in the sponge, eggs, flour, and sugar.
Add in the butter and mix for 3 minutes until the dough is smooth and even.
Cover with plastic wrap and allow double in size, about 1 – 1 ¼ hours.
For the Second Dough: To the first dough, with the paddle attachment, mix in the eggs, egg yolks, sugar, honey, vanilla, essences/extracts, and salt until well combined.
Mix in the butter until smooth. Add the flour and slowly incorporate. At this stage, the dough will seem a little too soft, like cookie dough.
Replace the paddle with the dough hook and knead for about 2 minutes.
Turn out the dough and knead it on a well-floured surface until it sort of holds its shape.
Don't knead in too much flour but you may need as much as ⅔ cup (100 gm). Be careful the excess flour will affect the finished product
For the First Rise: Oil a large bowl lightly, plop in your dough, and cover with plastic wrap. Now we need to let it rise until it has tripled in size. There a few ways to go about this: Rise in a warm place for 2 – 4 hours OR find a cool spot (64°F -68°F) (18°C – 20°C) and rise overnight OR rise for 2 hours on your kitchen bench then slow the rise down and place in the refrigerator overnight. If you do this it will take some time to wake up the next morning (maybe another hour or two).
For the Filling and Final Rise: Soak the raisin/sultanas in water 30 minutes before the end of the first rise. Drain and pat dry with paper towels.
Now take your dough and cut it in half.
Combine all your filling ingredients in a bowl and mix well. Press out one portion of dough into an oval shape. Sprinkle over one quarter of the filling and roll up the dough into a log. Press out again into an oval shape and sprinkle over another quarter of the filling. Roll into a log shape again.
Repeat with the second portion of dough.
Shape each into a ball and slip into your prepared pans, panettone papers, or homemade panettone papers.
Cut an X into the top of each panettone and allow it to double in size. Rising time will vary according to the method of the first rise. If it has been in the refrigerator it could take 4 hours or more. If it has been rising on the kitchen bench in a warm place it should be doubled in about 2 hours.
For Baking: When you think your dough has only about 30 minutes left to rise, preheat your oven to moderately hot 400°F/200°C/gas mark 6.
Just before baking carefully (don't deflate it!) cut the X into the dough again and place in a knob (about a tablespoon) of butter.
Place your panettoni in the oven and bake for 10 minutes.
Reduce the heat to moderate 350°F/180°C/gas mark 4 and bake for another 10 minutes.
Reduce the heat again to moderate 325°F/160°C/gas mark 3 and bake for 30 minutes until the tops are well browned and a skewer inserted into the panettone comes out clean.
Cooling your panettone is also important. If you have use papers (commercial or homemade) lie your panettoni on their side cushioned with rolled-up towels. Turn gently as they cool. If you have used pans cool in the pans for 30 minutes then remove and cushion with towels.
Panettone can also be cooled suspended. How to do this? Firstly you need to use papers (commercial or homemade), insert clean knitting needles into the bottom of the panettone in an X shape. Flip over and support the knitting needles on the edges of a large saucepan with the panettone suspended within the saucepan.
...Advertisements...
CONTINUE READING BELOW