..Advertisements..
Continue reading below
Every year, as the festive season approached, our home filled with the inviting aroma of baked goods. One particular scent, which was often accompanied by the soft notes of Sinatra's holiday tracks, always stood out: Peanut Blossoms. This wasn't just a recipe; it was a tradition. For as long as I could remember, every December, our neighborhood eagerly awaited our annual cookie open house. As my parents described it, the inception of this tradition traced back to their early years of marriage. My semi-retired mother and my fully retired father would devote four whole days, carefully preparing a plethora of cookie varieties. However, the undeniable star of the show was always the Peanut Blossoms.
While the children played and laughed, adults would often share stories and memories around these cookies. Their slightly crisp texture combined with the soft, melty chocolate kiss on top was an embodiment of love and warmth. Many neighbors, after taking their first bite, would often request the recipe, hoping to recreate the magic in their own kitchens. And as the evening came to an end, we prepared cookie trays for the elderly and those who couldn't attend, ensuring everyone had a slice of our family's cherished tradition.
How to Prepare Peanut Blossoms
Ingredients for Peanut Blossoms
1 cup vegetable shortening
1 cup creamy peanut butter
1 cup firmly packed brown sugar
1 1/2 cups granulated sugar (reserve 1/2 cup for later)
2 large farm-fresh eggs
1/4 cup fresh milk
2 teaspoons pure vanilla extract
3 1/2 cups sifted all-purpose flour
2 teaspoons baking soda
1 teaspoon fine sea salt
2 bags (9 ounces each) creamy milk chocolate kisses, de-wrapped
Directions for Peanut Blossoms
Position your ingredients on the counter for easy access.
Set your oven to preheat at 375°F (190°C) and lightly grease your baking sheets.
In a spacious mixing bowl, whip together the vegetable shortening, peanut butter, brown sugar, and 1 cup of granulated sugar until it's velvety.
Meticulously beat in the eggs, one by one, following with the milk and vanilla extract.
In a separate bowl, mix the flour, baking soda, and salt. Gently fold this dry mixture into the peanut butter concoction until it's uniformly blended.
Form the dough into small spheres and roll them in the reserved 1/2 cup granulated sugar. Space them about 2 inches apart on your prepped baking sheets.
Bake them in your preheated oven for about 10 to 12 minutes. Once baked, swiftly press a chocolate kiss onto each cookie while they're still hot.
Let them cool off thoroughly. As they do, the chocolate kiss will solidify again.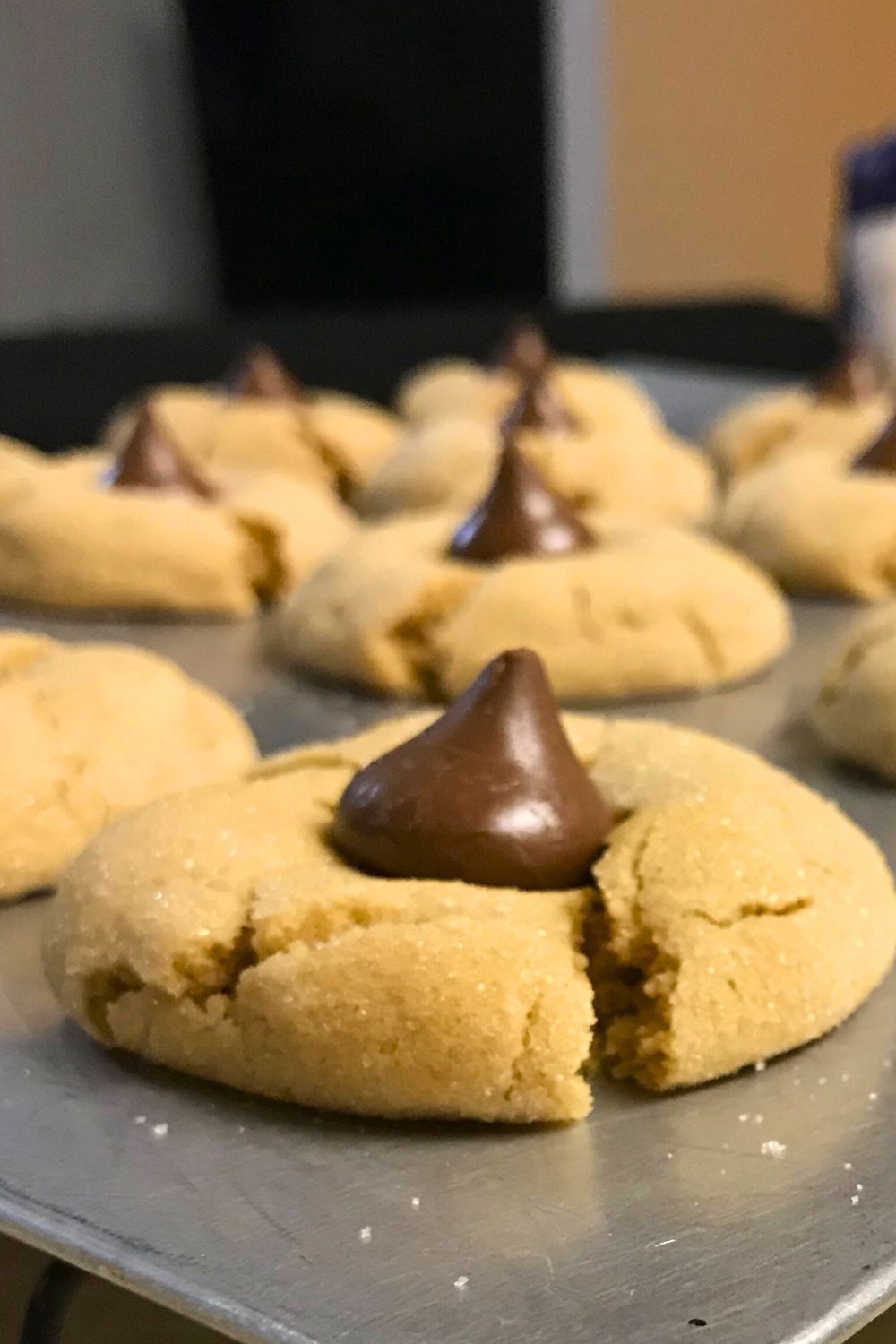 How long do Peanut Blossoms stay fresh?
When stored in an airtight container at room temperature, Peanut Blossoms can remain fresh for up to a week. For longer storage, you can refrigerate or freeze them, but ensure they're well-wrapped to prevent moisture.
Can I use crunchy peanut butter instead of creamy?
Absolutely! Crunchy peanut butter will give the cookies a slightly different texture, introducing bits of peanuts for an added crunch. Just ensure you measure the same quantity as the recipe suggests for creamy peanut butter.
Is it necessary to use vegetable shortening? Can I replace it with butter?
While vegetable shortening gives the cookies a particular texture, you can substitute it with an equal amount of unsalted butter. It might slightly alter the cookie's texture and flavor, but many find the buttery taste an appealing alternative.
Can I make the dough ahead of time and refrigerate it?
Yes, you can prepare the dough up to 2 days in advance. Just make sure to wrap it tightly in plastic wrap and store it in the refrigerator. When you're ready to bake, allow the dough to sit at room temperature for about 30 minutes to make it easier to handle.
Why do my cookies flatten too much during baking?
If your cookies are spreading too thin, it could be due to overly softened shortening or butter, or possibly too little flour. Ensure you measure your ingredients accurately and consider chilling the dough for 30 minutes before baking to prevent excessive spreading.
Can I use a different type of chocolate on top?
Of course! While milk chocolate kisses are traditional, you can experiment with dark chocolate, white chocolate, or even caramel-filled chocolates. The key is to find a combination that delights your taste buds.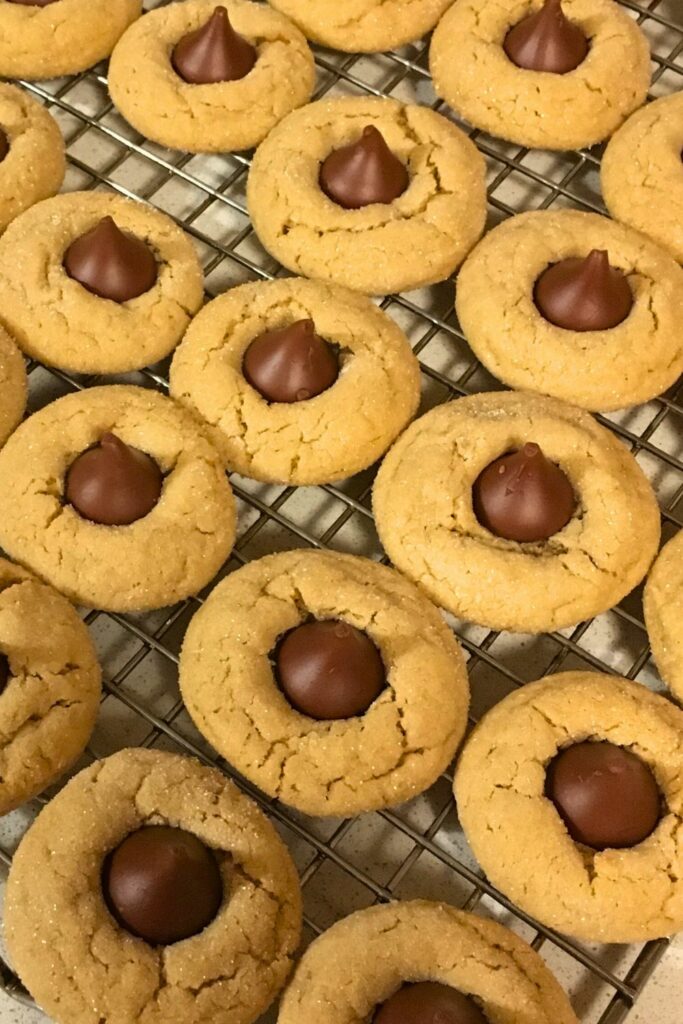 Peanut Blossoms
...
Ingredients
1

cup

shortening

1

cup

peanut butter

1

cup

packed brown sugar

1 1/2

cups

white sugar

divided

2

large eggs

1/4

cup

milk

2

teaspoons

vanilla extract

3 1/2

cups

all-purpose flour

2

teaspoons

baking soda

1

teaspoon

salt

2

9 ounce bags milk chocolate candy kisses, unwrapped
Instructions
Preheat the oven to 375 degrees F. Grease cookie sheets.

Cream together shortening, peanut butter, brown sugar, and 1 cup white sugar in a large bowl until smooth.

Beat in eggs one at a time, then stir in milk and vanilla.

Combine flour, baking soda, and salt; stir into peanut butter mixture until well blended.

Shape spoonfuls of dough into balls and roll in remaining 1/2 cup white sugar. Place cookies 2 inches apart on the prepared cookie sheets.

Bake in the preheated oven for 10 to 12 minutes. Remove from the oven and immediately press a chocolate kiss into each cookie.

Allow to cool completely; the kiss will harden as it cools.
....Advertisements....
CONTINUE READING BELOW