..Advertisements..
Continue reading below
There's something incredibly satisfying about the combination of peanut butter and chocolate. It's a classic pairing that has been delighting taste buds for generations. If you're looking for a delectable treat that brings together these two beloved flavors, then look no further than these irresistible Peanut Butter Bars. Whether you're planning a family gathering, a potluck, or simply craving a sweet indulgence, these bars are sure to be a hit.
Imagine sinking your teeth into a creamy layer of peanut butter goodness, perfectly balanced by a rich chocolate topping that melts in your mouth. The best part? These Peanut Butter Bars are surprisingly easy to make, requiring just a handful of simple ingredients and a bit of patience while they chill in the fridge. So, let's dive into the recipe and learn how to prepare these delightful bars that will have everyone coming back for seconds!
How to Prepare Peanut Butter Bars
Ingredients for Peanut Butter Bars:
1 cup butter or margarine, melted
2 cups graham cracker crumbs
2 cups confectioners' sugar
1 cup peanut butter
1 1/2 cups semisweet chocolate chips
4 tablespoons peanut butter
Directions for Peanut Butter Bars:
In a medium bowl, combine the melted butter or margarine, graham cracker crumbs, confectioners' sugar, and 1 cup of peanut butter. Mix until the ingredients are well blended.
Press the mixture evenly into the bottom of an ungreased 9×13 inch pan. This will form the deliciously crumbly crust for your Peanut Butter Bars.
In a metal bowl set over simmering water or using the microwave, melt the semisweet chocolate chips along with 4 tablespoons of peanut butter. Stir occasionally until the mixture is smooth and velvety.
Once the chocolate and peanut butter are melted and combined, spread this luscious mixture over the prepared graham cracker crust. The layer should be even, ensuring that every bite is a perfect balance of flavors.
Place the pan in the refrigerator and let the bars chill for at least one hour. This step is crucial, as it allows the bars to set and makes them easier to cut into perfect squares.
Once the bars are nicely chilled, remove the pan from the refrigerator and cut them into squares. Pro tip: Run a knife under hot water before cutting to achieve clean, smooth cuts.
Serve and enjoy these delightful Peanut Butter Bars with friends, family, or simply savor them all by yourself!
Can I use natural peanut butter instead of regular peanut butter?
Absolutely! Natural peanut butter can be used in this recipe. Just ensure that it's well-mixed and not too runny, as the consistency might affect the final result.
Can I substitute graham cracker crumbs with a different type of cookie crumbs?
Certainly! While graham cracker crumbs provide a classic base, you can experiment with other cookie crumbs like chocolate wafers or even shortbread for a unique twist.
How should I store these Peanut Butter Bars?
To keep the bars fresh and maintain their texture, store them in an airtight container in the refrigerator. They can also be frozen for longer storage; just thaw before serving.
Can I use milk chocolate chips instead of semisweet?
Of course! While semisweet chocolate offers a slightly less sweet contrast to the peanut butter, milk chocolate will work wonderfully if you prefer a sweeter flavor.
My chocolate and peanut butter mixture seized. What do I do?
If your mixture seizes (becomes stiff or grainy), try adding a small amount of vegetable oil or melted butter while stirring gently. This should help smooth out the mixture.
Can I add toppings like chopped nuts or sea salt?
Absolutely! Chopped nuts, sea salt, or even a drizzle of caramel can take these bars to the next level. Sprinkle your desired toppings over the chocolate layer before chilling.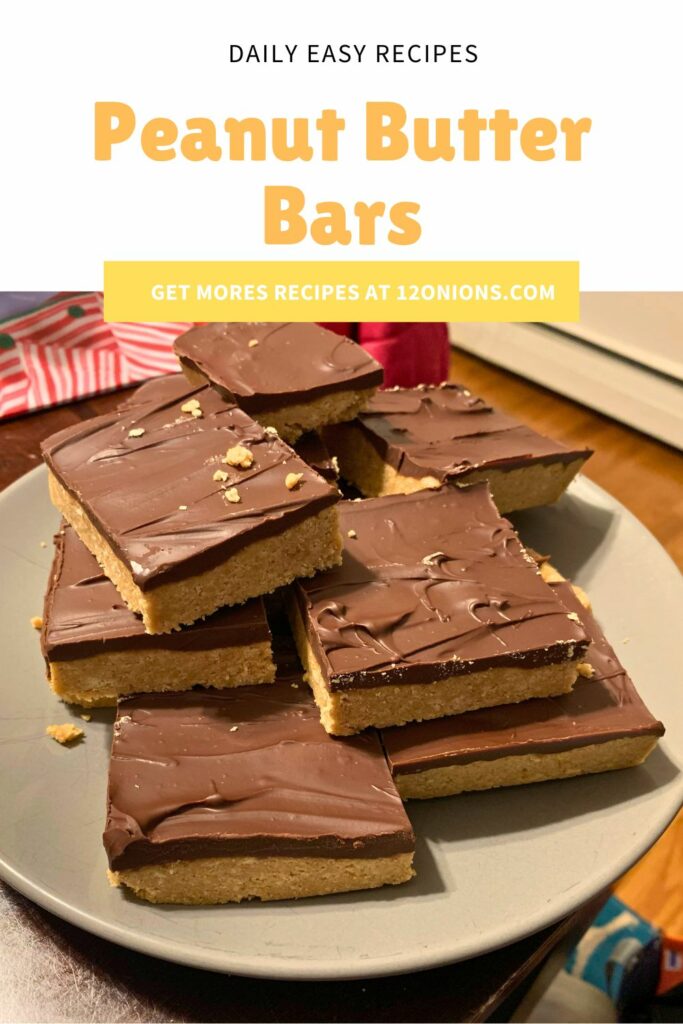 Peanut Butter Bars
...
Ingredients
1

cup

butter or margarine

melted

2

cups

graham cracker crumbs

2

cups

confectioners' sugar

1

cup

peanut butter

1 1/2

cups

semisweet chocolate chips

4

tablespoons

peanut butter
Instructions
In a medium bowl, mix together the butter or margarine, graham cracker crumbs, confectioners' sugar, and 1 cup peanut butter until well blended.

Press evenly into the bottom of an ungreased 9×13 inch pan.

In a metal bowl over simmering water, or in the microwave, melt the chocolate chips with the peanut butter, stirring occasionally until smooth. Spread over the prepared crust.

Refrigerate for at least one hour before cutting into squares.
....Advertisements....
CONTINUE READING BELOW