..Advertisements..
Continue reading below
With the Holidays in the air this month, we were challenged to take on some celebration cookie recipes. Peta from Peta Eats gave us a delicious list of 12 cookies and asked us to choose one of the recipes which she provided and also make one of our own choosing.
I decided upon making Piper's Brown Butter Shortbread from her list and Brown Sugar Cookies off my own. The reason I decided to make these two cookies is that they are SO similar, yet they come out completely different.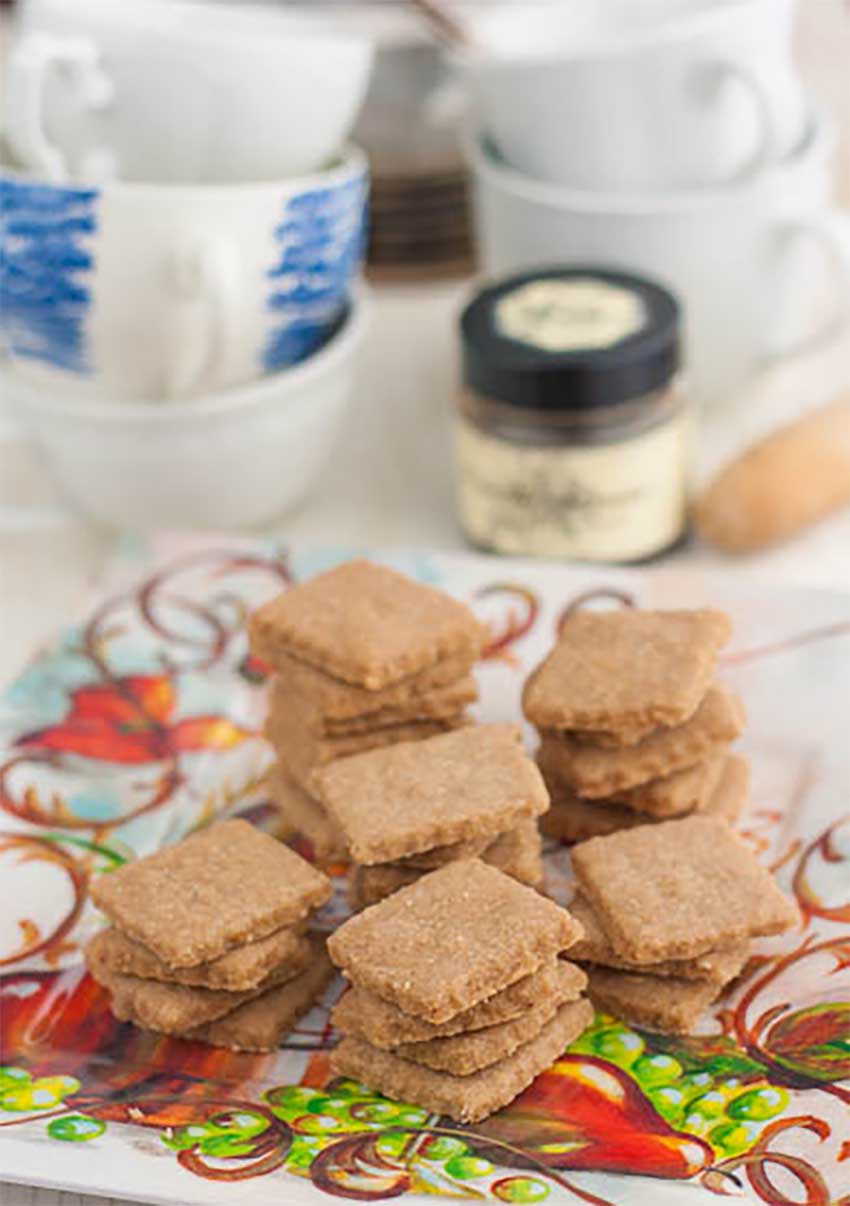 They both use brown butter (which if you haven't baked with yet you are missing out!) and dark brown sugar. Through the different variations in the recipes, you get one cookie with a crumbly, firm texture and another so chewy it's reminiscent of a caramelly chocolate chip cookie (minus the chocolate chips). Both have the same flavor qualities, they just end up with different textures. Kind of interesting. Today I am going to share with you the recipe for the Brown Butter Shortbread and on Thursday I will share the recipe for Brown Sugar Cookies.
I have a couple of pointers to give you if you attempt this recipe. As far as the dough, I don't think vanilla bean paste is essential. I know that it can be hard to find and most people don't have it handy. In that case, you can very easily substitute 2 tsp vanilla extract and get equally good results. Fortunately, I did have vanilla bean paste so that is what I used for mine. The next thing you want to consider when making this recipe is how long the dough is refrigerated before it is shaped. I left mine in the fridge overnight and had a terrible time rolling it out the next day. It was simply TOO hard and kept cracking. I ended up having to knead it in my hand to warm it up so that I could roll it out. This could have easily been avoided if I had just let the dough chill for maybe 30 minutes and then rolled and shaped it, before leaving it in the fridge overnight. So, just be careful about how hard you let the dough get in the fridge before shaping it. Otherwise, you'll end up super frustrated with overworked dough, as I did.
Regardless of that slight mishap, these cookies were just as easy as sugar cookies to put together. As long as you have a handle on how to make brown butter then they are a snap. And for those of you that have never made brown butter before, don't worry! It's just a matter of melting butter and continuing to cook it on low until it browns and becomes caramelly and nutty in aroma.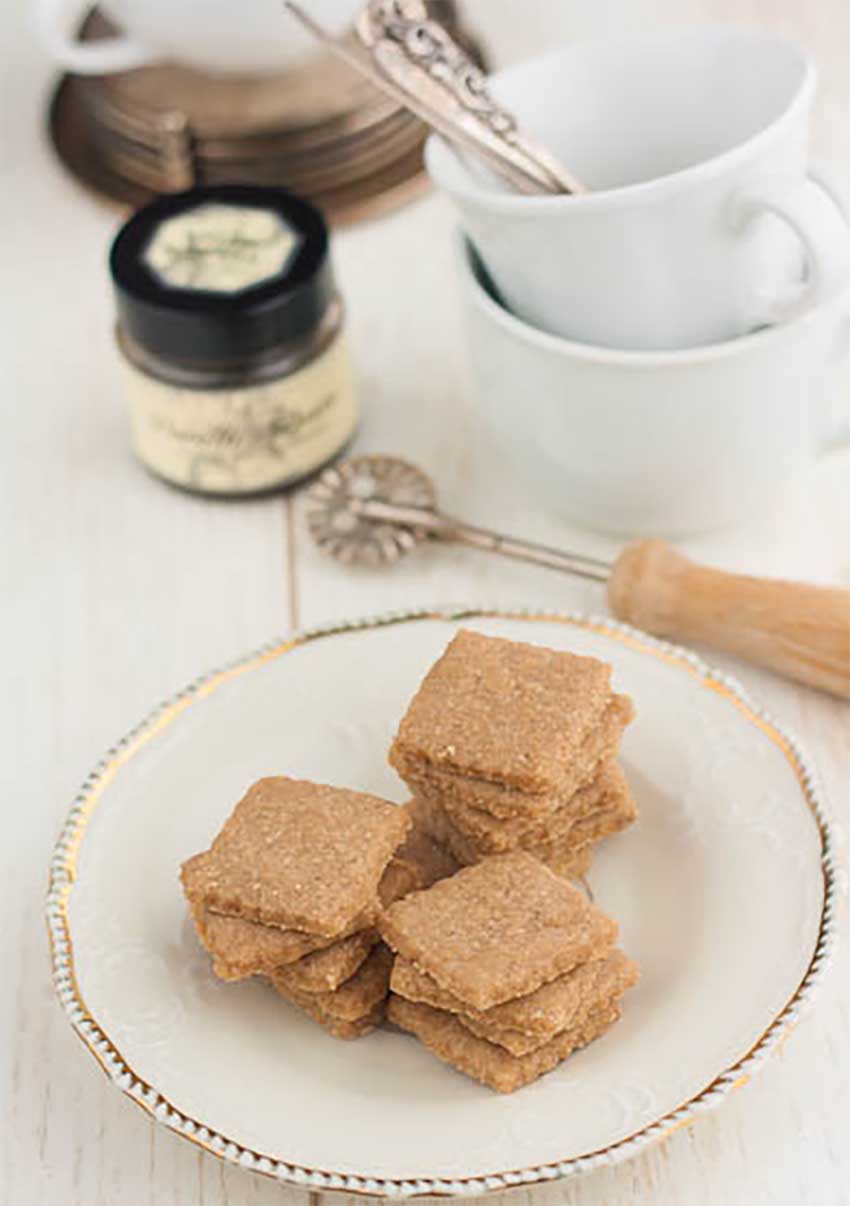 Pipers Brown Butter Shortbread
Ingredients:
1 cup (240 ml) (225 gm) (8 oz) unsalted butter
⅔ cup (130 gm) (4½ oz) dark brown sugar, firmly packed
2 teaspoons (10 ml) pure vanilla bean paste
1⅔ cups (230 gm) (8 oz) all-purpose flour
2 teaspoons (10 ml) (12 gm) table salt
Directions:
Cut the butter into pieces and place in a saucepan over low heat. Melt the butter and cook until it starts to brown and gives off a nutty aroma. Stir occasionally to make sure the butter browns evenly. After the butter foams twice and brown bits form along the bottom the butter is done. Remove from the heat and pour into a heatproof jug or bowl. Set aside to cool slightly and then refrigerate until it starts to set again but is not too firm. It should be the consistency of softened butter. You don't have to strain out the little brown bits- they taste great.
Preheat the oven to moderate 300°F/ 150°C/gas mark 2. Line 2 large baking sheets with parchment or silicone mat.
Add the sugar and vanilla to the browned butter in a mixing bowl and beat until very light and fluffy and the sugar is dissolved.
Add the flour and salt and mix for at least 2 to 4 minutes to form a soft dough.
Turn dough out onto plastic wrap, flatten the dough into a disc, wrap tightly and refrigerate for at least 30 minutes to firm up. Roll out the pastry to about ⅙-inch (4-mm) thickness and cut into cookies. Place the cookies on the baking sheets and refrigerate for 30 minutes. This will make sure the cookies keep their shape as they bake. Bake the cookies for 10 to 12 minutes, until the edges are lightly browned. Remove from the oven and leave the cookies to cool on the baking sheet for about 10 minutes before transferring to a wire rack to cool completely.