..Advertisements..
Continue reading below
Some of my most cherished moments are around the dining table. My grandma, with her rich history of family recipes, often reminisces about the time when my grandpa took her to the finest deli in town. There, she had her first Reuben sandwich – a delectable layering of corned beef, Swiss cheese, and sauerkraut. Years later, when we kids clamored for her special Reuben, she whipped up this Reuben Casserole – her twist on that age-old classic. This dish is more than just a meal. It's a trip down memory lane, bringing together flavors from a cherished past and the warmth of family gatherings.
Just last week, I prepared it for a neighborhood potluck, and guess what? It was a hit! The rich, tangy aroma wafted through the air, drawing everyone towards my casserole dish. I can't count the number of times I've scribbled down this recipe for friends and neighbors, so here it is for all of you to relish.
How to Prepare Reuben Casserole
Ingredients for Reuben Casserole
6 pieces of rye bread, chopped
1 can (16 oz) sauerkraut, thoroughly drained and washed
1 lb corned beef from the deli, sliced and stripped
3/4 cup of classic Russian dressing
Cooking spray for ease
2 cups of finely grated Swiss cheese
Directions for Reuben Casserole
Warm up your oven to a cozy 400°F (or 200°C). Apply cooking spray onto a 9×13 baking dish. Also, give a light spray over an aluminum foil sheet.
Evenly lay out the chopped bread pieces at the base of your baking dish. Neatly top this with layers of sauerkraut followed by strips of beef. Drizzle the Russian dressing generously over these layers.
Shield the dish with the previously sprayed aluminum foil, ensuring the sprayed side faces down.
Let it bake in the oven for a good 20 minutes. After this, take off the foil and grace the casserole with a lavish sprinkle of Swiss cheese.
Resume baking for roughly 10 minutes or until you see the cheese bubbling and turning golden.
Can I use homemade sauerkraut?
Absolutely! Homemade sauerkraut can add a personal touch and fresh flavor to the dish. Just ensure it's well-drained to prevent sogginess.
What can be a good substitute for Russian dressing?
If you're out of Russian dressing, you can blend mayo, ketchup, and a dash of horseradish for a similar tangy taste. Adjust according to your palate!
How long can I store the casserole leftovers?
Stored in an airtight container, the casserole can last up to 3 days in the fridge. Ensure you reheat it well before serving again.
Can I add other ingredients to this recipe?
Of course! Many enjoy adding a layer of pickles or onions. Feel free to customize based on your personal preferences, but remember, the classic Reuben taste is iconic for a reason!
How do I know when the casserole is fully baked?
The key is the cheese! Once it's melted, bubbly, and has a slight golden hue, your casserole is ready to be devoured.
Can I freeze the Reuben casserole for later?
Yes, you can! Once it's cooled, store it in a freezer-friendly container. It can last up to a month. When you're ready to eat, thaw and reheat thoroughly.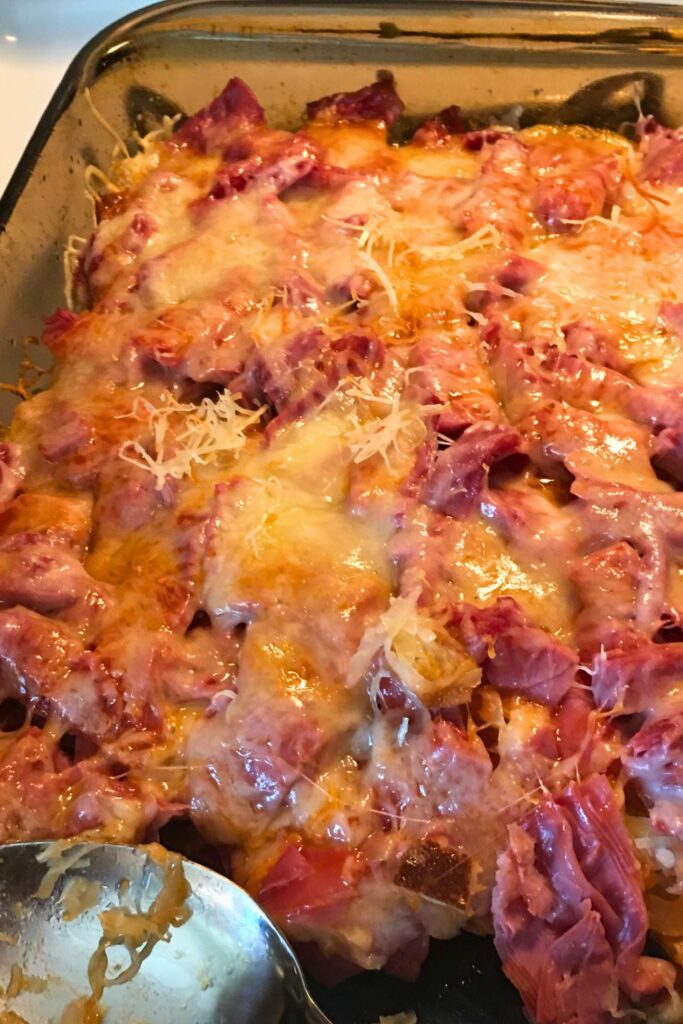 Reuben Casserole
...
Ingredients
6

slices

rye bread

cubed

1

16 ounce can sauerkraut, drained and rinsed

1

pound

deli sliced corned beef

cut into strips

3/4

cup

Russian-style salad dressing

cooking spray

2

cups

shredded Swiss cheese
Instructions
Preheat the oven to 400 degrees F.

Spray a 9x13-inch baking dish with cooking spray. Spray one sheet of aluminum foil with cooking spray.

Spread bread cubes in the bottom of the prepared baking dish. Layer bread cubes with sauerkraut and beef strips, then pour dressing over top. Cover with the aluminum foil, sprayed-side down.

Bake in the preheated oven for 20 minutes. Remove and discard foil; sprinkle Swiss cheese over casserole. Continue baking until cheese is melted and bubbly, about 10 more minutes.
....Advertisements....
CONTINUE READING BELOW