..Advertisements..
Continue reading below
Growing up in the heart of the Midwest, I have fond memories of my grandmother's kitchen where the aroma of savory dishes would wrap you in a comforting embrace. It was at her wooden table where I first tasted Salisbury steak. It wasn't just any ordinary steak—it was a symphony of flavors, textures, and love. The other day, while having coffee with my neighbor, Jane, she recalled a similar memory with her own family. We laughed about how, in both our homes, this dish was a symbol of warmth and togetherness. Inspired by these reminiscent moments, I decided to recreate the recipe with a twist, hoping to honor the original yet bring a touch of modern flavor.
How to Prepare Salisbury Steak
Ingredients for Salisbury Steak
1 lb premium ground sirloin
1/2 cup artisanal panko breadcrumbs
1 fresh egg, whisked
2 tbsp fresh milk
1/2 package of gourmet onion soup mix
1 tsp natural Worcestershire sauce
A pinch of finely ground black pepper
For the Gravy:
3 tbsp organic butter
2 cups farm-fresh mushrooms, thinly sliced
1 organic sweet onion, finely sliced
3 tbsp premium all-purpose flour
1/2 package gourmet onion soup mix
1 1/2 cups aromatic beef stock
1 cup purified water
Sea salt and freshly ground black pepper, as per taste
Directions for Midwest Salisbury Steak
Begin by preparing the steak patties. In a mixing bowl, combine the ground sirloin, breadcrumbs, whisked egg, milk, half of the onion soup mix, Worcestershire sauce, and black pepper. Shape this mixture into approximately 5 even patties.
In a medium skillet, sear the patties over moderate heat until they take on a golden-brown hue, approximately 3-5 minutes on each side.
To craft the gravy, use a separate skillet and melt the butter at a medium-high temperature. Add in the mushrooms and onion, sautéing until they're soft and fragrant, which usually takes around 5 minutes. Mix in the flour and the remaining onion soup mix. Gradually introduce the beef stock and water, continuously stirring until it begins to simmer. Lower the heat to medium and stir intermittently until the gravy thickens, which should be in about 4-5 minutes. Adjust the taste with salt and pepper.
Lastly, immerse the browned patties into your gravy and let them simmer until they're thoroughly cooked and tender, roughly 30 minutes. Check the doneness by inserting an instant-read thermometer, ensuring it reads around 160°F (70°C).
What's the best side dish to serve with Salisbury Steak?
Traditionally, Salisbury steak pairs beautifully with creamy mashed potatoes, buttery egg noodles, or even fluffy rice. These sides perfectly complement the rich gravy and savory steak.
Can I freeze the cooked Salisbury Steak?
Yes, you can. Once cooked, let the steak and gravy cool down, then transfer them to a freezer-safe container. They can be stored for up to 2 months. When you're ready to eat, thaw overnight in the fridge and reheat gently on the stove.
What kind of ground meat works best for this recipe?
For the best flavor and texture, I recommend using ground sirloin. However, if you prefer, ground chuck or a mixture of beef and pork can also be used, but the taste profile might slightly differ.
How do I know the steak is cooked perfectly?
Using an instant-read thermometer is the best way to ensure your steak is cooked to perfection. For this recipe, it should read 160°F (70°C) when inserted into the center of a patty.
Can I use store-bought gravy instead?
While homemade gravy provides a rich and authentic flavor, store-bought versions can be used in a pinch. Make sure to select a high-quality one and adjust seasoning as needed.
Is there an alternative to panko breadcrumbs?
Yes, if you don't have panko breadcrumbs at hand, you can use regular breadcrumbs or even crushed crackers. However, panko offers a unique lightness and crispiness to the patties.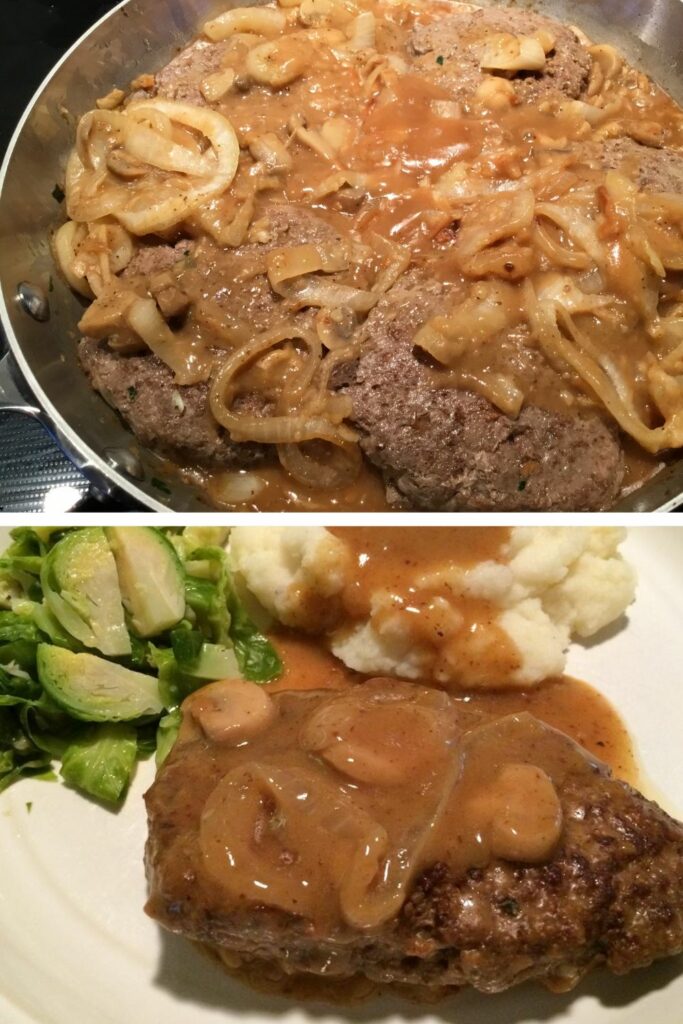 Midwest Salisbury Steak
...
Ingredients
1

pound

ground sirloin

1/2

cup

panko bread crumbs

1

egg

beaten

2

tablespoons

milk

1/2

1 ounce package dry onion soup mix

1

teaspoon

Worcestershire sauce

1/4

teaspoon

ground black pepper
Gravy:
3

tablespoons

butter

2

cups

fresh mushrooms

sliced

1

sweet onion

sliced

3

tablespoons

all-purpose flour

1/2

1 ounce package dry onion soup mix

1 1/2

cups

beef stock

1

cup

water

salt and ground black pepper to taste
Instructions
Make the patties: Mix ground sirloin, panko bread crumbs, egg, milk, 1/2 packet onion soup mix, Worcestershire sauce, and black pepper together in a large bowl; shape into 5 patties.

Heat a skillet over medium heat. Cook patties in the hot skillet until browned, 3 to 5 minutes per side.

Make the gravy: Melt butter in a separate skillet over medium-high heat. Sauté mushrooms and onion in melted butter until tender, about 5 minutes. Stir flour and remaining 1/2 packet onion soup mix into mushroom mixture until combined. Gradually add beef stock and water, stirring continually, until simmering. Reduce heat to medium; cook, stirring frequently, until gravy has thickened, about 4 to 5 minutes. Season with salt and pepper.

Place browned patties into gravy; simmer until very tender, about 30 minutes. An instant-read thermometer inserted into the center should read 160 degrees F.
....Advertisements....
CONTINUE READING BELOW