..Advertisements..
Continue reading below
I swear I am becoming a peanut butter convert each time I bake up a new peanut butter treat. It's really growing on me. Those of you that have visited my blog before have heard me say that it's not my favorite. So why do I keep making peanut butter recipes then?? I don't know! That's the thing I tell myself it's because that's what the public wants… but really, is that true? Or am I trying to cover up the deep, dark secret that I am actually a peanut butter lover? Hm, maybe! But, for now, all of you actual peanut butter fans can cash in on my internal debate because these Peanut Butter Cookies with Nutella Swirl are fantastic.
I know that the title for these cookies says that they are "salted" but in all honesty, mine wasn't. I didn't have the correct type of salt called for in the recipe. I only had regular table salt and I knew that wouldn't fit the bill. So I just opted out of the whole "salted" thing. As much as I enjoy sweet & salty combo's, I don't think I missed out too much. Regardless of salt or no salt, the flavor of the cookies was wonderful. I think that Nutella really helped take it to a whole new level. There wasn't so much Nutella that the flavor was distracting but just enough for it to compliment the peanut butter. Perfect.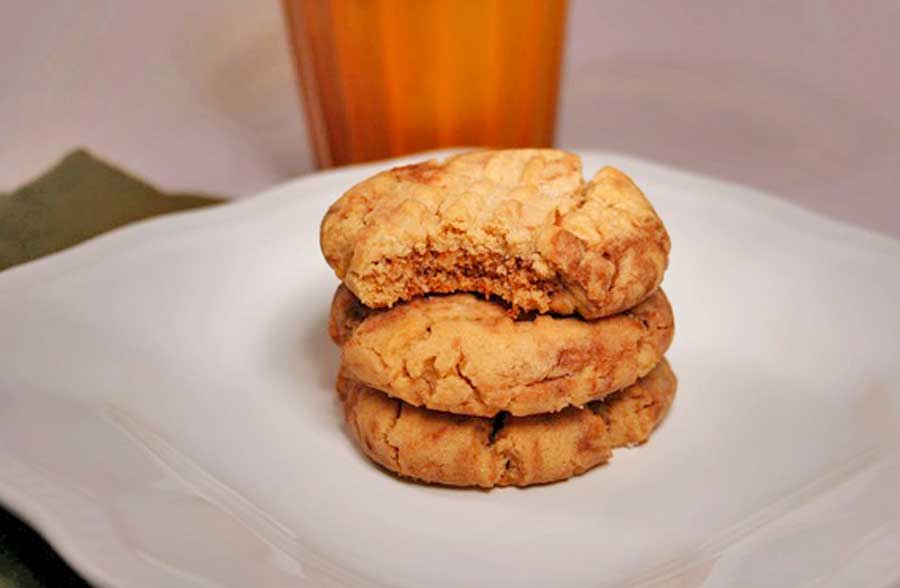 And see how the cookies have a cute little swirl to them? The whole swirling thing made me nervous. I thought that I was going to over-mix and easily lose all discernible traces of Nutella in the cookie. Nope. The dough is so thick that the Nutella is able to swirl in perfectly without over blending. And here is a trick for you! If your Nutella is a little bit stiff- measure it out and microwave it for a few seconds, stir it, then add it to the batter. This will help loosen it up and make the process a lot easier on you. Just be sure to do it at 10-second intervals until it's slightly loosened. You don't want to end up with Nutella Soup!
These peanut butter cookies reminded me of an awful lot of this one. I am used to them being hard and crumbly, with a lot of crunchiness. These were both slightly soft and moist. Not a lot of textural contrast. That may not necessarily be a bad thing, it just depends on how you like your cookies. The edges were a tiny bit crisp the first day, but after that- soft. Just giving you all a heads up. Don't worry, whether you like your peanut butter cookies soft or crisp (or maybe you don't care as long as they are peanut butter!), rest assured that these are super delicious!
Salted Peanut Butter Nutella Swirled Cookies
Ingredients:
½ cup unsalted butter, at room temperature
¾ cup smooth peanut butter
½ cup granulated sugar
½ cup packed light brown sugar
1 egg
½ tsp vanilla extract
¾ tsp baking soda
¼ tsp salt
1-3/4 cups all-purpose flour
¼ cup Nutella
Directions:
Preheat oven to 350 degrees.
In the bowl of an electric mixer, beat together butter, peanut butter, and sugars until light and fluffy, about 2-3 minutes.
Add in the egg and vanilla and beat until well combined.
In a separate bowl, whisk together flour, baking soda, and salt. With the mixer on low, slowly incorporate the dry ingredients into the butter mixture until just combined.
Microwave Nutella for 20 seconds and then drizzle over the dough. Fold in Nutella with a spatula until well-distributed throughout the dough.
Chill the dough in the fridge for 15 minutes and then roll small balls by hand.
Place about an inch apart on a parchment paper-lined cookie sheet and use a fork to press down the balls slightly.
Bake until the edges are lightly browned about 8-10 minutes.
Allow cookies to cool on the pan for 2 minutes, and then transfer to a cooling rack to cool completely.