..Advertisements..
Continue reading below
One of my most cherished childhood memories revolves around my grandmother's kitchen. Every Sunday morning, she would be up early, preparing breakfast for the family. The aroma of freshly baked muffins would waft through the house, pulling me out of bed. One day, she decided to twist the regular muffin tale, adding scrambled eggs to the mix. The result was a deliciously surprising Scrambled Egg Muffin Cup.
Recently, during a small gathering with neighbors, I decided to recreate that memory. The joy on their faces as they tasted these egg muffin cups was evident. It was not just a breakfast dish; it was a piece of my cherished memories, and today, I'll share it with you.
How to Prepare Scrambled Egg Muffin Cups
Ingredients for Scrambled Egg Muffin Cups
1/2 pound fresh sausage
12 fresh eggs
1/2 cup finely diced onion
1/2 cup diced green bell pepper (adjust as per liking)
1/2 teaspoon of sea salt
1/4 teaspoon freshly ground black pepper
1/4 teaspoon crushed garlic granules
1/2 cup grated Cheddar cheese
Directions for Scrambled Egg Muffin Cups
Set your oven's temperature to 350 degrees F (175 degrees C) and allow it to preheat. Meanwhile, either grease 12 muffin slots or arrange them with muffin liners.
In a sizeable skillet, set over a medium-high flame, cook the sausage until it's finely browned and devoid of pink shades. This should take around 10 to 15 minutes. Ensure you drain any excess grease.
In a mixing bowl, whisk the eggs thoroughly. To this, add the diced onion, bell pepper, sea salt, ground pepper, and garlic granules. Blend well. Now, fold in the previously prepared sausage and sprinkle in the Cheddar cheese. Transfer this mix evenly into the muffin cups.
Place them in the oven and bake until they're set and a knife, when inserted, comes out clean – approximately 20 to 25 minutes. Enjoy hot!
Can I use any other cheese instead of Cheddar?
Absolutely! Feel free to experiment with your favorites. Mozzarella, Monterey Jack, or even feta can be excellent alternatives.
How can I store leftover Scrambled Egg Muffin Cups?
Ensure they've cooled down completely. Store them in an airtight container and refrigerate. They should stay fresh for up to 3 days.
Can I use other vegetables in the mix?
Yes, veggies like mushrooms, tomatoes, or even spinach can be added for extra flavor and nutrition.
Is it essential to use fresh sausage?
While fresh sausage is recommended for the best flavor, you can use pre-cooked sausage. Just ensure it's properly heated before adding to the mix.
Can I use egg whites only for a healthier variant?
Yes, using only egg whites can make the dish lighter. For this recipe, consider using 18-20 egg whites as a substitute for 12 whole eggs.
Is there a vegetarian alternative to sausage?
Certainly! There are numerous vegetarian sausages available in the market made from tofu, tempeh, or even mushrooms. Choose one that suits your taste.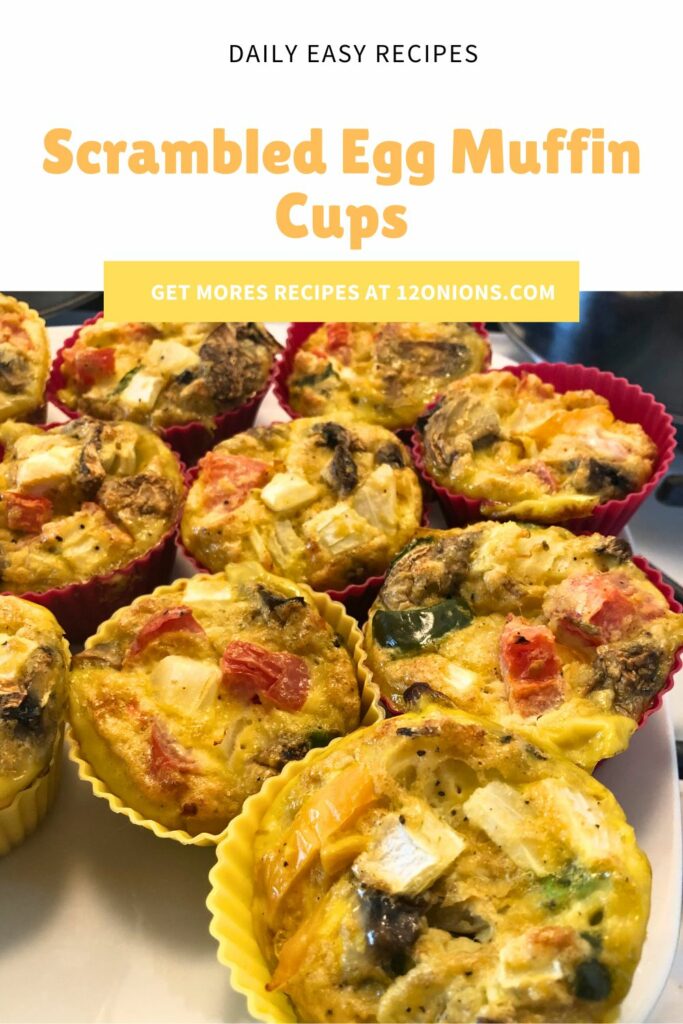 Scrambled Egg Muffin Cups
...
Ingredients
1/2

pound

bulk sausage

12

eggs

1/2

cup

chopped onion

1/2

cup

chopped green bell pepper

or to taste

1/2

teaspoon

salt

1/4

teaspoon

ground black pepper

1/4

teaspoon

garlic powder

1/2

cup

shredded Cheddar cheese
Instructions
Preheat the oven to 350 degrees F. Lightly grease 12 muffin cups or line with paper muffin liners.

Heat a large skillet over medium-high heat. Stir in sausage and cook until crumbly, evenly browned, and no longer pink, 10 to 15 minutes. Drain off grease.

Beat eggs in a large bowl. Stir in onion, green pepper, salt, pepper, and garlic powder. Mix in sausage and Cheddar cheese. Spoon into the prepared muffin cups.

Bake in the preheated oven until a knife inserted near the center comes out clean, 20 to 25 minutes.
....Advertisements....
CONTINUE READING BELOW