Eating red meat is a treat for us, but when I saw this recipe, I had to try it ASAP. And I am so glad that I did. The potatoes were tasty and the skirt steak was juicy and delicious. It was a yummy meal that I will definitely be repeating.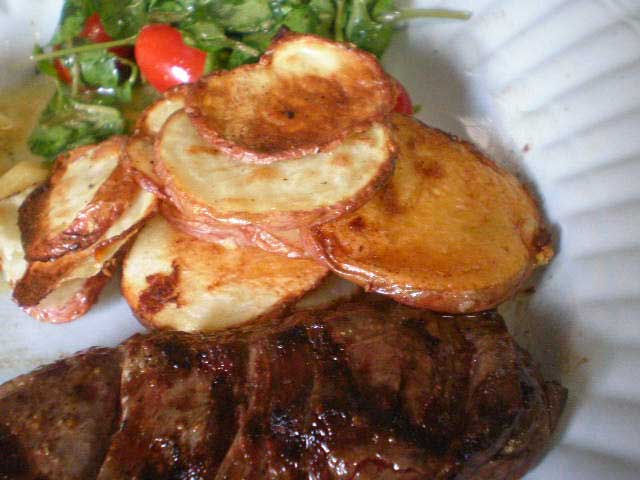 Skirt Steak with Crispy Garlic Potatoes
Ingredients:
Serves 4
2 garlic cloves
Coarse salt and ground pepper
1/2 teaspoon dried thyme
3 tablespoons olive oil
1 1/2 pounds red new potatoes, sliced 1 inch thick
1 1/2 pounds skirt steak, cut into 4 equal pieces
2 tablespoons red-wine vinegar
1 teaspoon Dijon mustard
2 bunches watercress (about 12 ounces total), thick ends removed
1-pint cherry tomatoes halved
Directions:
1. preheat oven to 475 degrees.
2. Finely chop garlic, and sprinkle with salt.
3. Using a chef's knife, press the flat side of the blade back and forth across garlic to make a paste.
4. Transfer to a small bowl; stir in thyme and 1 tablespoon oil.
5. On a large rimmed baking sheet, toss potatoes with garlic mixture; bake until browned on the underside, 20 to 25 minutes.
6. Meanwhile, heat a large skillet or grill pan over high.
7. Season steaks with salt and pepper, and cook (in two batches if necessary) until medium-rare, 3 to 6 minutes per side (depending on the thickness of steak).
8. Transfer to a plate to rest.
9. While steaks rest, make the salad: In a large bowl, whisk together vinegar, Dijon, and remaining oil; season with salt and pepper. Add watercress and tomatoes, and toss to combine.
10. Serve steaks with potatoes and salad.