..Advertisements..
Continue reading below
I know what you are thinking?! Does this chick ever write about a recipe that isn't "southernt?" I know! I know!! I love spice in my food and lately I've been trying to add a little flair to everyday dishes….and to be honest, I have a whole pantry of Rotel that I stocked up on during a sale.
So with that being said, I purchased a 16 oz bag of frozen hash browns. I've had the pleasure of eating party potatoes and several hash brown casseroles over the years and they are so yummy. That cheesy goodness suckers me in. Not to mention, the potato is a carb that is hard for me to resist. Did you know you could make a clock work by using a potato??!    I was trying to impress you while I digressed a bit.
Anyway, back to why you are here. You want this Southwest Hash brown Recipe. I must warn you that this is NOT healthy. Most of the recipes I post are not healthy. At the request of my mother and several others, healthier recipes are on the "TO DO" list.
Doesn't this cheesy goodness pictured above look sinful? I LOVE CHEESE. It's another staple we always have on hand. We have a lot of staples.
All I did was make a traditional hash-brown casserole but I added a can of Rotel to it. Rotel allowed me to call this a Southwest dish. I know…..Genius!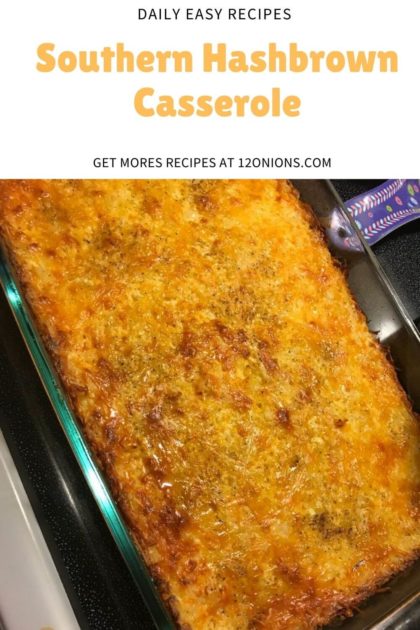 Southern Hashbrown Casserole
...
Ingredients
16

oz

bag of frozen hash browns

1

can cream of chicken soup

cream of mushroom will work too

1

pint

sour cream

1/2

cup

butter or margarine

melted

1

can of Rotel or tomatoes w/ diced chlies

1/2

cup

onion

peeled and chopped

2

cups

cheddar cheese

grated

1

tsp

salt

1/4

tsp

pepper
Instructions
Pre Heat the oven to 350 degrees. Spray a cake pan or 11x13 baking dish with non stick spray.

Combine all the ingredients listed above except only use 1 cup of the cheese. Make sure everything is blended well.

Top your casserole with the remaining cheese and let cook for about 45 min 60 min until brown and bubbly.
Notes
* We used extra cheese on top of our casserole because our family has a mild cheese addiction.