..Advertisements..
Continue reading below
This is the best homemade Southern-style beef taco soup that I have ever had. I made it last weekend for dinner and everyone raved about it. It was served with corn tortillas, sour cream, and guacamole on a soft bed of soft white bread with a drizzle of hot sauce on top. It was amazing! The only thing better than the food was thinking about how delicious it would be to eat it right there on the patio with a cold bottle of ice cold water…just thinking about it makes me hungry…and happy..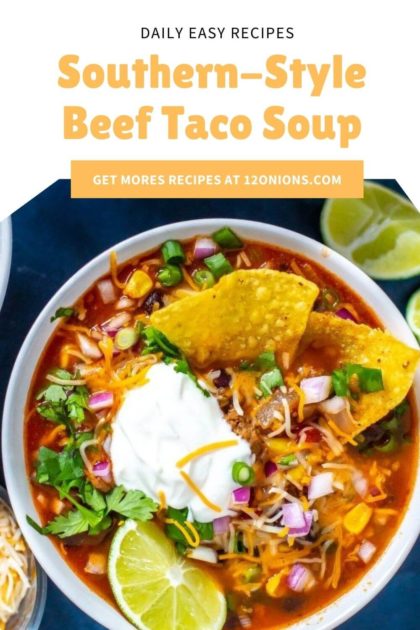 Southern-Style Beef Taco Soup
...
Ingredients
2

lbs

ground beef

2

cups

diced Sweet Vidalia onion

1

can

15 1/2-ounce pinto beans

1

can

15 1/2-ounce black beans

1

can

15 1/2-ounce dark red kidney beans

1

can

15 1/4-ounce sweet white kernel baby corn, drained

1

can

14 1/2-ounce Mexican-style stewed tomatoes

1

can

14 1/2-ounce diced tomatoes

1

can

14 1/2-ounce tomatoes with chiles (Rotel)

1

can

4 1/2-ounce diced green chiles

Dash of Tabasco or hot pepper sauce

optional

1

pkg

1 1/4 ounce taco seasoning mix

1

pkg

1-ounce ranch salad dressing mix

Corn chips

for serving

Sour cream

for garnish

Grated sharp cheddar or Mexican blend cheese

for garnish

Sliced jalapenos

for garnish

1/2

bunch of cilantro

chopped, for garnish
Instructions
Brown the ground beef and onions in a large skillet; drain the excess fat, then transfer the browned beef and onions to a large stockpot.

Add the beans, corn, tomatoes, green chiles, hot sauce, taco seasoning, and ranch dressing mix, and simmer over low heat for about 1 hour in a pot on the stove.

Alternatively you can cook the soup in a slow cooker on low for about 6 hours which really makes the flavors meld together.

Serve with corn chips in the bowl and pour soup over the chips. Garnish each bowl with a dollop of sour cream, grated cheese, fresh cilantro and sliced jalapenos.