I'll be honest with you (as I always am), I did not have high expectations of this dish. I thought it would be mediocre at best but definitely passable. It just didn't seem like it would be a stunner even though it had great components. I chose to give it a try because the picture on the cover of Clean Eating magazine looked great and James also commented on how good it looked. He really never requests a meal so when he has any kind of opinion, I usually jump all over it. I'm so happy to report that this dish was truly delicious. Simple chicken meatballs combined with flavorful homemade salsa and then served over rice is comforting and amazing.
I almost didn't use fresh tomatoes but I ended up needing to go to the grocery store anyway, so I picked some up. (The farmers market didn't have any last week. Sad!) I would definitely recommend going the fresh route versus canned but I think canned would work in the winter months. I also wouldn't let the salsa mixture cook for too long when you combine it with the meatballs or it will probably lose its punch.
On a side note, this was a clean eating recipe but I, uh, dirtied it up. Just so you know. 🙂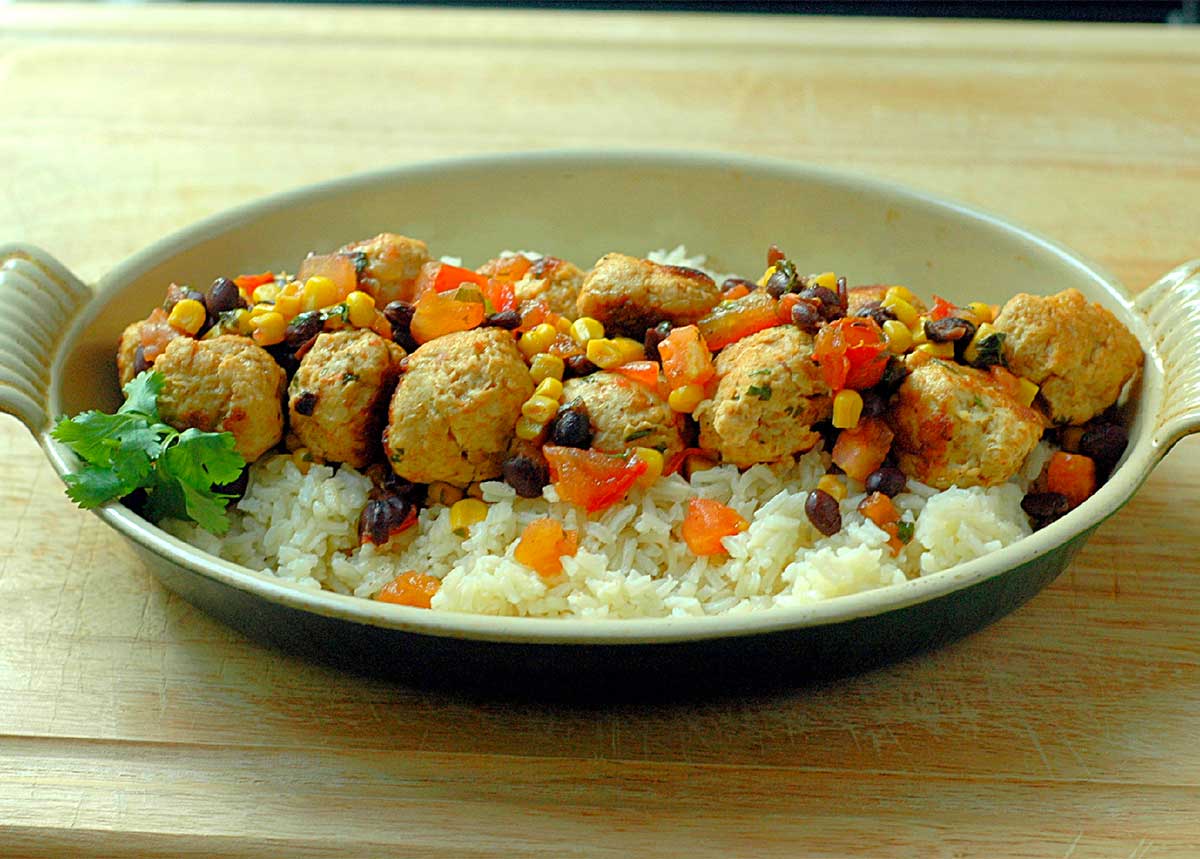 Southwest Chicken Meatball Skillet
Ingredients:
1 ⅓ ground chicken breast
1 large egg, lightly beaten
¼ cup plain bread crumbs
Kosher salt and freshly ground black pepper
2 tbsp. olive oil
1 cup fresh, frozen, or canned corn
1 (15 oz.) can black beans, drained & rinsed well
2 cups diced tomatoes, about 3 small tomatoes
2 cloves garlic, minced or pressed
juice & zest of 1 lime
1 tsp. ground cumin
⅓ cup chopped fresh cilantro
½ c. chicken broth
Directions:
1. In a large bowl combine corn, beans, tomatoes, garlic, lime juice & zest, cumin, and cilantro. Season with salt and pepper and set aside.
2. In a large bowl combine chicken, egg, bread crumbs. Season with salt and pepper. Mix well. Shape into 16 golf ball-sized meatballs. Set aside.
3. Heat a large, deep-sided skillet over medium-high heat. Add oil and then add meatballs. Cook 3-5 minutes, turning frequently until browned on all sides.
4. Once meatballs are well browned, stir in chicken broth and carefully scrape up the browned bits from the bottom of the skillet. Add in tomato mixture and stir carefully. Reduce heat to medium, partially cover, and cook for an additional 3-5 minutes, until meatballs are cooked through. Season with salt and pepper, if needed. Serve over cooked rice, if desired.
Advertisements
Share This Article