..Advertisements..
Continue reading below
Growing up, Sunday brunches were a time-honored tradition in our family. The aroma of freshly brewed coffee, the sound of sizzling pans, and the chit-chat of family members gathered around the table are some of my fondest memories. On one such Sunday, my neighbor Mrs. Garcia joined us for brunch, bringing with her a dish that soon became a staple in our household – the Spinach and Potato Frittata.
As she laid the dish on the table, she narrated the story behind this recipe. Handed down from generations, it was her grandmother's way of making sure their family ate their greens. The creamy texture of potatoes, the richness of spinach, and the fluffiness of eggs made it an instant hit. Today, I'm thrilled to share this beloved recipe with you.
How to Prepare Spinach and Potato Frittata
Ingredients for Spinach and Potato Frittata
2 tablespoons of virgin olive oil
6 petite red potatoes, thinly sliced
1 cup of fresh spinach leaves, roughly torn
2 tablespoons of green onions, chopped
1 teaspoon of minced garlic
Salt and freshly ground pepper, as per preference
6 farm-fresh eggs
1/3 cup of whole milk
1/2 cup of finely shredded Cheddar cheese
Directions for Spinach and Potato Frittata
Start by assembling all your ingredients.
In a medium-sized skillet, warm the olive oil over a moderate flame. Saute the potato slices in the oil, ensuring occasional stirring, until they are tender yet slightly crisp. This should take around 10 minutes.
Add in the spinach, green onions, and garlic. Season the mix with salt and pepper. Continue to sauté until the spinach softens, which usually takes a minute or two.
In a separate bowl, whisk the eggs along with the milk. Pour this mixture over the vegetables in the skillet. Evenly sprinkle the Cheddar cheese on top.
Lower the heat to a simmer, cover the skillet, and let it cook until the eggs are set. This typically takes about 5 to 7 minutes.
Cut into wedges and relish the delightful flavors!
Can I use a different type of cheese?
Yes, feel free to use your favorite cheese. Mozzarella, feta, or even pepper jack would work wonderfully.
What other vegetables can be added?
You can add bell peppers, mushrooms, or even cherry tomatoes for a variation.
How do I store leftover frittata?
Store any leftovers in an airtight container in the refrigerator for up to two days.
Can I use frozen spinach instead of fresh?
Absolutely! Just make sure to thaw and drain it to remove any excess moisture before using.
What can I pair with this frittata for brunch?
A fresh salad, some crusty bread, and a fruit smoothie would complement the frittata perfectly.
Can this be made in the oven instead?
Yes, after pouring the egg mixture over the veggies, you can bake it in a preheated oven at 375°F (190°C) for about 20-25 minutes or until set.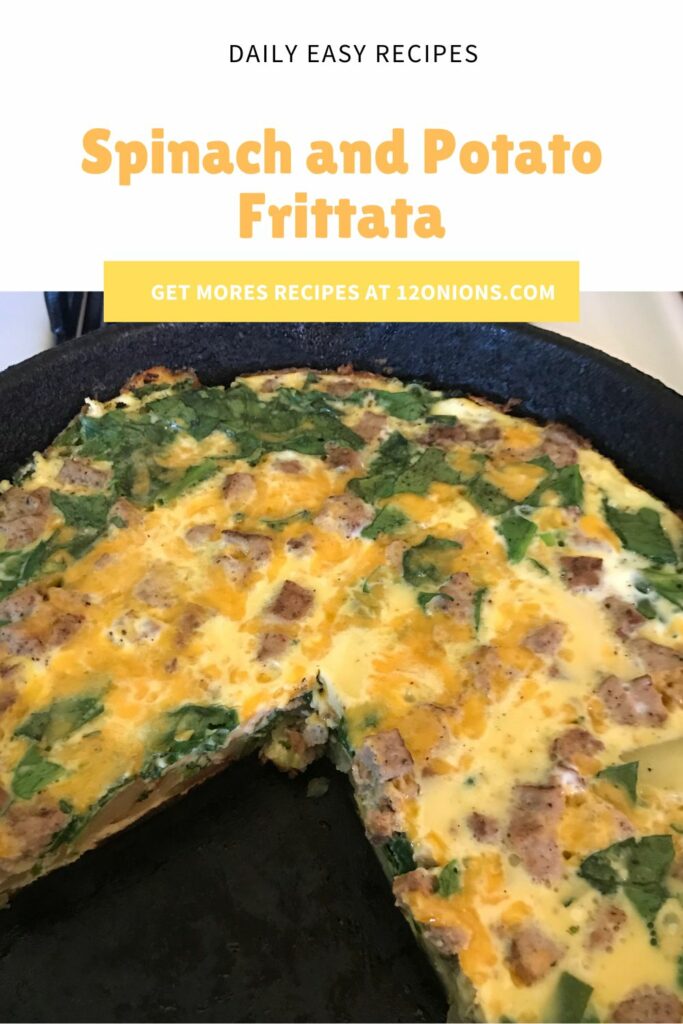 Spinach and Potato Frittata
...
Ingredients
2

tablespoons

olive oil

6

small red potatoes

sliced

1

cup

torn fresh spinach

2

tablespoons

sliced green onions

1

teaspoon

crushed garlic

salt and pepper to taste

6

large eggs

1/3

cup

milk

1/2

cup

shredded Cheddar cheese
Instructions
Heat olive oil in a medium skillet over medium heat.

Cook potatoes in hot oil, stirring occasionally, until tender but firm, about 10 minutes.

Mix in spinach, green onions, and garlic. Season with salt and pepper.

Cook and stir until spinach is wilted, 1 to 2 minutes.

Beat together eggs and milk in a medium bowl.

Pour over vegetables in the skillet.

Sprinkle with Cheddar cheese.

Reduce heat to low, cover, and cook until eggs are firm, 5 to 7 minutes
....Advertisements....
CONTINUE READING BELOW