..Advertisements..
Continue reading below
Every Halloween, as the leaves turn a golden brown and the air chills, my family gathers for our annual spooky supper. Years back, my grandmother would entertain the neighborhood kids with stories of her travels and the unique dishes she tasted. One tale that always sent chills down our spines was about a witch who served 'finger' cookies to her guests. As a nod to that tale, I decided to craft a treat that drew inspiration from it. Enter the Spooky Witches' Fingers, a dessert that's as much a visual treat as it is a gustatory delight.
Our neighbors, the Martins, would always join our Halloween fest. Last year, when they bit into these 'fingers', the room was filled with both delight and playful horror. I knew then that this recipe was a keeper, and today, I share it with all of you.
How to Prepare Spooky Witches' Fingers
Ingredients for Spooky Witches' Fingers
1 cup unsalted butter, at room temperature
1 cup powdered sugar
1 fresh egg
1 tsp pure almond essence
1 tsp organic vanilla extract
Approximately 2 2/3 cups of fine white flour
1 tsp rising baking powder
1 tsp fine-grain salt
3/4 cup natural whole almonds
1 small tube of crimson cake gel
Directions for Spooky Witches' Fingers
In a large bowl, whisk together the room temperature butter, powdered sugar, egg, almond essence, and vanilla extract until creamy.
Slowly fold in the flour, baking powder, and salt. Mix until a soft dough forms. Let the dough rest in the refrigerator for about 20 minutes.
Preheat your oven to 325°F (165°C) and grease your cookie trays lightly.
Once the dough is set, take small portions and roll them on a parchment paper into finger-like shapes. Press an almond at one end to mimic a nail. For added effect, pinch the dough at intervals to form knuckles and make slight cuts with a knife for creases.
Lay the shaped cookies on your tray and bake until they turn a light golden hue, which should take around 20-25 minutes.
Once baked, carefully remove the almond, squeeze a dab of the crimson gel and place the almond back, making the gel seep out for a 'bloody' effect.
Can I use a different nut instead of almonds?
Yes, you can use blanched hazelnuts or cashews. However, almonds give the best 'fingernail' appearance for this recipe.
What can be a substitute for red decorating gel?
Raspberry or strawberry jam can be a natural alternative, but they may not give the same 'oozing' effect as the gel.
How long can I store these cookies?
Stored in an airtight container, these cookies remain fresh for up to a week. Remember to keep them in a cool, dry place.
Can I make the dough ahead of time?
Absolutely! The dough can be refrigerated for up to 2 days. Just ensure it's wrapped well in plastic wrap to prevent it from drying out.
What other occasions can these cookies be made for?
While they're perfect for Halloween, with a bit of imagination, you can adapt them for themed parties, like 'Pirates of the Caribbean' with 'pirate fingers' or a fantasy-themed party with 'troll fingers'.
Can I use whole wheat flour for this recipe?
While whole wheat flour can be used, it may alter the texture and taste of the cookies. If you're looking for a healthier twist, consider using half whole wheat and half all-purpose flour.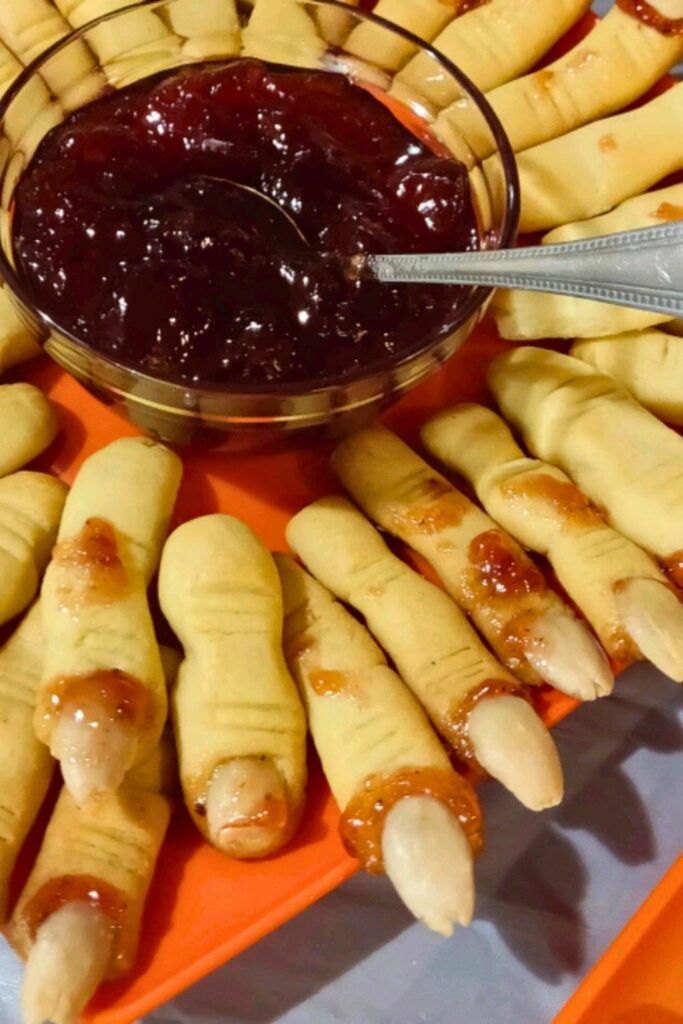 Spooky Witches' Fingers
...
Ingredients
1

cup

butter

softened

1

cup

confectioners' sugar

1

egg

1

teaspoon

almond extract

1

teaspoon

vanilla extract

2 2/3

cups

all-purpose flour

1

teaspoon

baking powder

1

teaspoon

salt

3/4

cup

whole almonds

1

.75 ounce tube red decorating gel
Instructions
Place softened butter, sugar, egg, almond extract, and vanilla extract in a mixing bowl; beat together with an electric mixer until smooth. Gradually add flour, baking powder, and salt, continually beating until combined; refrigerate dough for 20 to 30 minutes.

Preheat the oven to 325 degrees F. Lightly grease baking sheets.

Remove dough from refrigerator in small amounts. Scoop 1 heaping teaspoon at a time onto a piece of waxed paper. Use the waxed paper to roll the dough into a thin finger-shaped cookie. Press one almond into one end of each cookie to give the appearance of a long fingernail. Squeeze cookie near the tip and again near the center of each to give the impression of knuckles. You can also cut into the dough with a sharp knife at the same points to help give a more finger-like appearance. Arrange the shaped cookies on the baking sheets.

Bake in the preheated oven until the cookies are slightly golden in color, 20 to 25 minutes.

Remove the almond from the end of each cookie; squeeze a small amount of red decorating gel into the cavity; replace the almond to cause the gel to ooze out around the tip of the cookie.
....Advertisements....
CONTINUE READING BELOW