..Advertisements..
Continue reading below
I have always been a firm believer that desserts have the magical power to turn an ordinary day into something truly special. There's something about the combination of flavors, textures, and the joy they bring that can instantly uplift your mood. Today, I want to share with you a recipe that holds a special place in my heart – the delectable Strawberry Refrigerator Dessert. This dessert not only tantalizes your taste buds but also has a story behind it that makes it even more delightful.
How to Prepare Strawberry Refrigerator Dessert
As the sun dipped below the horizon, casting a warm golden hue over the kitchen, I found myself reminiscing about my childhood summers. One memory that always stood out was the time my grandmother would prepare the most luscious Strawberry Refrigerator Dessert. It was a tradition that marked the arrival of the sweetest strawberries of the season. Every bite was a burst of happiness, and I can still remember the excitement of waiting for it to set in the fridge.
Ingredients for Strawberry Refrigerator Dessert
3-4 cups strawberries, sliced
12-15 whole Graham Crackers
1 1/2 pints heavy whipping cream
4-5 tablespoons sugar
1 1/2 teaspoons vanilla
Directions for Strawberry Refrigerator Dessert
Whip Up the Creamy Dream: Using a mixer, whip the heavy whipping cream, sugar, and vanilla on medium to high speed until stiff peaks form. Make sure the heavy cream, mixing bowl, and beaters are chilled to ensure the cream whips up perfectly.
Layer the Graham Crackers: Line an 8×8 pan with whole Graham Crackers. You can break some extra crackers to fill in any gaps around the edges, creating a solid base.
Spread the Whipped Cream: Gently spread a layer of the whipped cream over the Graham Cracker base. The velvety texture of the cream will be the perfect counterpart to the juicy strawberries.
Add the Strawberry Slices: Arrange a layer of sliced strawberries over the whipped cream. The vibrant red hues against the white cream create a visual masterpiece.
Repeat and Layer: Repeat the process by adding another layer of Graham Crackers, whipped cream, and strawberries. This dessert is all about layers of delightful flavors.
Finishing Touches: Repeat the layers one more time, ending with a final layer of sliced strawberries. To make it even more visually appealing, place a few whole berries in the center.
Chill and Savor: Place the dessert in the fridge to chill for approximately 3 hours. As it sets, the flavors meld together, creating a symphony of sweetness and creaminess.
The Bittersweet Farewell: After the agonizing wait, bring out the Strawberry Refrigerator Dessert. As you take the first forkful, savor the taste that brings back cherished memories. But be prepared, because it will disappear faster than you can imagine.
Can I use frozen strawberries for this recipe?
Yes, you can use frozen strawberries, but the texture and taste might slightly differ from using fresh ones.
Can I substitute the Graham Crackers with a different type of cookie?
Absolutely! While Graham Crackers provide a classic base, you can experiment with other cookies like vanilla wafers or shortbread.
How long can I keep this dessert in the fridge?
This dessert is best enjoyed within a day or two of making it. The Graham Crackers might become soggy if left for too long.
Can I reduce the amount of sugar in the whipped cream?
Yes, you can adjust the sugar to your taste. Just keep in mind that sugar adds stability to the whipped cream.
What other fruits can I use in this dessert?
While strawberries shine in this recipe, you can get creative and use a mix of berries like raspberries, blueberries, and blackberries.
Can I prepare this dessert in advance for a party?
Absolutely! In fact, preparing it a day ahead allows the flavors to meld even more, making it an ideal dessert for gatherings.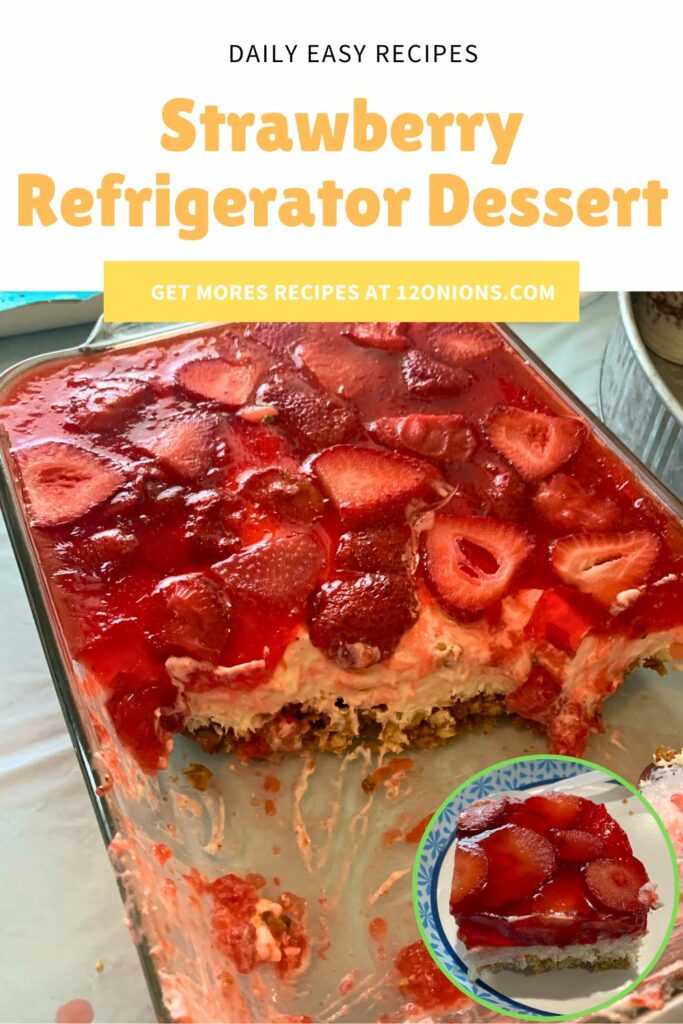 Strawberry Refrigerator Dessert
...
Ingredients
3-4

cups

strawberries sliced

12-15

Whole Graham Crackers

1 1/2

pints

heavy whipping cream

4-5

Tablespoons

sugar

1 1/2

teaspoons

vanilla
Instructions
Using mixer – Mix whipping cream, sugar, and vanilla on medium to high speed until stiff peaks form (I keep going until it is thicker but stop mixing before it is "butter")

Always best to make sure the heavy cream, mixing bowl, and beaters are super cold. Just put bowl and beaters in the fridge for a while before mixing.

Line 8 X 8 pan with whole graham crackers (You can break some more to fill in any gaps around the edge)

Spread whipped cream on the graham crackers

Top that layer with sliced strawberries

Repeat this 2 times

Top with remaining strawberries Put a few whole berries in the middle to make it prettier

Chill in the fridge approx. 3 hours. Bring it out and say goodbye to it because it will be gone and it will become a memory…until next time.
....Advertisements....
CONTINUE READING BELOW