..Advertisements..
Continue reading below
Try this mouthwatering Stuffed Meatloaf Roll recipe that will surely impress your family and friends. This recipe takes the classic meatloaf to a whole new level by incorporating a savory filling of cheese, bell peppers, mushrooms, and olives, all wrapped up in a delicious crescent roll dough. With its delightful combination of flavors and visually appealing presentation, this Stuffed Meatloaf Roll is bound to become a family favorite. Let's dive into the recipe and learn how to make this delectable dish step by step.
Can I use ground turkey instead of ground beef for this recipe?
Absolutely! If you prefer a lighter alternative, you can substitute ground beef with ground turkey in this recipe. It will still result in a delicious stuffed meatloaf roll.
Can I add additional vegetables to the filling?
Certainly! Feel free to experiment with different vegetables based on your preferences. You can try adding diced zucchini, carrots, or spinach to the filling for an extra burst of flavors and nutrients.
Can I make this recipe ahead of time?
Yes, you can prepare the Stuffed Meatloaf Roll ahead of time. Simply assemble the roll and refrigerate it until you're ready to bake. When you're ready to cook, just pop it in the oven and follow the baking instructions. It's a great option for busy weeknights or when hosting guests.
Can I freeze the leftovers?
Absolutely! If you have any leftovers, allow the meatloaf roll to cool completely, then wrap it tightly in plastic wrap or aluminum foil and place it in the freezer. When you're ready to enjoy it again, thaw it in the refrigerator overnight and reheat it in the oven until heated through.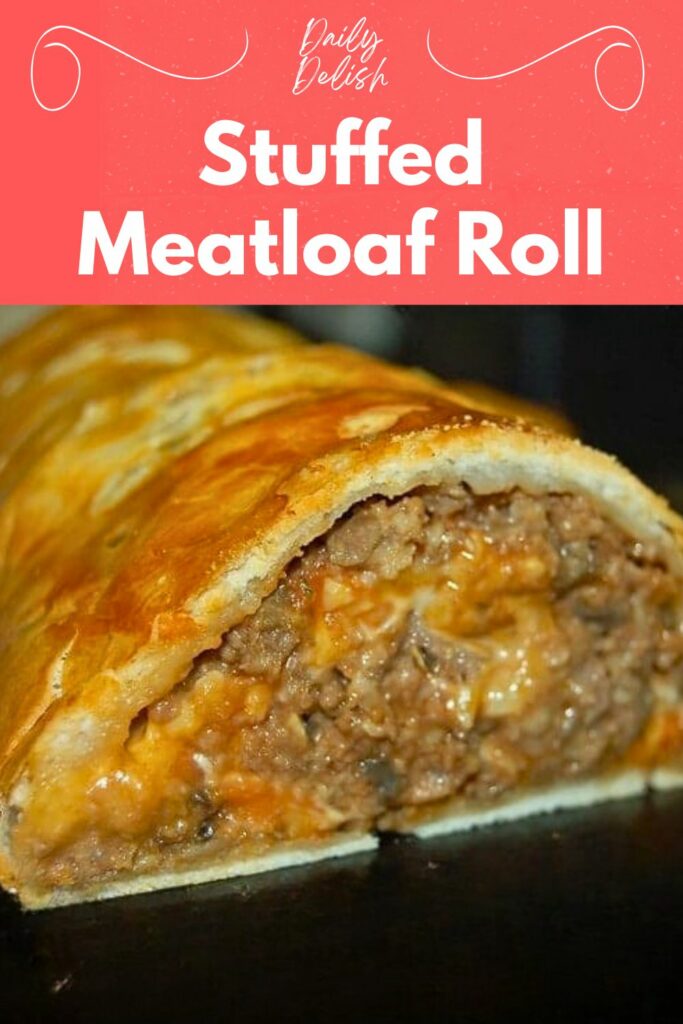 Stuffed Meatloaf Roll
...
Ingredients
2

pounds

lean ground beef

1

cup

dry breadcrumbs

2

eggs beaten

1

chopped onion

1

chopped bell pepper

1

cup

chopped mushrooms

1

cup

chopped black olives

3/4

teaspoon

salt

1

teaspoon

leaf oregano

1 8

oz

can tomato sauce

1

cup

shredded mozzarella cheese

1

cup

shredded cheddar cheese

2

cans crescent rolls
Instructions
In a large bowl, combine beef, crumbs, egg, onion, salt, and oregano.

Stir in 1/2 tomato sauce; set aside.

Cut 2 pieces of waxed paper 15 inches long.

Unroll crescent roll dough and don't separate.

Lay end to end on top of wax paper and place the second piece of wax paper on top.

Now take rolling pin and roll the dough out till it's half the thickness that it was originally.

Place meat mixture in center and spread out over dough Sprinkle meat with cheese, bell pepper mushrooms and olives top with remaining tomato sauce.

Roll up meat, jelly-roll fashion, starting at narrow end; use wax paper to help. Place seam side down. Place in non-stick 9-1/4-in. x 5-1/2 in. x 2-3/4-in. bread pan. Bake at 375 degrees F for 30 minutes.

Drain off any fat that accumulates; return to oven for 30 minutes.
Notes
I also did it with pizza dough too and that one had a thicker crust and I also experimented with saran wrap instead of wax paper and that seemed to work pretty well DO NOT LEAVE THE PLASTIC WRAP ON OR THE WAX PAPER !! Someone just asked me this and I never thought anyone would misinterpret the directions
Source: food.com
....Advertisements....
CONTINUE READING BELOW