..Advertisements..
Continue reading below
It is finally warm and  there is  huge variety of fresh seasonal fruits, vegetables and berries  popping up on the shelves of all the grocery stores.
Sometimes I go too wild on stocking up my fridge with all these fruits and berries that we cannot finish eating them on time and they go bad. I feel awful after that. So, here is a quick, easy, tasty and refreshing berry salad with cream cheese.  Hope you enjoy it, because it is a licking fingers good. Well, at least me and my family think so!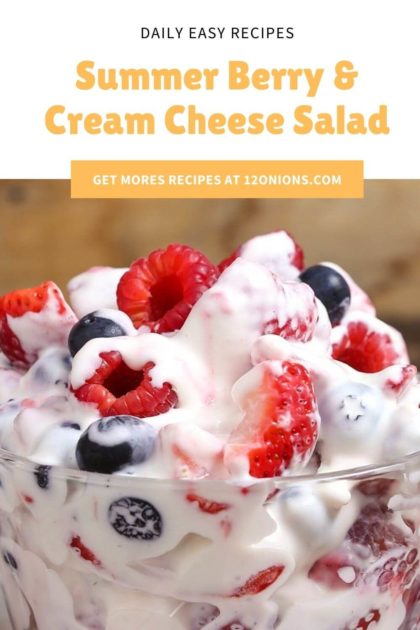 summer Berry & Cream Cheese Salad
...
Ingredients
1

pack

Cream Cheese

250 gr

1/2

Coffee Vanilla Creamer

you can use a regular cream and just add some sugar and couple drops of vanilla extract
Berries of your choice. I had:
Strawberries

Blackberries

Raspberries
Instructions
Wash all the berries and lay them on paper towels to dry while you prepare the cheesecake mixture.

In a mixing bowl whip cream cheese with electric mixer until it becomes soft and smooth. Even if it adds up on the beaters, continue to mix, because it will loosen up.

Slowly start adding the creamer to the cream cheese. Don't pour it all in once, instead, add it in 5-6 steps. Mix it untill all of the creamer combines with the cream cheese. Whip until smooth.

Add up all the berries in a bowl. Pour the cheesecake mixture over the berries.

Chill until ready to serve or serve immediately.