..Advertisements..
Continue reading below
Recently one of my best friends got a promotion at work. I wanted to make him something as congratulations and I knew it had to be a pumpkin roll. He is a fiend for pumpkin desserts and I'd been promising him one for years. I didn't make it sooner because I didn't own a jelly roll pan so I finally broke down and bought one.
I wish I knew why my roll cracked. I followed all of these tips, except I used parchment paper instead of a dish towel to roll it up. I plan on trying the cake again for Thanksgiving, so I'll try a towel then and see if I have better luck.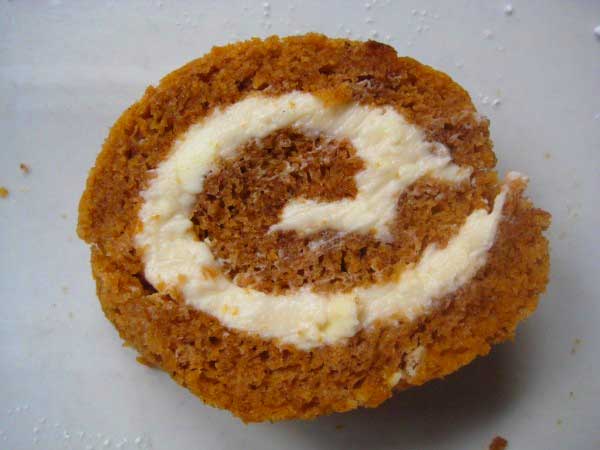 Yield: 10 servings
Prep Time: 25 minutes
Cook Time: 15 minutes
Ingredients:
For the Cake
1/4 cup powdered sugar (to sprinkle on towel)
3/4 cup all-purpose flour
1/2 teaspoon baking powder
1/2 teaspoon baking soda
1 tablespoon pumpkin pie spice (I used 1 tsp. cinnamon, 1 tsp. nutmeg, 1 tsp. ginger)
1/4 teaspoon salt
3 large eggs
1 teaspoon pure vanilla extract
1 cup granulated sugar
2/3 cup pure pumpkin puree (Libby's)
For the Filling
1 (8 ounces) package cream cheese, softened
1 cup powdered sugar, sifted
6 tablespoons butter, softened
1 teaspoon vanilla extract
1/4 cup powdered sugar (optional)
Directions:
1. Preheat oven to 375 degrees F. Line a 15 x 10-inch jelly-roll pan with parchment paper and spray with non-stick cooking spray. Sprinkle a clean tea towel with powdered sugar. Set pan and towel aside.
2. In a medium bowl, combine flour, baking powder, baking soda, pumpkin pie spice, and salt. In a large bowl with an electric mixer, beat eggs, vanilla, and sugar until thick. Add in pumpkin and mix to combine. Stir in flour mixture. Spread batter evenly into prepared pan.
3. Bake for 13 to 15 minutes or until the top of cake springs back when touched. Immediately loosen and turn cake onto prepared towel. Carefully peel off paper. Roll up cake and towel together, starting with narrow end. Cool on wire rack.
4. In a medium bowl, beat cream cheese, powdered sugar, butter, and vanilla extract until smooth. Carefully unroll cake; remove towel. Spread cream cheese mixture over cake. Reroll cake. Wrap in plastic wrap and refrigerate at least one hour.
Notes:
Storage
– Store prepared Pumpkin Roll in the refrigerator for up to 5 days. You can also wrap tightly in a layer of plastic wrap and then foil and store in the freezer for up to one month. Remove frozen Pumpkin Roll to room temperature one hour before serving.