I grew up eating sweet potato casserole on Thanksgiving might look similar to this dish.  It was super sweet, sometimes it was made with canned yams, and it was dripping with syrupy…stuff.  I loved it as a kid.
Now, though, not so much.  I'm actually not a huge sweet potato fan. I think I just forget about them until Thanksgiving rolls around and I think, "Oh yeah, have to add sweet potatoes to the menu."
That did not happen at all this year, though.  Our summer CSA provided us with tons and tons of sweet potatoes.  As in, at least 7 or 8 pounds a week.  There was no way we were ever going to eat all of those so I peeled the majority of them, and then cubed and boiled them.  Then I flash froze them on cookie sheets and packed them away in the freezer. It's been so nice to have cooked sweet potatoes at our disposal!
It was especially nice when it came time to make this for our (early) Thanksgiving dinner. This dish is packed with sweet potatoes and carrots with just a hint of citrus flavor.  The marshmallows on top really do add the perfect sweetness to the dish without it being overly sweet or too dessert-like.  This was definitely Jack's favorite dish on the table. (Really, all he ate was this, mashed potatoes, and a roll. He's definitely my carb-loving child.)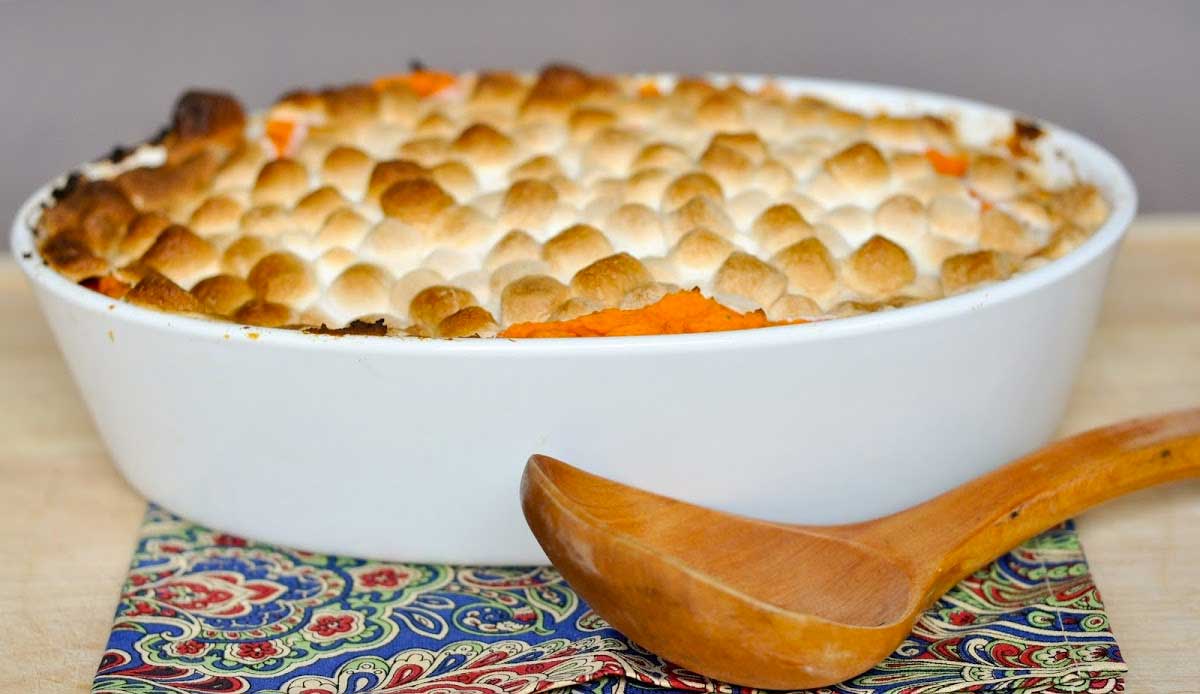 Sweet Potato Carrot Casserole
Ingredients:
6 large sweet potatoes (about 5 lb.)
1 pound carrots, thinly sliced
¼ cup unsalted butter
1 cup sour cream
2 tbsp. brown sugar
1 tsp. lemon zest
½ tsp. salt
½ tsp. ground nutmeg
½ tsp. freshly ground black pepper
1½ cups miniature marshmallows
Directions:
1. preheat oven to 400° F. Line a baking sheet with aluminum foil and poke holes in the sweet potatoes using a fork. Place on a prepared baking sheet and bake until very tender, about 1 hour. Remove from oven and let cool for 30 minutes. Reduce oven temperature to 350° F.
2. While the potatoes are cool, cook the carrots in boiling water for 15-20 minutes or until very tender; drain and set aside.
3. In the bowl of a food processor, process carrots with the butter until smooth, scraping down the sides as needed. Transfer carrot mixture to a large bowl.
4. Scoop out flesh of the cooled potatoes. Process each batch of sweet potatoes with a little sour cream until the potatoes are very smooth. Remove to the bowl with carrots and add any remaining sour cream.
5. Stir in brown sugar through black pepper and stir to combine. Spoon mixture into a lightly greased 13- x 9-inch baking dish. Bake at 350° F for 30 minutes. Remove from oven and top with the marshmallows. Bake 10 more minutes or until marshmallows are golden brown. Let cool slightly before serving.
Note: To make ahead, prepare recipe as directed through Step 4; cover and chill up to 24 hours. Remove from refrigerator, and let stand 30 minutes. Proceed with recipe as directed in Step 5.
TO GET MORE RECIPES CLICK HERE AND JOIN OUR FACEBOOK GROUP