..Advertisements..
Continue reading below
Every Thanksgiving, I'm taken back to a cherished memory from my childhood. Our neighbors, the Martins, were originally from Louisiana, and they introduced us to the magic of sweet potato casseroles. Mrs. Martin would often tell stories of how they enjoyed these dishes year-round back home. I remember the excitement in our house when they'd invite us over for dinner, hinting they had made their special sweet potato casserole.
One evening, she handed over her secret recipe, written on a yellowed piece of paper, filled with scribbles and oil marks. Today, I'm sharing a version of that recipe, slightly tweaked to our family's liking, with you. A perfect blend of creamy sweet potatoes topped with a delightful pecan crunch, this dish is sure to become a staple in your family gatherings too!
How to Prepare Sweet Potato Casserole
Ingredients for Sweet Potato Casserole
4 cups of sweet potatoes, peeled and cubed
2 fresh eggs, whisked
1/2 cup granulated sugar
1/2 cup creamy milk
4 tbsp butter, at room temperature
1/2 tsp pure vanilla essence
1/2 tsp table salt
For the Pecan Topping:
1/2 cup brown sugar, packed tight
1/3 cup flour
3 tbsp soft butter
1/2 cup roughly chopped pecans
Directions for Sweet Potato Casserole
Preheat your oven to 325°F (165°C).
In a medium-sized pot, boil the sweet potatoes until they become soft. This should take about 10-15 minutes.
Drain the water and transfer the potatoes to a mixing bowl. Mash them using a fork or a potato masher.
Introduce the whisked eggs into the mashed potatoes and blend well.
Add in sugar, milk, butter, vanilla, and salt. Stir until the mixture is smooth and well-combined.
Shift this mixture into a 9×13-inch baking dish.
For the topping, combine brown sugar and flour in another bowl. Incorporate the butter until the mixture turns crumbly. Fold in the chopped pecans.
Evenly spread the pecan topping over the mashed sweet potato mixture in the baking dish.
Bake for approximately 30 minutes, or until the pecan topping becomes a golden brown.
Once done, take out from the oven and let it cool for a few minutes. Serve warm and enjoy!
Can I prepare this casserole in advance?
Absolutely! You can make the sweet potato mixture a day or two before your event. Prepare the topping separately and keep both in the refrigerator. When it's time, sprinkle the pecan topping and bake. You might need to add a few more minutes to the baking time if it's coming straight from the fridge.
How should I store the leftovers?
Ensure the casserole has cooled down to room temperature. Then, put it in an airtight container and store in the refrigerator. It should be good for three to five days.
What's the best way to reheat it?
For reheating, cover the casserole with foil and place it in a 350°F (175°C) preheated oven. Let it warm for about 20-25 minutes or until it's thoroughly heated.
Can I freeze the Sweet Potato Casserole?
Yes, after baking the sweet potato layer, let it cool. Then, wrap the entire dish (preferably in a foil container) and store it in the freezer. When you're ready to enjoy it, thaw, add the topping, and bake as instructed.
Any tips for peeling sweet potatoes easily?
Certainly! Microwaving the sweet potatoes briefly makes it easier to peel them. Cut them in half and simply scoop the insides out.
Can I add spices to this recipe?
Of course! Some families enjoy adding a dash of cinnamon, nutmeg, or even ground cloves for that extra warmth and flavor. Adjust to your taste!
What about adding marshmallows on top?
Marshmallows can provide an additional sweet layer. If you're a fan, feel free to layer or mix them in with the pecan topping before baking.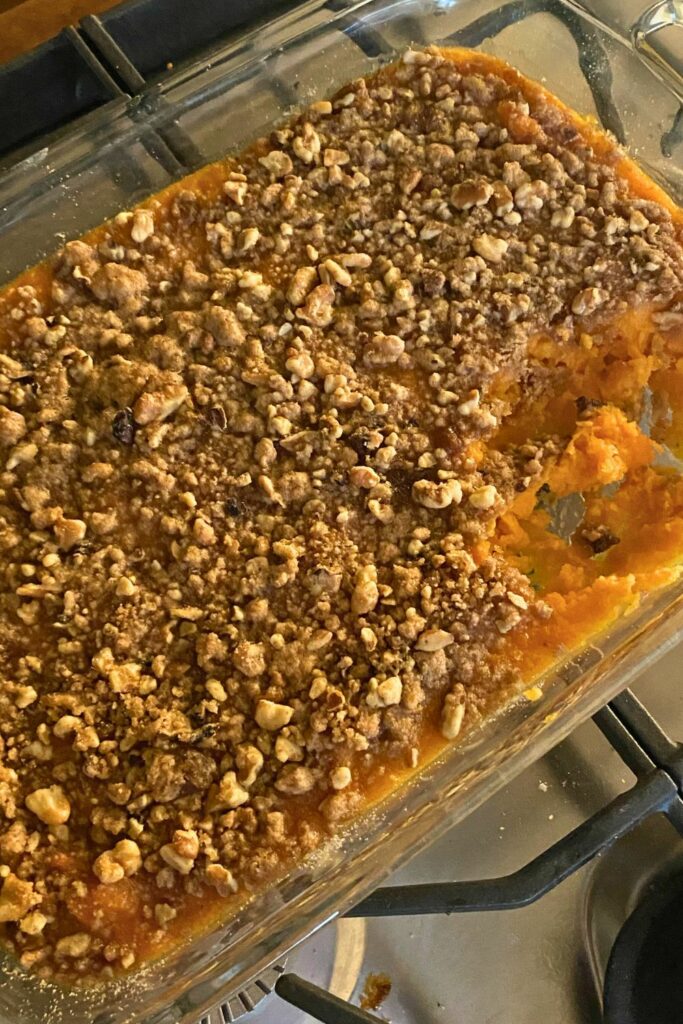 Sweet Potato Casserole
...
Ingredients
Sweet Potatoes:
4

cups

peeled

cubed sweet potatoes

2

large eggs

beaten

1/2

cup

white sugar

1/2

cup

milk

4

tablespoons

butter

softened

1/2

teaspoon

vanilla extract

1/2

teaspoon

salt
Pecan Topping:
1/2

cup

packed brown sugar

1/3

cup

all-purpose flour

3

tablespoons

butter

softened

1/2

cup

chopped pecans
Instructions
Preheat oven to 325 degrees F .

Prepare sweet potatoes: Put sweet potatoes in a medium saucepan and cover with water.

Cook over medium-high heat until tender, 10 to 15 minutes. Drain and transfer to a large bowl.

Mash drained sweet potatoes with a fork. Add eggs; mix until well combined. Add sugar, milk, butter, vanilla, and salt; mix until smooth. Transfer to a 9x13-inch baking dish.
Make topping:
Mix brown sugar and flour together in a medium bowl.

Cut in butter with a pastry cutter until mixture is coarse and looks like peas; don't overmix.

Stir in pecans. Sprinkle topping over sweet potato mixture.

Bake in the preheated oven until topping is lightly browned, about 30 minutes.

Enjoy!
....Advertisements....
CONTINUE READING BELOW