..Advertisements..
Continue reading below
Every family has that one dish that carries a tale with every bite. For us, it's the Tater Tots Casserole. I remember the very first time I made this dish. It was during one of those unplanned family gatherings where my neighbours, the Thompsons, unexpectedly dropped by with their kids. There was laughter, nostalgia and a sense of hurriedness to whip up something that would appease both adults and kids alike.
As I rummaged through my freezer, I stumbled upon a pack of bite-size potato nuggets. An idea sparked, and what emerged was a delicious, layered treat that not only was a hit that day but has since become a staple in our household. Even the pickiest of eaters, my little nephew Jack, asks for seconds every time!
How to Prepare Tater Tots Casserole
Ingredients for Tater Tots Casserole
Non-stick cooking spray
1 pack (32 ounces) of bite-sized potato morsels (for example, Tater Tots®), split
1 pound of lean ground meat
1 heaping cup of diced onions
2 dashes of Worcestershire sauce
2 pinches of Montreal-style seasoning for steaks
1 hint of garlic granules
1/2 a pinch of crushed black peppercorns
1 can (10 3/4 ounces) of creamed mushroom soup
1/2 a cup of whole milk
1/2 a handful of shredded Cheddar
1 drizzle of Worcestershire sauce
1 handful of shredded Cheddar for topping
Directions for Tater Tots Casserole
Start by preheating your oven to a cozy 350 degrees F (175 degrees C). Ensure a 13×9-inch baking dish is coated lightly with the cooking spray.
Evenly arrange approximately 20 potato morsels in the baking dish and allow them to bake for about 10 minutes or until they're slightly toasty.
In a sizable skillet, brown the beef and onions on a medium-high flame. Once browned, drain off excess fat and flavor the beef concoction with Worcestershire sauce, steak seasoning, garlic granules, and black pepper.
In a separate bowl, blend the mushroom soup, milk, half of the Cheddar, and an additional splash of Worcestershire sauce until smooth.
Upon taking the baking dish out of the oven, gently crush the toasted potato morsels to form a base layer. Evenly spread the beef mixture atop this base. Gracefully pour the soup blend over the beef layer, ensuring an even spread. Finally, top the dish with the remaining potato morsels and generously sprinkle the remaining Cheddar cheese.
Let it bake for around 30-40 minutes, or until you witness a golden crust and bubbling sides. Serve warm and enjoy the savory delight!
Can I use a different type of cheese?
Yes, absolutely! While Cheddar is commonly preferred, feel free to experiment with mozzarella, Monterey Jack, or even a mix of your favorite cheeses.
How long can I store leftovers in the refrigerator?
Stored in an airtight container, the casserole remains fresh for up to 3-4 days. Ensure to reheat before serving.
Is it possible to use chicken instead of beef?
Definitely. Ground chicken or turkey would be a great alternative to beef. Just ensure it's cooked thoroughly before layering.
Can I add vegetables to this casserole?
Yes, you can toss in vegetables like bell peppers, corn, or peas. They add color, texture, and nutrition to the dish.
How do I ensure the base isn't soggy?
Pre-baking the initial layer of potato morsels, as mentioned in the recipe, helps prevent a soggy base. Ensure you don't add too much liquid in the subsequent layers as well.
Can this casserole be frozen for later use?
Yes, it can. Once cooked, let the casserole cool completely before covering it tightly and freezing. It's good for up to a month. Thaw in the refrigerator overnight and reheat before serving.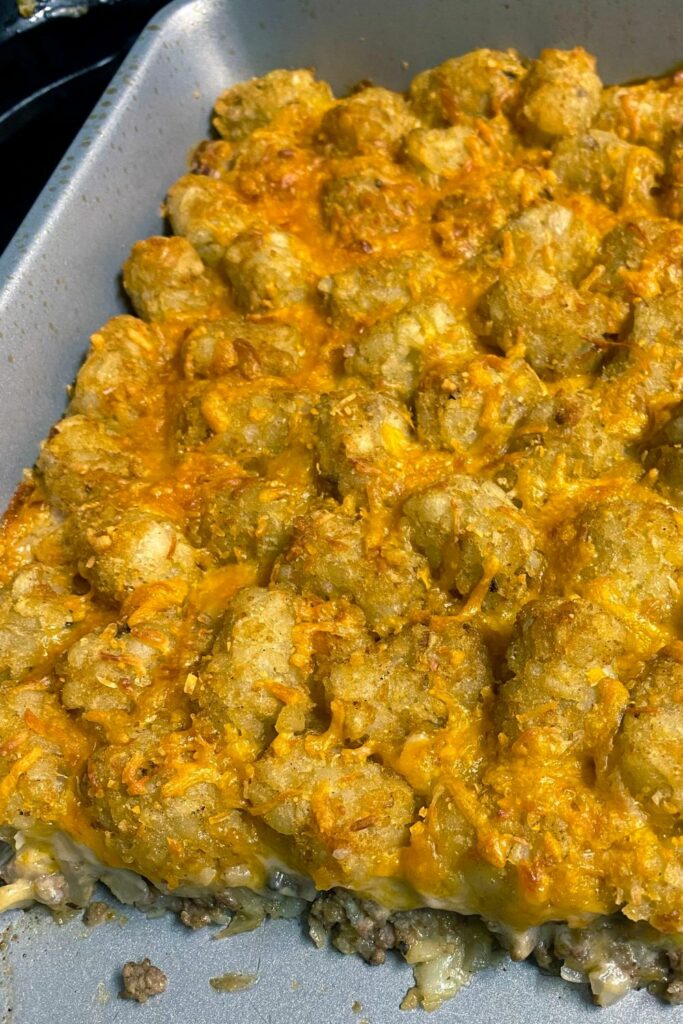 Tater Tots Casserole
...
Ingredients
cooking spray

1

32 ounce package frozen bite-size potato nuggets (such as Tater Tots®), divided

1

pound

ground beef

1

cup

chopped onion

2

teaspoons

Worcestershire sauce

2

teaspoons

Montreal-style steak seasoning

1

teaspoon

garlic powder

1/2

teaspoon

ground black pepper

1

10 3/4 ounce can condensed cream of mushroom soup

1/2

cup

milk

1/2

cup

grated Cheddar cheese

1

teaspoon

Worcestershire sauce

1

cup

grated Cheddar cheese
Instructions
Preheat oven to 350 degrees F.

Prepare a 13x9-inch casserole dish with cooking spray.

Spread 20 potato nuggets in the casserole dish.

Bake in preheated oven until warmed through, about 10 minutes.

Heat a large skillet over medium-high heat. Cook and stir beef and onion in the hot skillet until beef is completely browned, 5 to 7 minutes; drain and discard grease. Season beef mixture with 2 teaspoons Worcestershire sauce, steak seasoning, garlic powder, and black pepper.

Stir cream of mushroom soup, milk, 1/2 cup Cheddar cheese, and 1 teaspoon Worcestershire sauce together in a bowl.

Smash the warmed potato nuggets in the casserole dish to cover the bottom completely. Spread ground beef mixture over the mashed potato nuggets. Pour soup mixture evenly over the beef layer. Top with remaining potato nuggets and sprinkle 1 cup Cheddar cheese evenly over the nuggets.

Bake in preheated oven until casserole is bubbly and potatoes golden brown, 30 to 40 minutes.
....Advertisements....
CONTINUE READING BELOW