..Advertisements..
Continue reading below
Cooks this month was SO much fun! We were challenged by David and Karen of Twenty-Fingered Cooking to create our own recipe. They gave us three lists of ingredients and we had to come up with a dish using one ingredient from each list. It was almost like being on Food Networks Iron Chef or Chopped. So much fun! Here are the lists we were given-
Group 1: Parsnips, Eggplant, Cauliflower
Group 2: Balsamic Vinegar, Goat Cheese, Chipotle peppers
Group 3: Maple Syrup, Instant Coffee, Bananas
So many ideas were flowing through my head. The ingredients' lists open up so many different options. For some reason, goat cheese and maple syrup really stood out to me, but I couldn't think of anything from group 1 that would pair well with that combination. So then I turned to maple syrup and chipotle peppers in some kind of dressing or dip. I just needed to choose an ingredient from group 1 to suit it. Eggplant it was! Nicely fried in crisp tempura. Yes indeed : ) This was actually the first time I've had tempura, let alone made it. I don't know much about it other than it's supposed to be really light and crisp, and that it usually uses soda/seltzer water. I didn't have any soda/seltzer water so I had to find a recipe that used still water. The one I happened to find was by Tyler Florence. The other variation I noticed was that some used all-purpose flour, others used rice (like this one). I know that rice flour isn't a staple that people usually have on hand. I had some leftover from the Dutch Crunch Rolls I made last month for Daring Bakers. You should be able to find it easily in the natural health food aisle at your grocers.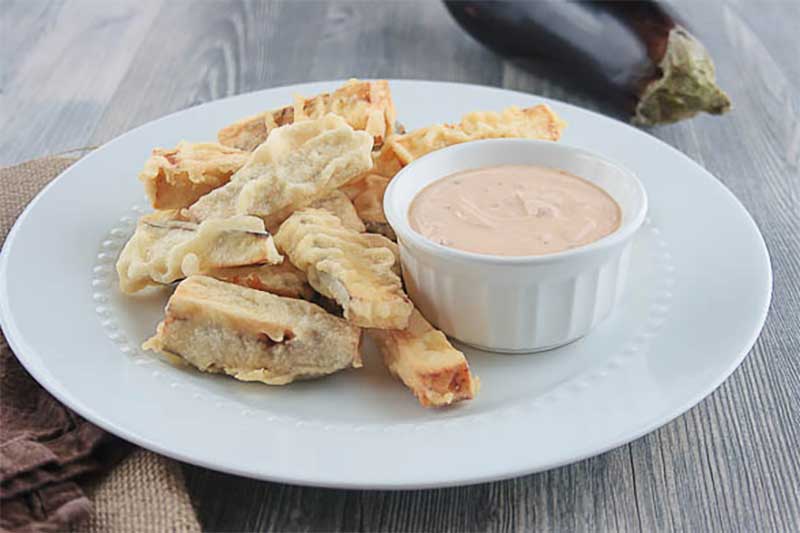 So how did it turn out? Not too bad… I had a few issues with it. The tempura batter wasn't very fond of the eggplant skin because it's so waxy. With most of the sticks, it ended up sliding off. That can be easily solved by peeling the eggplant, but I didn't want to waste all that nutrition from the deep purple skin. Also, it ended up being necessary to re-whisk the tempura batter with each new fry batch- it separated a bit in between. The dip? Well, I originally didn't plan on using the balsamic vinegar. It was a last-minute addition that really helped enhance the flavor of the other ingredients. I actually didn't even realize that it was on the list until I sat down to write this post. Unfortunately, I feel like the chipotle peppers make the dip taste reminiscent of BBQ sauce so it took some getting used to as a fry dip, but it was definitely delicious. I think it would make a fantastic sandwich spread for like a grilled chicken sandwich. Overall, I am VERY happy with how well I was able to make these ingredients work.
Tempura Fried Eggplant with Chipotle-Maple Dipping Sauce
Serves: 8
Ingredients:
2 eggplants, cut into 1/2″ square matchsticks
Dipping Sauce:
1/2 cup sour cream
1/4 cup mayonnaise
2 Tb pure maple syrup
1 Tb minced adobe chile
2 tsp adobe chile sauce
1 tsp balsamic vinegar
1/2 tsp salt
Tempura Batter:
1 cup of rice flour
1 cup of ice water
1 egg yolk
1 cup flour, for dusting
oil, for frying
Directions:
Dipping Sauce: Combine all ingredients together in a small bowl and set aside in the refrigerator to chill for about an hour.
In a medium bowl, mix together the tempura ingredients. Place flour on a shallow plate. Heat oil to 375 degrees F in a large dutch oven or fryer. Dip eggplant in flour, shake off excess. Dip into tempura batter and place into fry oil. Fry for 2-3 minutes only lightly browned. Drain on paper towels. Serve with dipping sauce.
...Advertisements...
CONTINUE READING BELOW